Well as you know I took off on Friday and went to Chicago to help out Heath with a Chris Cakes event.
We were supposed to drive up all day Friday, work early Saturday morning then drive back getting home early Saturday night. Well some car and beer trouble kept us in IL longer then expected and we did not get home until yesterday afternoon.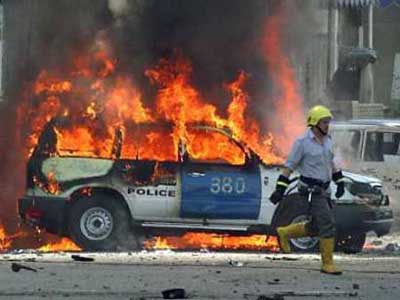 We did get to the event at like 6 on Friday night and get most of the pancake stuff set up and ready for the morning. After that we ran to the store for some buckets and things we would need then went out to eat dinner. After dinner we had a couple of beers on the porch at our hotle and went to bed. We got up just after 4am and went back to the event. There was some more setting up and Heather and the guys showing me the ropes and then people started trickling in. I mostly cooked sausage, made pancake batter and refilled the tang.
We severed over a thousand hungry bikers for some sort of freedom run deal. We were at a race track speedway deal in the parking lot and tons of bikers showed up and got them selfs into a huge line. Then at like 10am they all left at once. The police shut down like 15miles of a major highway and they all drive down it at the same time and raise money for soldiers in Iraq or something. I took a few pictures and I am not sure if they are any good or not. I didn't bring my camera with today so I will let you know later.
Well we left at 10am too. We cut the bikers off at 9:30 and cleaned up and loaded back up the truck and trailer. Then we had a celebatory beer and took off. We had to take a long way to avaoid the closed highway but soon got back on track and headed down the road.Heath and one of the other guys took a nap and the driver and I stayed awake. We drove for maybe an hour and a half and then the driver took a phone call from the guy who set up the event. The driver talked to him for a few minutes then pull off on the next exit and parked on the exit ramp. He talked a few more minutes and woke everybody up. After he hung up he told us we have a problem. Aparently he could not stear the truck anymore and we all jumped out to see fluid pouring out of the front of the truck and a belt hanging down. We were able to get it off the ramp and arround the corrner to a Chevy car dealership in spite of haveing no power stearing or brakes. The chevy shop had guys there to sell cars but none to fix them. Well we went arround in circles for a long time trying to find a mechanic open saturday afternoon. We eventully found there was none and the plan was to wait a few hours for one guys wife to be free then drive the 7 hrs to pick us up then drive back to kc with her and the guy who owned the truck would have to come back in a week and get his truck. All of us had looked under the hood a bit but did not know much about what we were looking at. One guy was sure it was the power stearing pump and that we had leaked out power stearing fluid and that was the thery we went with untill the driver started getting worried about this plan and really got under the hood looking arround. He found it was just a water pump that was broken and we called the auto parts stores arround and found a $40 water pump. At this point one guy bribed a chevy worker to drive him to auto zone, Heath walked to McDonalds and a gas station and loaded us up with burgers and Natty and the driver and I took out the old starter and figured out where the serpintine belt went. We got the old starter out then ate and had a couple beers. It was pretty hot and we were just standing in the sun in a hot parking lot so the beer went down real well. The belt was all tangled up but we got it back where it belonged and then the guy with the water pump showed up and we got it put back real easy and then the belt back around it. We had another beer then headed down the road. Everything went fine for about 10 minutes then the truck started getting really hot. (it was now on antifreeze from leaking out) We coasted to a gas station and added 3 gallons of anti freeze and let it cool down. We bought some more beer and it still tasted so good after overcoming our truck problems so it went down really easy too. Well the truck cooled off and we were back on the road. We drove another hour or so and then decided we needed gas, food and more to drink. We found a wing joint and they had a special on a beer and wings so we split a few pitures and a bunch of great wings. We were now in Springfield IL feeling a bit drunk and very tired from such a long day and it was 6pm. The GPS in the car estimated 4am before we would be home. We called up the owner of the company and got an approval to put a couple hotel rooms on the company card and so checked into our rooms. We just dropped off our stuff and walked across the street to a Godfathers and ordered two buckets of beer and a pizza. Then we played a video hunting game and walked a mile or so down the road to "The Gashouse". This was a small dive bar that was having a karaoke night. We drank well into the night and Heath sang a bunch of songs. Then we walked home and crashed for the night. At 7am we left and drove home with no problems. Once home Heath and I slept for an hour or so and then went up to Hillsdale for a jog in the woods then to the beach for a little swim. We cooked up a good chicken pasta dinner and then fell asleep again.