Took Grandma, Mom, Peanut and Heath to Hillsdale last night and there were fish jumping all over the place but I never got to see one close enough to shoot. However I did find out how cool I look when I am ready to shoot one.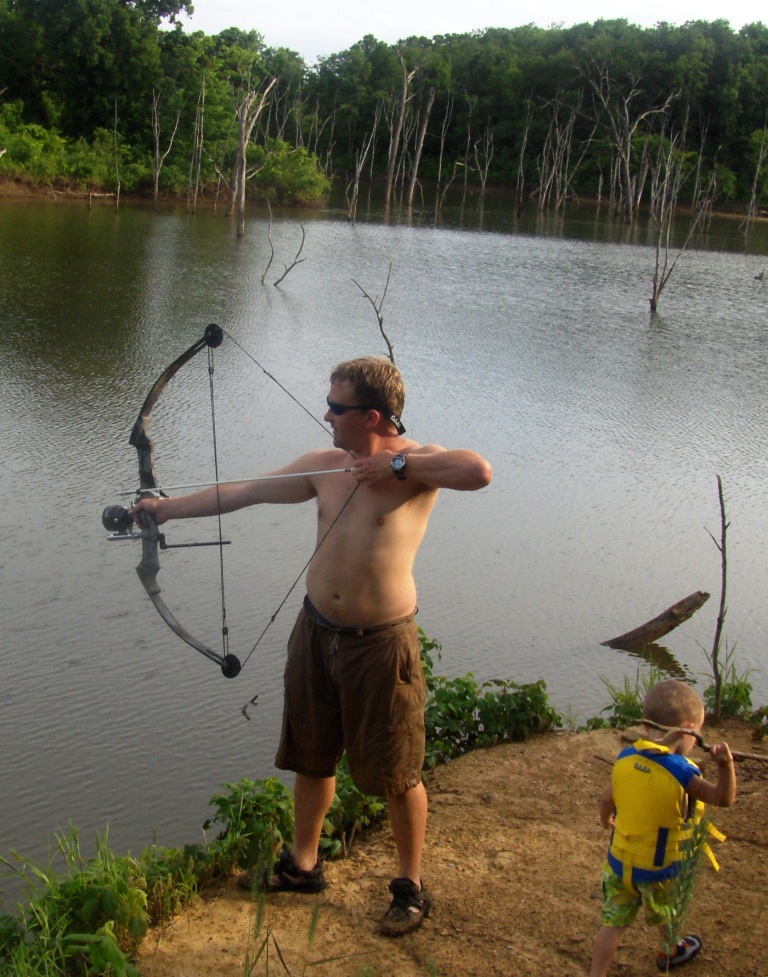 Well I have 4 more pictures that I think are really good too so read on.
First I got my camera back from last night and here is a picture of Heath grilling up pancakes from this weekend.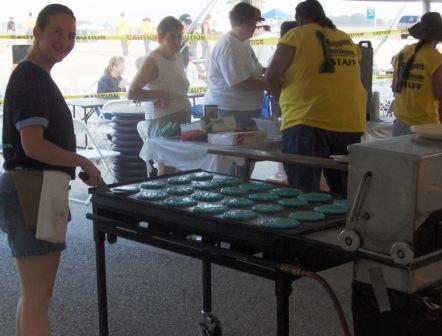 Your screen is not broken those are blue pancakes. Since it was The Freedom Run we served red, white and blue cakes for the bikers.
We drove the boat out to our cove last night and Heath sat up front and took some pictures. Here is one of me Peanut and Mom.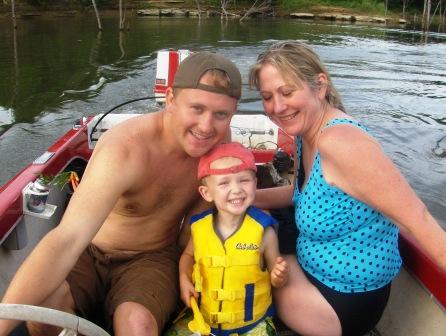 The island was about 3 feet under water according to my depth finder so we pulled up to shore and set up there. We grilled a big beef smoked sausage and a bunch of hot dogs plus chips w/ dip and zesty pickle spears. I walked the shoar line a little and looked for fish to shoot but never saw any near our spot. I did lose an arrow though and that kinda sucked. So no I have to rush to get another arrow before we go back to the lake tonight and tomorow.
When I was not shooting stuff or grilling/eating I was swiming. Here is a wicked canonball that Heath caught on camera.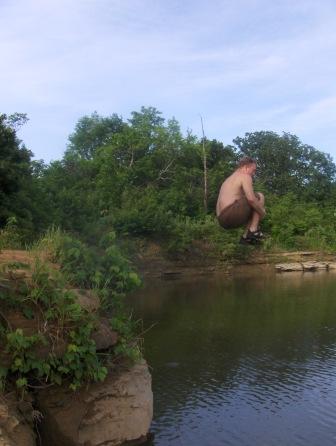 We also drove the boat over to the beach and Peanut practiced some of what he learned at his first swiming lesson earlyer yesterday. We did not spend much time at the beach because it took us a long time to get there and it started to get darker and cold. The lake is small and should not take long to get to the beach normally but our driver was not taking a dirrect route.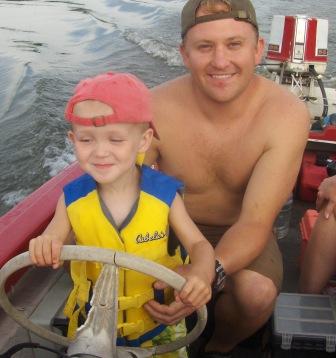 Peanut thought driving was great and loved to make the boat go in circles. It was a nice evening at the lake and Grandma had the typical starter problem but otherwise worked great.
You may notice that I am early this morning. I came in super early to get some things done before the staff shows up and make sure I am available later this morning in case the producer of one of our local shows needshelp. We have a remote today from
that's right Boulevard Brewery. So I really hope I get invited to come along.