Well I sweated a lot yesterday after work. It was hot and I was preaty busy. I had not intended to do much packing last night but instead do more playing and pack the rest of the week but I was struck by some motivation and got some packing up done.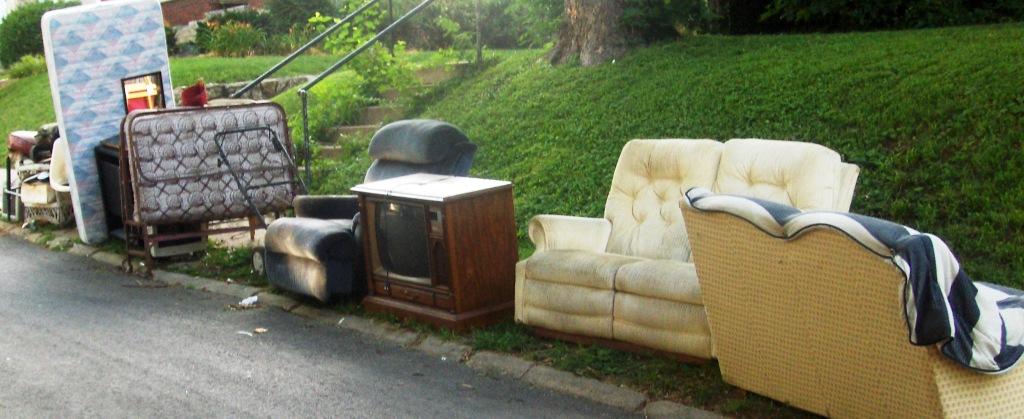 Here is the curb in front of our house this morning.
That pile of stuff is the beginning of things Jenna Derrick and I don't want to move and can't stay in the house. I think I have a lot more to add and luckily the scavengers have already been out working it over some.
So I got started yesterday after work with mowing my and Ray's lawns. Then I carried out a bunch of old computer monitors, printers, scanners and other junk from the basement. I hauled stuff outside until Heath showed up. Then I packed a few boxes inside and we decided to go for a run later on. Heath went to the store and got beer and stuff and I packed some more. When she got home we looked over some more furniture to decided what to keep and what to trash. Then we cooked up some dinner. I am not trying to buy groceries so my food plans have gotten more bizzar then normal. I raided some of Derrick's food and came up with an amazing dinner for us.
1 Block of Velveeta Cheese
1 Big pile of noodles
1 can spinach
2 cans tuna
1 can peas
1 can rotel tomatoes and chlis
2 cups milk
I mixed all this together in a big pot and heated it up till all the cheese was liquid and it was all nice and mixed up. Then we went for our run. When we got back we put it in a backing pan and cooked a bit. Then I covered it all in a thin layer of breadcrumbs and Parmesan cheese.

We baked it till the top was a golden brown and then served with Garlic bread it was a cheesy, slightly spicy delight.
So back to our run, we ran down to the circuit training course in front of UMKC.
Then we did the course once at the medium level. The course consisted of maybe a 1/4 of a mile trail with 5-8 stations spread out on it. Each station has 3 things to do at it like pull ups, sit ups and all sorts of crazy things you never typically do all built out of old wood and painted a weird orange red color. The course was not too bad but we were sweating like crazy and kinda worn down from all the moving and the heat. So we just ran home and ate dinner. After dinner Jon showed up and helped me move some heavy stuff while Heath packed up all my movies and dishes.
Once we were done with that I decided we should be done for the night. The house is in total disarray with a massive pile of packed boxes taking up one part of the family room and furniture on it's way out to the curb or out to the new house on the other. We managed to put together a circle of seats to sit around and talk at. We broke out some drinks and just talked about stuff for a while. Jon was very excited about trying to set up a karaoke system in the basement and he may have me on board for it.
Tonight I think I am going to go to Harbor Freight and buy a dolly (2 wheel hand truck not
)
I am going to need to use one to get my printer out of the basement and it will come in handy moving out. I am a little concerned that I will not find one that I really like and end up getting one with big inflatable tires then one tire will get a little low and when I carry heavy stuff it will be uneven and I will regret getting inflatable tires. However the alternative is to get one with regular rubber tires but all these seem to be small and week or have the tiny shelf on them for moving apliances.