I did not have the birthday night I expected.
After work Steven and I went to Flo's Polka-dot lounge and had a few draws, Heath joined us and after we had a few we decided to head out, Heath and I went to Aldi for water and Gatorade for the move and then stopped by Steven and Becky's before doing our final walk through. The final walk through was uneventful really. They had a lot of boxes and stuff in the house and were still there so we did not do all the planning we thought we would. Then we headed to meet my mom and sister at Fox and Hound for a birthday dinner.
On the way Heath had some sort of an emergency and we had to stop at a gas station and she was in the bathroom for a long time. Finally we got to Fox and Hound and found lots of people there waiting to surprise me.
I had no idea that anything was going on but lots of family and friends were in on it.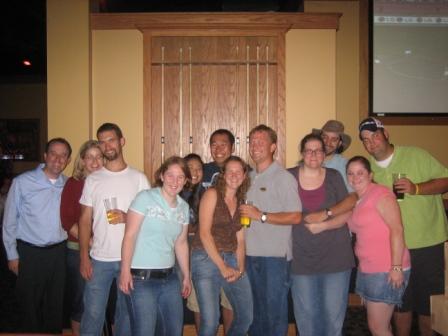 They had pool tables and balloons and a cake and bunch of appetizers and even presents.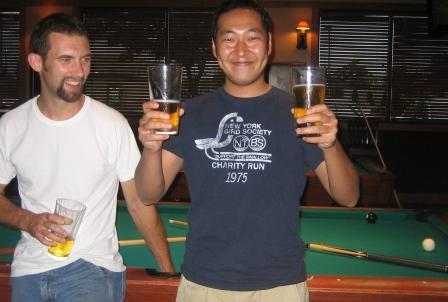 Looking back on it there were lots of clues that something was going on, but why would a 27 year old expect a surprise birthday party.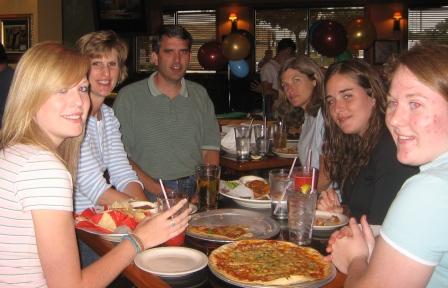 So we all cut loose and played pool ,drank big beers in fancy glasses, or long island ice teas and we ate hot wings and pizza and chips and salsa.
I had some presents to open and I had just as much fun as a 7 year old boy on his birthday.
=
So we partied for several hours and then everyone headed home. I had been too busy to eat much during the celebration and it was hard to eat bar wings and pizza when Hardee's is right next door so on the way home Heath drove by to get a bacon thickburger.
UPDATE 11-2-7
'The' sells out.  
Soft Spa Covers Soft spa covers for all hot tub and spa types any shape new or old.
URL: http://www.DiscountSpaCovers.com