Friday Night: came home from work and did stuff to the house, did some shopping, finished Peanut's room. Got a nail in my tire, patched it and got the truck and boat ready for the lake.
Saturday: Woke up early drove to Lawrence to see KK and Chiaki, went to Clinton Lake.
Saturday Night: Jon and Derrick joined us at KK's then hit the bars downtown hard and after word the Pita Pit really hard.
Sunday Morning: Discovery Channel Specials on Wolfs and Giant Squids.
Sunday Afternoon: Hillsdale Lake for the Chris Cake's BBQ. Ate lots of BBQ, bow fishing, boat ride, beer, jet ski.
Sunday Night: Make plans for Canoe trip next weekend and marathon training schedual.
Monday Morning: 12 week Marathon training schedule begins with a stretch and 3 mile run before work.
Ok I am going forward with my plan to cover the weekends very briefly
and then go into more detail on one aspect of what I did. This way the
post is more interesting to read and I am not spending all morning
typing. So above is what I did. I'm going to show you a pic of Peanut's bed then talk about the trip to Clinton Lake with KK and Chiaki. If you have questions about anything else let me know.
Peanut's Tent Bed: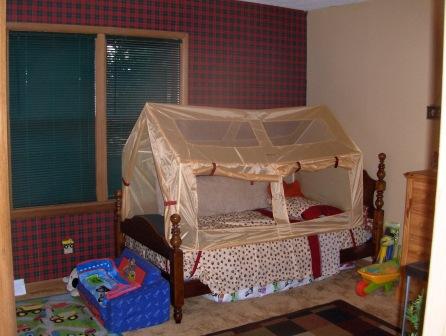 He will come home tonight for the first time in a week and see his cool new outdoor/camping themed room.
So Saturday morning I woke up early and got the boat and truck and cooler all packed up and we headed to Lawrence. We got there at about 10am and quickly headed out to Clinton Lake. When we got to the lake we discovered KK's wallet was missing. So we launched the boat and Heath took Chiaki for a ride while KK and I drove back home and found the wallet on the sidewalk in front of kk's apartment safe and sound.
KK and I joined the girls and Grandma was running really good. It was getting hot by this time so we cruised down the lake quickly looking for a nice cove to hang out in. We stopped in the first cove we got to and pulled up on shore then opened some beers and took a swim. After some discussion and a drink we decided this spot was too rocky and tough to swim at so we fired up the boat and headed farther down the lake.
Not too much farther we found a spot that looked to good to be true. It was a small cove off the main section that had a nice flat beach area surrounded by some thick trees. It was just big enough for one boat and a party of 4 or so. It was somewhat private, had a beach, a good area to swim, play Frisbee, grill. We were set. We tied up the boat and spent some time swimming and cooling off. It was really hot and sunny on so we loaded up w/ sunscreen.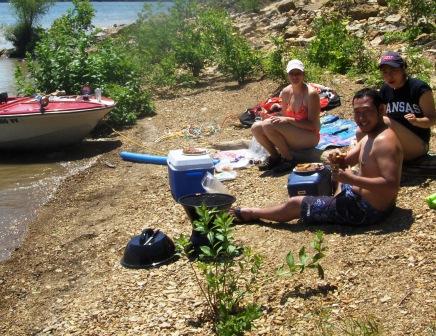 Soon after we loaded up the Lil BBQ grill with sticks and news paper and started a fire with the boat battery since we had forgotten matches or a lighter. We cooked up a nice fat kielbasa sausage and grilled up some fresh pineapple. It was delicious and kept our hunger at bay. We played Frisbee on the shore for a while then built up the fire and tossed on two huge steaks and more pineapple. Then we went for a swim.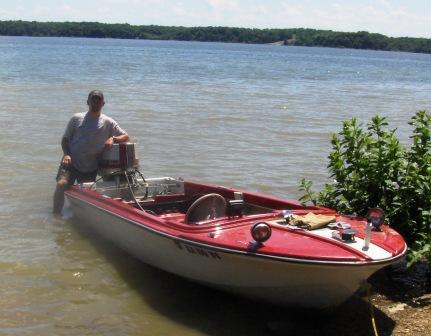 I flipped the steaks a few times and then we ate lunch. It was a couple of tender T-Bones marinated in beer and soy sauce and covered in Montreal Steak Seasoning. Lunch was a huge success and we stuffed our faces. Then drank a bit more and did some more swimming. Then KK and I blew up a tube and hooked it up to the boat and we all took turns tubing. After we were tired from tubing we went for a boat ride to an Island and tied up there for a while.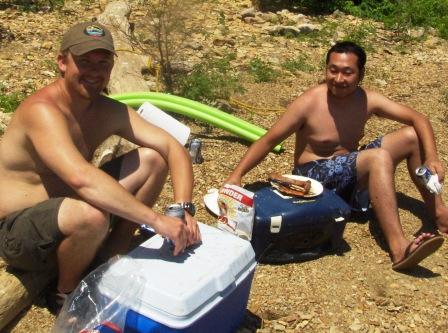 The water was shallow for a long way around the island and we were able to walk way out into the water. But it was really sunny and hot and we already showed signs of sunburn so hung out in the shade of the island for a while. It got late in no time and we ran out of beer so headed back.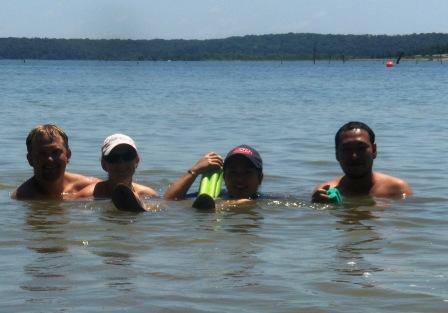 At the apartment we got cleaned up and took a nap then Jon and Derrick showed up and we played some games then headed downtown. But that is another story involving lots of bee, lots of popcorn and lots of pita excitement.