We are big enough to devour a bison for dinner.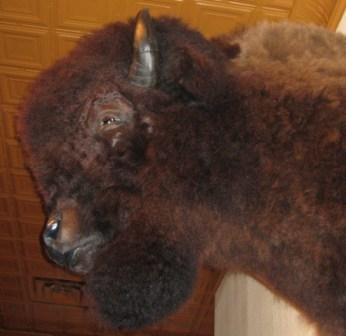 But "the buff" put up a good fight.
Well yesterday afternoon Matt came to work with me. I showed him around the exciting studio's of KCUR.
Matt
got to see me in action and remember what it is like to have to go to
work. I think he even was able to do some networking and find some job
angles to follow. After work Brian followed us home and then Steven
came over and we went in the basement to prepare our stomaches for a protein overload by drinking some frosty mugs of Natty.
We
hung out there and waited for the arrival of Russ and Shawn. They
showed up and we headed to Ted's a bit late to make Captain's dinner
time of 6:24.
I liked the restaurant and even though we were a
bit under dressed in our t-shirts and shorts they treated us like a big
group (9) of reviewers. We ordered out drinks and meats and the
waitress brought out two interesting things. The first was paper straws
in our waters. This was an unusual thing that I enjoyed. The second was
several bowls of warm dinner rolls and butter. We tore into these delicious snacks and noticed the tablecloths were big sheets of thick
recycled paper. I enjoyed the paper that allowed you to make a mess and
it made me feel like I was at a bison butcher. Once the rolls were
gone our sweet waitress brought out more baskets of even warmer rolls.
Then
the guest of honor was brought out. A plate with a big pile of meat was
placed in front of each of us. Matt got the bison meatloaf and Steven
got beef burger but the rest of us found ourselves staring down a large
Bison burger. As predicted the meat was a bit dry but still
exceptionally tasty. I think because I was expecting it to be dry that
once I bit in I was relieved that it was not that dry and very good.
Not sure it was worth the extra $2 a burger but it was a special occasion and you don't get to eat bison everyday.
Everyone
seemed to like what they ordered for the most part. Geoff got the
Spikebox and said it was good but was a bit disappointed in the lack of
spice in the jalapeños. Russ Shawn and I got the kitchen sink. As you
guessed or read yesterday this monster has it all.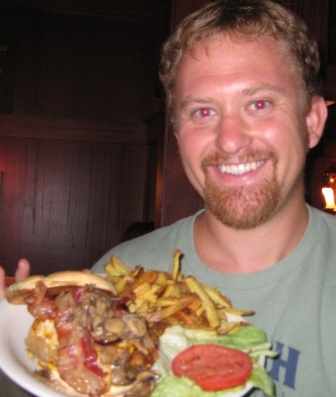 It was served
just how I like it huge and juicy. I could barely get my mouth around
it at first but once I did the streams of burger juice began to flow
down my arms and into fantastic pools of grease at my elbows. Once I
get into a beast like that I go all for it. The bacon was plentiful and
crispy the ham was a nice thick cut of good ham. They provided nice big
slices of garden tomatoes, the egg and cheese formed a delicious goo
that oozed itself all over the burger and the whole thing was topped off
with more mushrooms then it could hold. I took her down nice and quick
barely stopping to test out the average fries.
Everyone really liked what they ordered and Kevin's chili burger looked kinda interesting or maybe it's just his grin.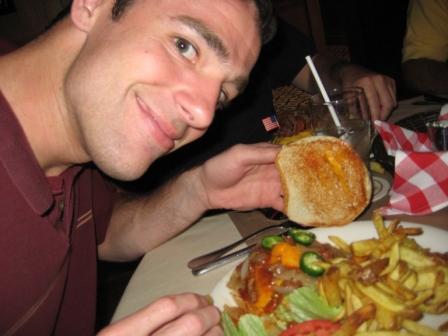 After
the burgers were gone and the bills were being payed we talked a bit
about how good it all was and needing to plan another meat club and
this and that before heading out. ("this and that" is man code for
secret stuff not for ladies ears)
I'd like to find out about the rest of your experiences after this but I had a particularly surprising time.
Russ
took Steven, Matt and I home and it appeared that Steven was tired.
Matt and I went in and watched The Sara Silverman program with Heath on
the couch for a while and choked down more nattys. We were worn out
though. That burger took all the life out of me. Perhaps the bison is
harder to digest and all my strength was diverted to my stomach were
the true man verses buffalo battle began. We laid around and moaned
and giggled at Sara for the rest of the evening.