Well these are the boxs that gave me trouble.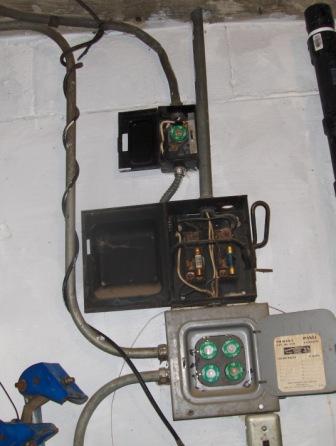 and kept me up at night.
This is in the basement shop and the power from upstairs comes into that box in the middle then from it to the small one above and the one below with the 4 green plug fuses. From the box with the 4 fuses it runs to my dryer and a/c and lots of other stuff in the basement. I went to the hardware store and replaced all the green fuses yesterday morning trying to solve my problem but it didn't work. Then once I was sure I was not going to get shocked I switched the cylender fuse in the middle box on the right side and everything was fixed.
And the house cooled off.
Well I am behind a bit on what I have been up to since I was out yesterday.
Two days ago I made pizza in celebration of my brother's birthday and Heath's brother leaving for Germany and sister leaving for college. After we ate we blew bubbles with Peanut.
Notice the pizza still on his mouth.
Then we drove the new (but still no reverse) tractor arround the yard and got rid of some walnuts.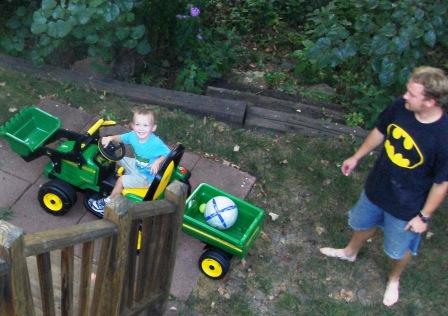 Then we went to bed and were up all night.
Peanut and I spent the next day fixing the AC running errands and sleeping untill late afternoon.
Then we picked up my brother his friend and H and headed to Hillsdale for swiming, burgers, beach and tubeing.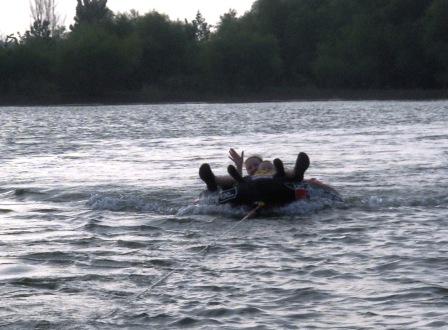 This was Peanut's first time on the tube. He really liked it untill the water was splashing his face too much but he was still really excited that he got to do it. My brother, his friend and I did a bunch of tubeing and grandma really tossed them arround. I was able to flip them both off the tube a few times.
Last night it was good sleeping and everyone slept through the night
Tonight we are heading back out to the lake weather permitting and do some camping and boating and grilling. Anyone is welcome to join.