I was all over this weekend but the best pictures are from Friday night.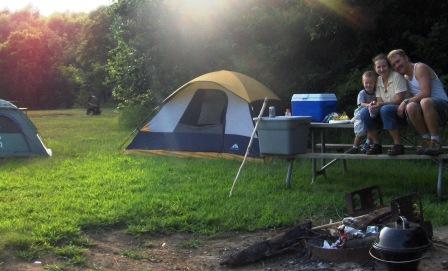 Heath Peanut and I rushed to Hillsdale lake and set up our little weekend paradise after work on Friday.
We have camped out about every weekend that Peanut is with us and so we have gotten to be fairly quick and efficient at getting our stuff ready to go. This is the first time in a while we got to set up before the sun was going down so we got everything ready and then did not know what to do. We were close to the beach and it was really hot but we were waiting on Heath's uncle and cousin and mom. So we snacked and drank a couple beers and checked out our site. We brought out the boat but decided to leave it at the campsite until Saturday morning.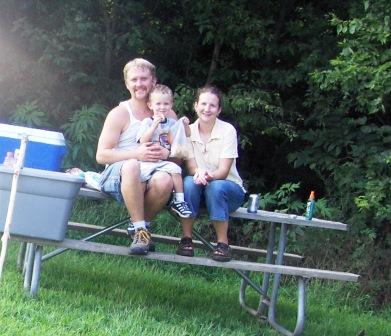 We got a great spot that had woods around the side and back and the water was real close too. You can't see it in the picture but the lake is about 20 feet behind my boat through the trees. We brought some big firewood but Peanut and I collected some small stuff to help get it going.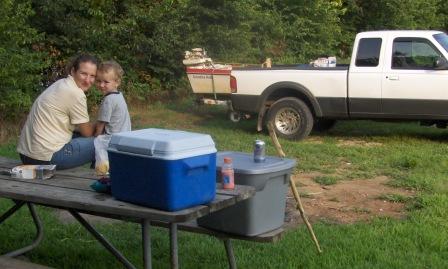 I got a fire going with the small stuff and we added a couple of the big logs so we could start generating some good coals. On the canoe trip I forgot to pack Peanut's tent so this time we set it up first thing so he could play in it.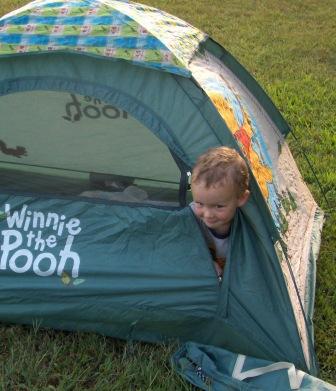 Once everyone got to the site and unpacked we headed to the beach and swam and played in the sand and relaxed until the ranger came at dusk and told everyone to leave. Once back at the site I got the fire built up and pushed some coals off to the side under the grate and got our dinner cooking. We had the classic camp out kielbasa sausage w/ spicy mustard. This is always a popular appetizer. I also cooked up some chicken that had marinated in BBQ sauce and a pan of Alfredo noodles.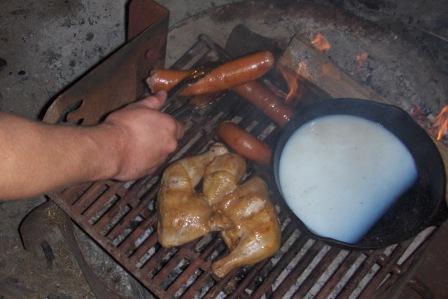 Heath's family grilled up some hot dogs too. Then Peanut cooked a few marshmallows on graham crackers and I was criticized for not bringing chocolate for them. Before we went to bed the raccoons moved in and started attacking our food supplies.
So we had to hang the trash bag and secure the coolers and food tub. We went to bed shortly after and Peanut yelled at the raccoons and shined a flashlight on them whenever they worked a cooler over. We made it through the night and had a decent sleep in spite of the heat. In the morning all our stuff had survived the raccoon attack so we cooked up a big pan of eggs, bacon, cheese and leftover kielbasa and put it on tortillas. Then we aired up the tube and I pulled kids behind the boat for a while. It was a great morning on the lake and we all enjoyed the boat and beach. Then we packed up camp and headed home.