Chicken, covered in rosemary and Italian seasoning, grilled a bit then topped with onion, mushroom and 4 pieces of bacon each. But what will hold it all together???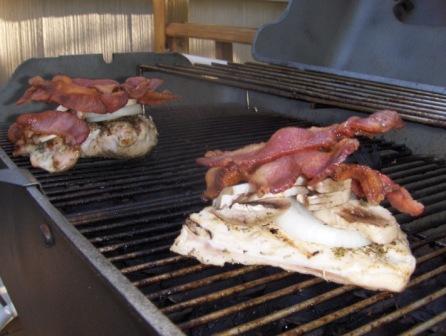 Cover it all in a nice layer of swiss cheese and put it on some bread.
Well after work I started getting things ready for dinner last night as you can see above and getting things ready for the Survivorman Party. I got the pizza dough made and put in the refrigerator for the survivor snake pizzas. Then Heath came home and we got a run in. Since it is so hot we decided not to run distance but do sprints instead. So we could insert more water breaks and get a good workout in a short time. We ran up the hill in our backyard and incorporated stairs, push ups, jumping, kick butts, high knees and other stuff with the running. With it being so hot and humid out it's hard to tell how good a workout we got because we got tired and sweaty just walking outside and planning the workout.

Then Heath got cleaned up and went to some girl night and Stooks came over to help get stuff ready, eat dinner and help me move some stuff out of the shop at my mom's house. We got the Nile River Sludge (jello shots) all made and put in the refrigerator to thicken up. We got the DVR set up in the basement so we don't miss any of the surviving . We took extra chairs into the basement for good seating.
Then we went to moms and got a truckload of stuff and brought it back to my house. Then we headed to Westport Flea Market.
First off we did not eat and for the record I think their burger is over rated. It is too expensive for what it is and it has the reputation for the best burger in the city but there are lots of burgers as good or better. However drinking there is a good time. The special was either $1 PBRs or $1 domestic draws, I'm not sure which but they were low on glasses so we were given like $4 pitures or something. Also the entire bar was involved in a team trivia match that involved a good cash prize some other prizes, free shots and lots of entertainment.


Our team started out strong then fell apart and mostly tried to have funny answers. Unfortuatly there are no prizes for being funny.
Then Matt and I headed back to my house. I was hungry and Matt had never had salami so I decided to cook up some fried salami sandwiches when we got home. I got them started in the skillet then wondered out to the deck to have a beer and talk to Matt and ended up burning the heck out of them. We covered them with cheese and ate them anyway.
If you can, join us for Survivorman Party. I think I am going to wear a Hawaiin shirt and straw hat to get into the safari/jungle mood. Lets aim for showing up between 6-7 start cooking/eating at 7 and starting the show a bit after 8. Please put survivorman comments under the event thing.