Heath and I were both shocked and unsure of what to do. We ate this
and did not like it or anything else on our plates.
Well last night I was a bit tired and took a nap until Heath got home from work. Then we ate some ice cream talked about running and watched Damages. After the show we gave up on running and cooked dinner. Heath had gotten 3 portobella mushrooms that were the size of
cheese burgers and I had heard of people grilling them and eating them like burgers i think. So we wrapped them in bacon, seasoned them and tossed them on the grill. They were hard to cook the bacon geese kept catching on fire and the mushroom was getting cooked but the bacon was still raw. Eventually I got the bacon cooked and covered them in cheese. They looked good but once on some bread and in our mouths we found them to not be good.
The bacon tasted bad and the mushroom was strange and there was not a great flavor. We also had a salad that was near the end of it's freshness and some leftover rice from a few days ago and leftover cocktail wieners from sausagefest that did not get warmed up enough.
We ate most of our meals but were disappointed by a medium to poor meal. It just proves my thoughts that nothing is a burger but ground meat. Mushroom is great on a burger with some beef but it is not a beef replacement.
After dinner we drove over to one of my coworkers houses to look at their dining room table that was for sale.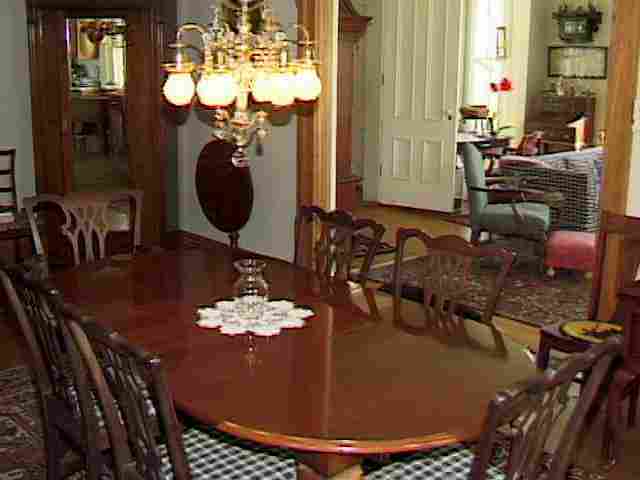 (not actual table)
It was really nice and big and had 6 chairs and she would reupholster them for us and it was all around very nice and fancy but about twice the price we were looking to spend. So we decided to think about it and get back with her today.
All this shopping and eating had us thirsty and we almost stopped in Waldo for a beer but decided to do some walking for our drinks and went home and put on our sneakers. We watched the 1st quarter of the Chiefs game.
Then we walked up to Billy B's bar at 99th and Holmes. We got some big beers and watched the rest of the 1st half of the game. At the half Jon joined us looking stylish and acting very excited from his evening of speed dating. He was surprised at how well everything went and how good the girls were. He was very impressed with the whole experience and thought 1/2 of the girls were worth following up with.
Eventually conversation led to tonights Renaissance Festival.
I got some free tickets for the Media Preview Party tonight and I have never been but I know they have big turkey legs and corsets.
So I am interested in seeing what it's all about.
I got a couple of pictures from early this week.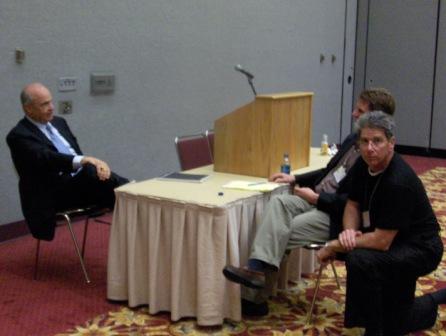 There is our talk show host and program director with Fred Thompson.
and here is a shot just before part of the show with Emanuel Cleaver. He was very honored to find out I drive on his street all the time.