We still don't have a pet goat in our backyard. Peanut and I were going through withdrawal so we drove all the way to Wichita and fed the goats there.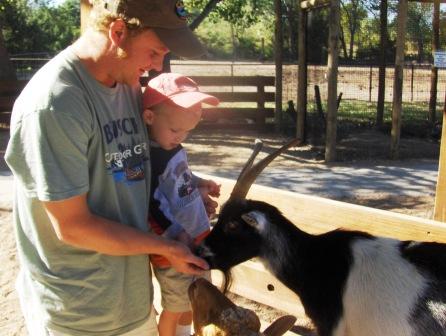 The goats proved they really would make a great pet.
It was a long busy weekend and I think I picked up some poison ivy somewhere but I have lots of pictures of our trip to the zoo so lets talk about that.
On the way down we stopped in El Dorado to visit the lake there. I like the way Kansas handles there lakes and since I had boughten a year pass at Hillsdale I could go to the El Dorado lake for free. This also applied to Clinton lake and many others. El Dorado Lake has 2 swimming spots we went to the beach and it was really nice but had a bit too much goose poop to be great.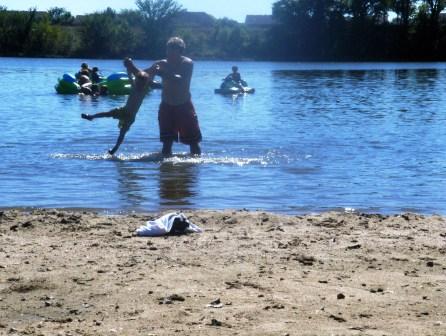 We swam for a couple hours then went to our hotel and got cleaned up and went to a Mexican restaurant for fajitas and margaritas. We all fell asleep early but did not sleep well. We woke up early in the morning and got some breakfast at IHOP w/ some friends of Heath. The friends gave us a free pass to the zoo and we were off.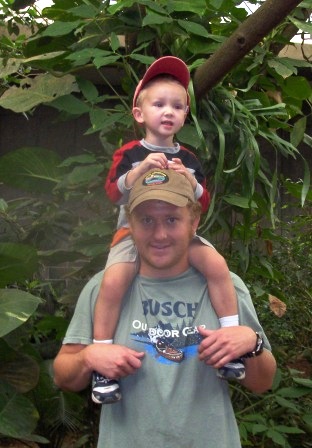 We didn't take or rent a stroller Peanut walked a lot of the zoo but sometimes rode me for a better zoo.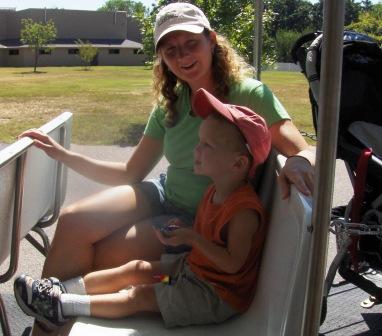 The zoo had a free train that went in loops around the zoo and we went for a ride most of the way arround.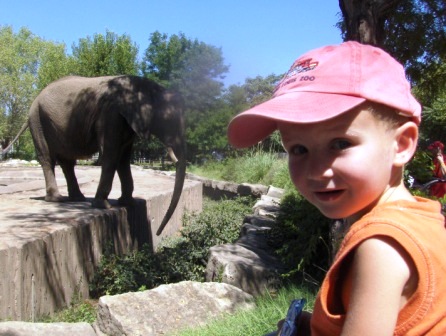 This elephant was stretching over the pit to eat the grass on our side of the barrier, it looked like a recipe for disaster but he never fell.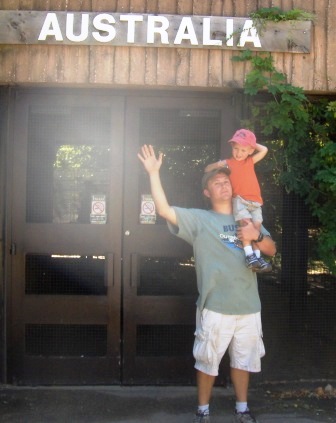 Not sure why this made the site, but check out my hand since it's already up.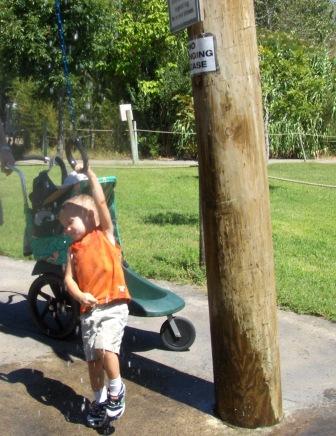 Amazingly after walking almost the whole zoo Peanut got all over the playground and started going down the fireman pole on his own. (I have a sideways video I may put up on youtube of the pole.) He had a great time playing on the crowded playground and afterward we cooled off with this chain that poured water in whoever pulled it. Peanut and Heath pulled the rope onto them selfs a few times and I carried wet Peanut on my back.
We left the zoo and went to a Spangles on the way home. The IHOP had held off the lunch hungers till about 2:00. I got the ultimate double burger and it was nice and big but felt jipped because it did not have any cheese on it. The burgers don't come with cheese and they did not even make a point to ask if I would like cheese on it. I was previously under the impression that a small portion of the world is allergic or has some problem with cheese but otherwise EVERYONE wants cheese on their burgers and sandwiches. Since a vast majority of us want cheese it should be the responsibility of those who don't to ask for none. Not including cheese on a burger is just a mean trick.
But the burger was pretty good anyway and when reheating Peanut's burger today I brought my own cheese. He did not even bother to take a bite of it.
if you were concerned about the bleach, I put some on to try to help with the poison ivy I feel coming on. I'm pretty sure I got it in my yard working on a project I will post about later.