No not a massive wedgie

I am missing a couple pairs of work jeans so wore an experimental pair in today to find out it had bits of fiberglass resin on them that I can't stop picking at.
Last night was our first day of the week with Peanut and everyone was in high spirits especially Peanut. We had some big plans and wanted to get a lot done before bedtime. I went home and got dinner going after work. We had wheat spaghetti noodles w/ some prego sauce Stooks brought over and a lbs of deer meat, bunch of mushrooms, onion and some red pepper. We also had peas and carrots and bread.
After dinner we got together some snacks, lots of water, a gallon of paint, a tent, warm jackets and …
our backpacking backpacks. Heath got a kid carrying one for $2 at a garage sale and we wanted to try it out. We want to take a few practice hikes and then go on an overnight camping trip. So Matt, Peanut, Heath and I loaded up and went to the practice trail near swope park. Of course I forgot my crummy camera but Matt had his and got a few pictures I am sure will be great but I have not gotten copies yet. I think they will look like this but with shirts, a backpack and no water.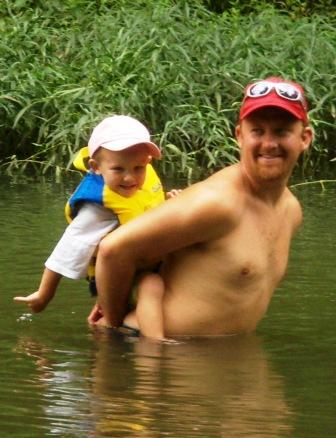 UPDATE: the actual picture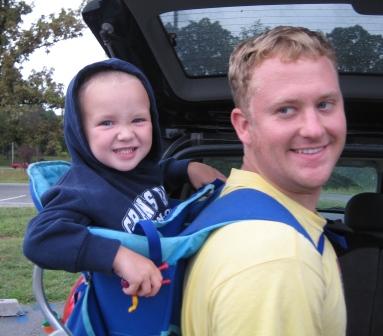 I thought the hike went really well and even though it was on the verge of rain the whole time we never really got rained on. I forget the name of the trail but it is a really nice distance <2 miles and has some challenging hills and rocks and logs to pass and lots of varied terrain.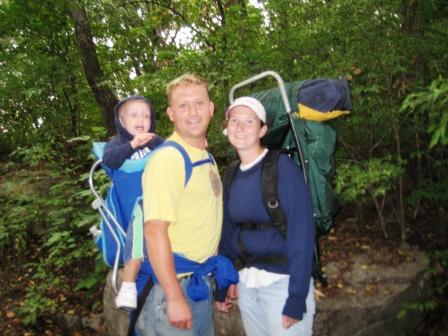 We got fairly close to a deer and saw him/her multiple times or saw multiple deer I'm not sure.
The kid backpack worked out well and Peanut really liked ridding in it. I think he enjoyed the view from the pack and I don't think he ever stopped talking the whole way.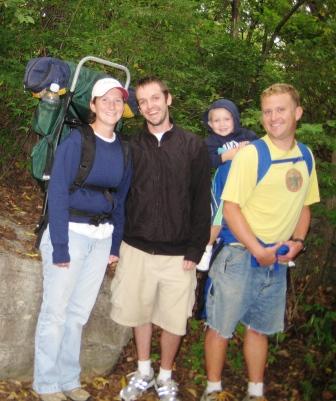 After the hike we headed to HyVee or HyRee if your from the east side. We got some corn meal and cole slaw for a leftover fish fry fest. We also got ice cream and cones and Peanut and I snuck in supplies to make cupcakes for mommy's birthday.
After the ice cream Matt headed home, Peanut took a bath and Heath and I took on a cleaning/ picking up mission and that was the rest of the night.
I got up early this morning and came in about an hour early to get some stuff done at the office before everyone gets here and slows me down. I made a bunch of coffee and had no traffic on the way in and it got me hear feeling very high spirited. I just wish I could think of something to get some comments going on the site again.
Tonight I plan to fry up the last of the catfish and a pile of fries and a bit of cole slaw.