Well on the campout we ended up taking two jars of pickles

and never eating a single slice. Then last night before the fish fry I set the pickles on the front shelf in the refrigerator in preparation for the tasty fillet of fish sandwiches only to leave then there during the whole meal. I only realized my mistake when I put the rest of the condiments away and saw the jar still sitting there.
Well last nights fry went great. We had plenty of fish for all 7 of us that showed up. Peanut provided lots of entertainment and there was lots of food and drink to go around.
There was even a small amount of fish and fries that was thrown away at the end. The cole slaw was not a popular side though and after trying some out I discovered the HyVee premade cole slaw is not very tasty.
After dinner the group split up and the guys enjoyed the cool weather on the deck and the girls hung up pictures in the house.
Early on in the evening I got Peanut in the tub for his first bubble bath in a long time.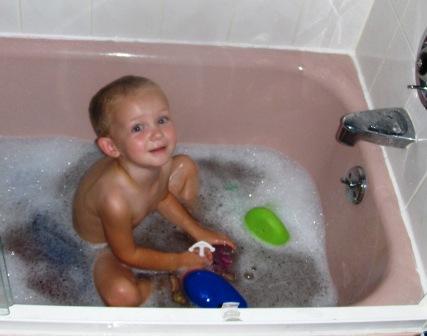 He played for a long time in the tub then got out and put on jammys Becky and Heath read him some books and he fell asleep in no time even though there were girls hammering nails into the walls around the house.
That's about it for the night we all gathered on the deck for a while and everyone left fairly early.
Tonight we have plans for a long run, a grocery shopping trip and a shrimp noodle vegetable dinner.