Heath and I are heading out near Clinton Lake tonight for a night under the stars.
I think we will try to get in 3 or so miles tonight and another 5 in the morning.  
Last night I rushed home from work grabbed Heath and rushed down to Westport for a work appetizer and drinks party. It was at Californos and we hung out on the deck out back under some big trees. It was real nice with an open bar and some tasty snacks. We stayed from 5-7 and most of the conversation came back to our wedding plans or lack there of. At 7 we headed home and met up with Jon. A little while later Derrick, Shawn and Bobby came over and we headed to the red balloon.
Heath and I had not eaten a real meal so went to a Mexican joint next door and Derrick was not feeling well so he and Bobby stayed in the car an Jon and Shawn went inside. The Mexican place was too expensive and not very tasty but it did get a nice layer of beans rice tortilla and meat in my tummy to help absorb some of the 32oz scooners.
In typical fashion Jon and Heath got up and sang their favorite songs. I got a few pictures of them singing picture.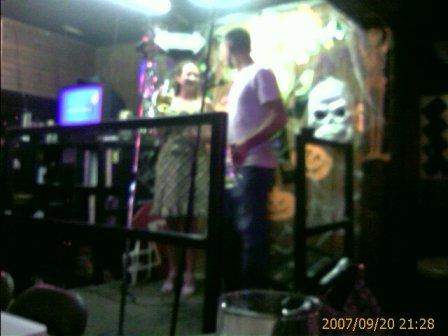 Yes these are terrible cell phone quality pictures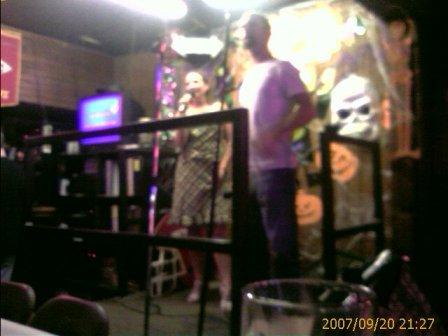 Later on in the night Heath tore the place up with Heartbreaker and Jon with Bad bad Leroy Brown. Derrick started feeling better and came inside to see some of the great Red Balloon antics. My favorite part was when older very drunk woman fell down while dancing and hit her head on the table next to me. I thought she was going to pass out but instead took a drink and started dancing again.