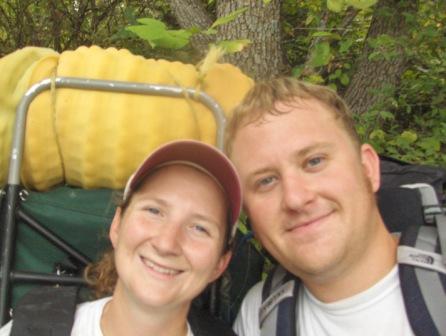 Heath and I drove out to the lake strapped on some packs and hit the trail.
So Friday after work we rushed ahead of traffic and went to Woodridge Park at Clinton Lake. The Park has a 4.5 mile trail and allows primitive campsites to be set up anywhere in the park. We eagerly put on our packs and started hiking. The trail was fairly easy to follow but right away there were several forks in the trail and we saw lots of fire rings just off from the trail. In about 1/2 a mile we got close enough to see the lake.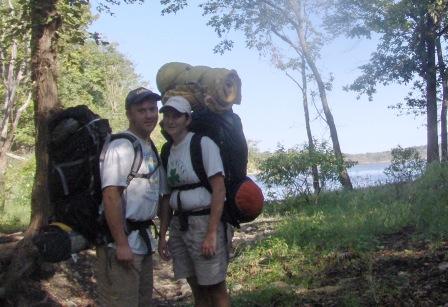 I had hoped to hike nearly 3 of the 4.5 miles before setting up camp for the night. We went about a mile and a half and took off our packs and got a drink and looked around the water. Then we thought we heard thunder. The trees were thick and we could not see the sky well but it looked a bit dark. Then we definitely heard thunder and decided to cut the nights hike short and look for a good campsite. We left the trail and headed up a hill and into the dense woods. We found 3-4 good flat smooth spots and and picked the best one and got the tent set up and I hung a poncho up in front of the tent so we could cook if it rained.
We had walked through dozens of spider webs and possibly through some poison ivy and our arms and legs felt gross to we left camp and wandered down to the lake to wash off our arms and legs in the water.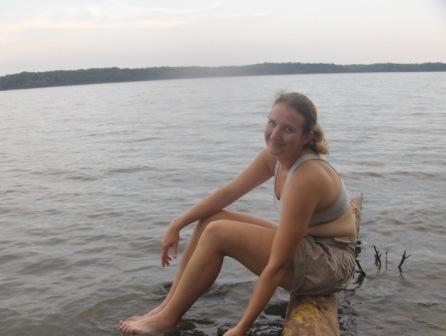 The water felt great, cooled us off and got all the yuky web off us. About the time we were putting our shoes back on a drop fell then another then it started pouring down rain. We ran up the hill past the trail and up to our tent. We had made a few markers on the way to help us find our way to the trail and to the campsite so the going was quick but it was really raining hard. We had set up our tent and cooking spot but had left all our stuff on the ground next to it and we had not gotten a chance to gather wood yet. Luckily the trees slowed the rain down and our stuff did not get too wet before we could put it all in the tent. Heath gathered wood quickly and put it under the poncho.
I got started on dinner and got a pot of water boiling for our "boil in bag" instant rice.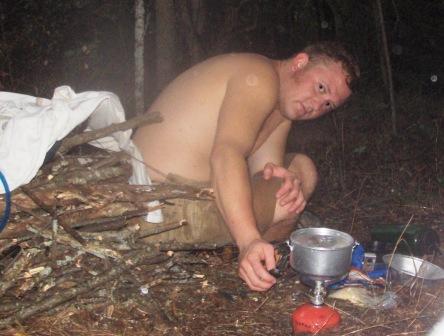 It did not rain long just quick and hard. We were actually well prepared and had plenty of wood for a fire we didn't really need and our rice was well on the way to being ready when the rain stopped. So for dinner we took the boiled rice and mixed in…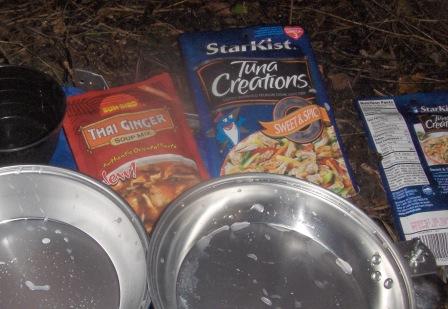 2 bags of sweet and spicy tuna, part of a Thai Ginger soup mix packet and some extra water.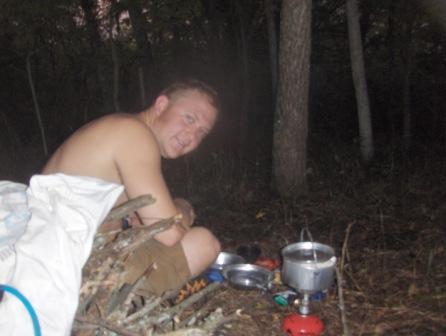 It was easy to cook on the little stove and meal was great. Full of flavor and quite filling we did not even finish the last of it. We got a fire started after a little trouble with moist ground and kindling. We had a nice small hot fire and sat around it and broke out the hot damn.

We sipped on the sweet schnapps for a while and just enjoyed the cool breeze the rain had brought. It had been quite humid earlier. I think we went to bed between 9 and 9:30. I slept fairly good but Heath found a few ticks on her in the morning. We climbed out of the tent after 8:00 and it was really nice out maybe even a bit cool.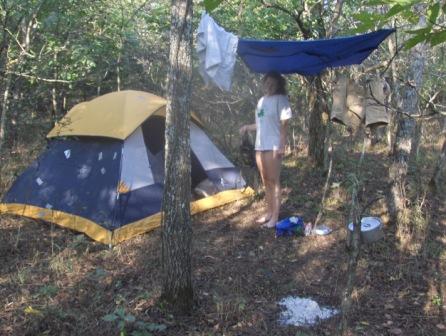 We packed up our site and fixed some bowls of oatmeal and had some dehydrated fruit and a bite of jerky. Then we hit the trail again.
It seemed like there were even more spider webs in the morning and we had to swing a stick in front of us to constantly knock down spider webs as we walked. The rest of the trail was real nice though and the view was good and the trail was well done. We set a fast pace and neared the end of the loop in no time.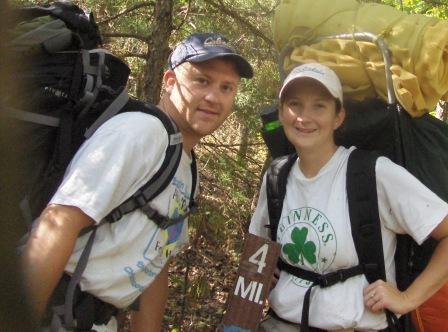 We actually finished at like 10:45 in the morning and decided we did not have time to do the loop again but we still had some energy to burn so we Decided to run a mile or so back up the end of the loop.
Trail running is really fun and I could see myself getting into it. We flew along the trail and both of us had near falls on rocks that could have been terrible. We stopped at the 3 mile marker and stretched and tightened up our boots then ran back out of the woods. Then we met up with KK and Chiaki at Pita Pit and I had 2 pitas and soon after a very happy tummy.
We went home and got cleaned up and worked on staining the deck until I went to a bachelor party and Heath went out with friends.
I believe they have laws about reporting what happened at a bachelor party so the end for that story.
Sunday I found Heath covered in chigger bites and nearly insane. So we spent a lot of the day trying to make her comfortable and figuring out what to do with the itchy mess she is in. She has bites all over. You probably can't look at a 2 inch square on her body and not find at least one bite.