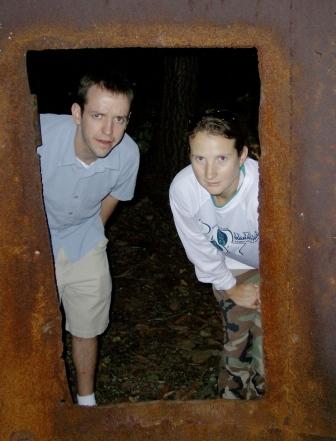 What are these two nuts in? Read on to find out.
So I met Matt at my home after work and had a Natty. I was eager to get out my new phone and test it out and a nature hike was just the place. So we went into the kitchen and started cooking dinner right away.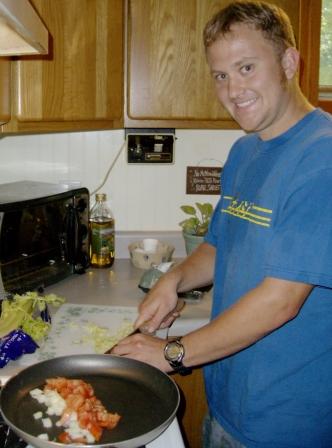 We had a pile of ravioli and marinara sauce and broccoli and some cottage cheese and a few strawberries then packed up some Popsicles and water and headed to The Little Blue River Parkway off 118th and Troost.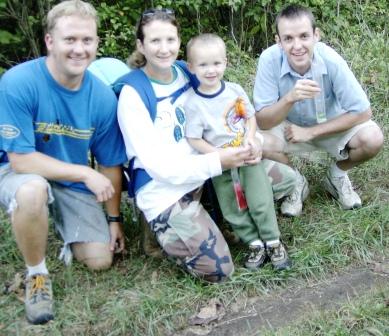 We took Peanut's backpack but he really wanted to walk at the beginning.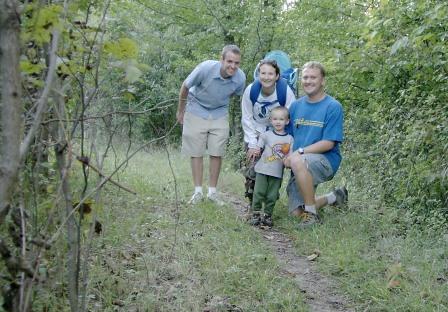 But to keep him out of trouble he got in the pack and I changed from being "Chris" to being "horsey". I taught Peanut to say giddy up to make me gallop or skip down the trail and to say whoa to make me slow down and walk.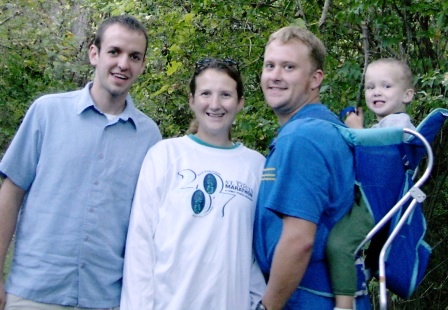 There are tons of mountain bike trails thought the woods over here and I tried to get us to weave our way to the river.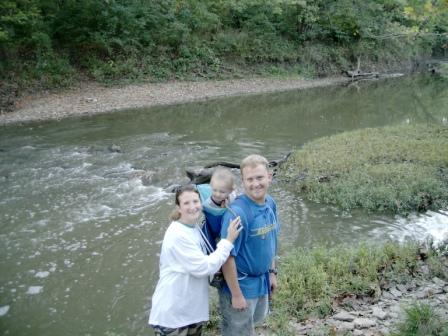 We nearly crossed the river at one spot but chickened out. Then we found a frog to play with and shortly after turned back around. Early on in the hike we had come across a big rusty metal container in the woods. It was about a 5 or 6 foot round circle with a chimney like structure in the middle with a ladder going up to it. Here is Peanut and I inside next to the ladder.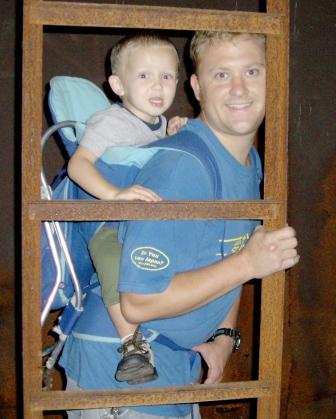 The picture at the top was me taking a picture from the inside at Matt and Heath looking into the thing. They were both to afraid to come inside (possibly because Peanut told them the bear lives in here). Well it started to get dark and Peanut acted a little funny and complained of a tummy ache and we suspected
to be the problem. So we headed home so Peanut could sit on the potty and then we could get some ice cream. We were ahead of schedule so went downstairs so Peanut could break out his mad…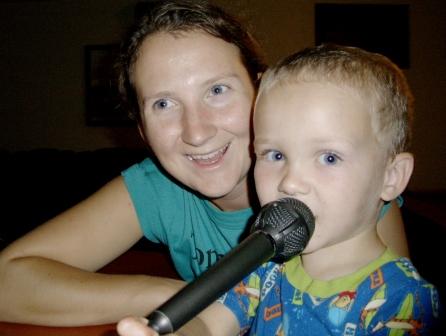 …karaoke skilz. I tried to use youtube to find some good kids songs and had mixed results. Peanut and Heath did sing, wheels on the bus, ba ba black sheep, Farmer in the Dell and itsy bitsy spider.
Then we went upstairs to read one of the new library books and Peanut picked out Lucky Jake a great tale about a boy and his dad panning for gold in the gold rush and then opening a restaurant for the other panhandlers.
Yeah they had a pet pig and pet goat! Some kids are so lucky.
After the story Peanut went to bed and we joined Matt to watch a couple episodes of Scrubs then Damages before bed.
The new camera is much better so far. The only drawback I have found so far is the only one picture on the timer instead of two but the benefits make up for that so far. I really do plan on giving a full review and the story of the upgrade once I get the camera figured out a bit better.