That is Heath in the garage but who is standing in front of my house?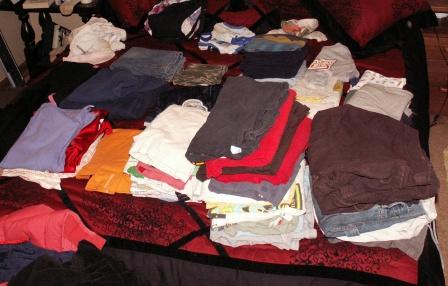 They have on some really sexy looking jeans and a cool flannel shirt but I promise it is not me.
Look to prove it here is a picture with me and our new…
Scarecrow.
Sunday afternoon and last night Peanut and I built this scarecrow for Halloween out of old boards I had in the shop. He will be a member of the family for the next month so I'd like to give him a name.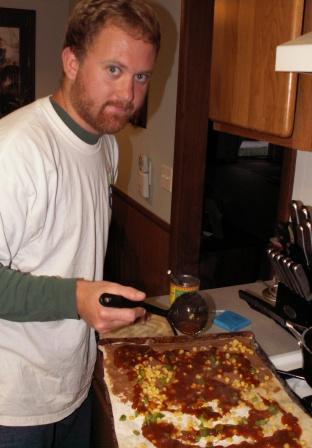 Any suggestions on the scarecrows name?
I'll probably let Peanut be the deciding factor on the name but I'd like some good suggestions to let him choose from.
So after putting up the scarecrow and taking a few pictures we ate some leftovers for dinner on the deck.
The weather was soo nice last night. I hope everyone got to go outside a bit.
After dinner we headed to the Waldo Library again. At dinner Peanut told me he wanted to read:
1. a book about Trees
2. a book about Halloween
3. a book about pumpkins
4. a book about fishing
A book about trees sounded boring then I thought of an old classic, The Giving Tree.
At the library I had a bit of trouble finding the book but H was determined and tracked it down. We also found a copy of Charlie Brown and the Great Pumpkin so we could cross off books 2 and 3.
I had a tough time finding a book about fishing as I aimlessly walked the isle of kids books. Then I got to Dr. Seuss and saw "One fish two fish red fish blue fish and decided that was close enough.
We also found a book about mice that play with bugs or something and one about animals that live in the backyard.
After the library we went to the park and it started to get cold out. We played "police man", "ambulance driver" and "take mom to work to make us money for toys" at the park until it got too cold and dark. (All three games were the exact same, we drove around in a pretend car and took someone to jail, hospital or work). Then went home to watch Dora, play Curious George on the computer and go to bed. Heath and I took turns going on runs because we are worried about our 1/2 marathon and our lack of recent training. Then we watched a bit of TV and went downstairs to work on projects. Heath played scrapbook and I played with the wood lathe a bit.
It's a new tool for me to play with and kinda interesting to work on. I'll post more about it some day. this morning we all got up early. Heath had a meeting or something and I had a Birthday Party for the General Manager at Georgie Porgies at 7.