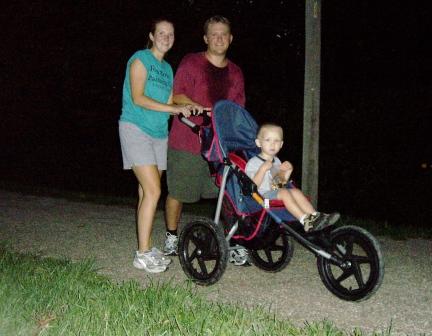 We got in 4 miles last night, only 9.1 more and were there.
The surplus guys showed up at my office just before I was about to leave last night so I got stuck at work a bit later then normal. I got home and Peanut and I went outside to get some stuff ready and Heath decorated some on the inside. Peanut and I were preparing some sticks and things for tonights…
First Weenie Roast
(at the new house)
And you are all invited!
So tonight after work we will get a good run in (more then 4 miles) then head home and get a little fire going in the backyard. After going to the pit in the woods last night and finding new sprouts of poison ivy I have decided to move the pit to the grassy (poison ivy free) side of the yard. We have a pack and a 1/2 of hot dogs left over from the PSU game and a 1/2 a pack of turkey dogs. I believe the roast will begin around 6:00. The dogs will be followed by smores.
So after getting a spot for the fire ready and throwing a ball around for a few minutes we loaded up the car and headed out to St. Thomas More church.
It was deserted but we let ourselves in and found some stairs going down. We followed the stairs then went through a hallway and ended up in a hall built for 350 people. We inspected the hall and decided it would make a good spot for a wedding reception. Then we went back of the stairs and took a peak at the church. Peanut was concerned that the wedding was not last night but soon became more interested in chasing me back to the car and jumping off stuff.
We hopped in the car and went to the mini lot at 85th between Wornal and Holmes and loaded Peanut in the stroller with snacks and a juice box and headed north. We ran to Waldo then through Waldo and stopped at 68th street (just over 2 miles) and ran back. The path was fairly crowded with walkers, runners and bikers enjoying the night. Peanut insisted on saying hello to everyone then commenting on whether they were a boy or a girl and how big their dog was. It started to get dark out so we postponed our trip to the grocery and headed home for dinner.
We had a package of frozen meatballs and tossed them in a pan w/ olive oil and spices. I toasted up some hot dog buns with cheddar cheese and got a pan of frozen green beans going. We made up some Meatball grinders and covered them in marinara and Parmesan. I had 11 meatballs, Heath had 6 but Peanut stole one and Peanut started with 3 and then had 4. Despite the meatballs turning out to be made of turkey instead of beef they were good.
Heath and Peanut got cleaned up and I cleaned up the kitchen then we walked next door to see Becky (and Stephen)'s new car. It was brand new and had some cool new features like the keys that can stay in your pocket to open the door.
We said goodnight and crawled into bed to read The Giving Tree.
No one cried or asked why the boy was so mean to the tree or asked why the tree was so nice or seemed to have any reaction. I thought the story was more sad then I remembered it being and Heath thought it was less sad then she remembered "and the tree was happy."
After the giving tree we read about some mice that were looking for bugs then tucked Peanut in after he pulled all the stay up late tricks he knew.
Then Heath and I tried to talk each other into going to the store but neither of us caved and we decided I would try to go after work. We watched Damages and went to bed.

Ohh yeah our DVR box (the one that is like a week old) is starting to suck again. It freezes up on recordings and sounds and looks terrible on some of our recordings.