Safety First is Peanut's moto.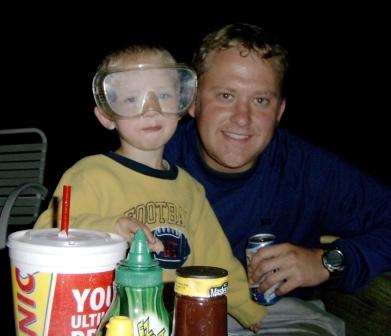 He wore these safety goggles to keep the smoke out of his eyes.
Well the quick run after work seemed to take forever last night and we spent the whole evening trying to get everything done. I left work and made a quick run to Aldi for grocery's then met Peanut and Heath at home. We snaked a bit and got ready for the run. Peanut was upset about some raisins but a few minutes in time out took care of that and we were on the trail. We ran on the path from Holmes to Lee Park and then some. On the way back through Lee park we stopped for a few minutes for a bathroom break and to let Peanut play at the playground.
By the time we got back to the car it was after 6:30. Jon had come over at like 6:00 and was waiting for us. He could not wait and grilled up 6 burgers (some for dinner now and some for later). We got home and rushed about to get the beans warmed up and the fire going and Peanut hauled wood down in his wheel barrow. ( I really wish I had gotten a picture but I was rushing to get everything going before dark).
The fire took off in no time and we set up chairs and a table and stayed warm near the fire. Everything was good and we were all starving and quickly gobbled up the dogs and beans and some chips. We were not even done eating hot dogs before Peanut started talking about smores and primarily the marshmallows we got to cook to make them.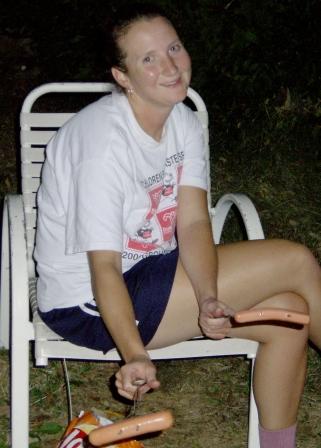 We cooked up a bunch and ate them all and I was disappointed to find out the chocolate had hazelnut in it. What is hazelnut? Am I allergic to it? I didn't risk it so my smores had no chocolate in them.
After smores Heath and Peanut hopped in the shower and I got jon some speakers and talked computers for a bit. Then he went home and we read One Fish, Two Fish, Red Fish, Blue Fish. I'm not sure this book makes any sense and it's my guess that some drugs were in play when Dr. Seuss wrote it. Sure it starts out about different sizes shapes colors etc. of fish but then all sorts of pets and creatures and stuff is brought in and no one has any idea what is going on.

After reading Heath and I were in no mood for cleaning dishes. It had gotten cold out and I really didn't want to check on our fire other then looking out from the window occasionally to make sure it had not grown. We had windows open all over our house and closed a few and climbed under a small blanket to watch the new episode of South Park. It was less funny then I had hoped. We were kinda beat from all the running and roasting and whatnot and my legs were stiff so we fell asleep early and I woke up early.
To discover it was 59 degrees in our house and I was freezing.

This morning I rushed around the house getting coffee and hot chocolate ready for my frozen roommates and cutting up a bunch of steak, chicken and pineapple for tonights shishkabobs.
I'd like to mention that Jon and I discussed the potential of taking the boat out on Friday to have a fire on an island on the Missorri River, on Tuesday or Wednesday of next week catching happy hour at Tom Fooleries, and on Thursday going to the Red Balloon.