3 tales of meat and some other adventuring.
Well Friday we decided to try for an early night and not get too wound up. So Matt, Jon, Heath and I went to Flo's for a happy hour drink and planed to go next door for Smokestack BBQ after a couple drinks. Well after a couple pitchers we decided we wanted to go to Lew's for dinner instead and headed up there.
We found they had a new menu with the addition of some interesting items. They have always had a really good 12oz burger called the Lew Burger but they added an 18oz bubba burger. It was tempting to Jon and I but we did not want to be too full for the rest of the evening. I really want to go back and try out the bubba sometime. The new tenderloin on the menu claimed to be gi-normous and I was interested so I ordered it and Lew's showed me this truly gi-normous chunk of delicious fried pork.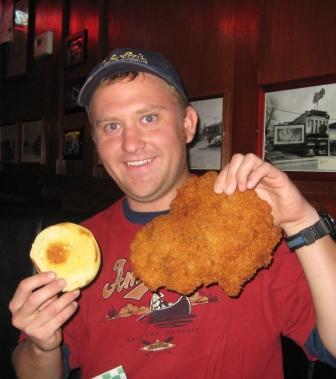 The bun was way too small and I ate most of it with a fork and knife. Lew's always has great food and Jon's burger, Matt's chicken fried steak, and Heath's Cajun chicken sandwich all looked great too. After the great dinner we headed to Matt's cousins house. She was married last weekend and had piles of extra beer leftover from the reception. We helped her with her piles and had a good time drinking snacking and talking about weddings and Glena.
Then we went home and Heath went to bed and Jon and Matt sang some songs.
In the morning I got calls from the radio station at 5:00, 5:30, 6:00, 6:30 and like 10:30 because of problems with the printers. Near the end of the calls everyone else got up and we decided to get some breakfast/lunch. Lew's 18oz burger reminded me of a 20oz burger I had seen on the menu at Bell Street Mammas call the "Ohh my Gawd". After a brief wait Jon and I each ordered one and Heath and Matt got some omelets.
Of course once these burgers were delivered we were the center of attention as people asked what we were eating and what it was called and how big it was etc etc.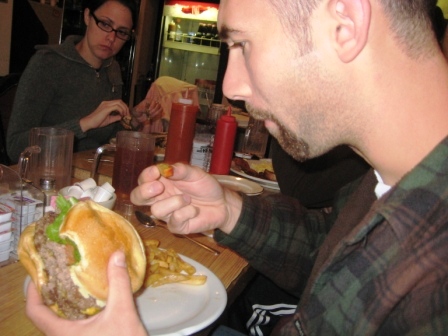 (Jon w/ 20oz of medium well beef and double American cheese)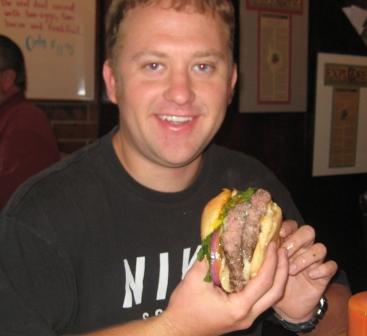 (Me w/ 20oz medium rare beef and double pepper jack cheese)
Mamma was there to tell everyone about the burgers and mention that the food network had done a special on them. We both finished the burgers with out too much trouble and Jon ate all his fries. I ate most of mine but the pool of grease and blood that had formed on my plate and the quantity of beef in my belly got the best of me and decided to leave some.
The rest of the day we laid around and got a wedding gift and did some shopping and got ready for the wedding. Then around 6 went to the wedding. It was nice and lots of fun and I was actually hungry again once the buffet got going. But this is where I met the bad meat. I went through the buffet and got veggies and cheese and lots of tasty snacks before finding the cook with the big tasty looking pork slices. I got a few and then took a look at them while waiting in line for the potatotini. There was something unusual stuck to pork and it turned out to be one of my biggest enemies "The Pecan".
I had to give up my pork and not even get to taste it. The martini glass full of mashed potatoes, cheese, meatballs, and sweet potatoes made up for it though and I even went back for more meatballs. We enjoyed the wedding till midnight then walked out to main and ended up at a bar I have never been to before. I think it is called Hardings. It was on the second story of a group of shops on main and cool place. Once they closed we took a cab to Jon's and ran around for a while before crashing out for the night.
Sunday I was actually very productive and got lots of stuff done around the house, the biggest being putting up a wallpaper border around Peanut's room and getting the laundry room ready to be painted tonight.