Well Jon has had much to do on the bronco since I last came over to help put the new motor in.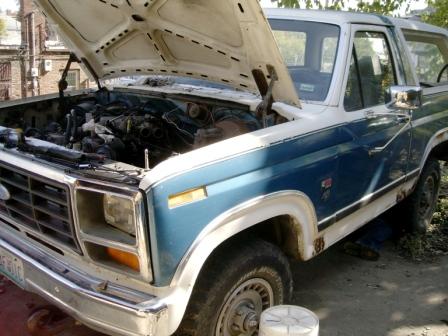 It may be just a couple nights of working before it's time to turn the motor over and see what happens.
Friday night Heath and I went on a run then Matt and Jon came over and we watched some TV until everyone was ready for dinner. We headed to Chelly's and got some good Mexican food and some lovely Mexican music from the trio. After eating we decided to walk it off a bit and head around the corner to the Village Tavern and check out this bar as a possible stop on the run. It was a good bar and we had a pitcher then remembered a new place called Patrick's just down the street and walked there. We had another pitcher and decided this bar was good and would be a great stop on the run. Well then we decided to keep going and just a bit farther down we found a place called Farrah's I think and it was a good bar and we tried out their pitcher and even talked to the bartender about the run a bit.
At this point I brought up a dream of bar's sponsoring us and Heath volunteered to call all the bars that were possibly on our route and tell them about the run and see if they were interested in giving us a deal on drinks or buying our shirts or something. We will see how that goes any bonus is a good bonus I think.
After our beers we kept walking north on Wornal and as I suspected there were no bars between Farrah's and Lew's. This was a long stretch but after a few pitchers it went fairly easy. We got beer's at Lew's and Kenedy's and back to Lew's then decided to walk back up Wornal and look for a taxi on the way. Heath had on fancy girl shoes since no one knew we would be going on such a journey. We walked all the way back up to Chelly's with just one stop at the Piano room on the way. Matt got us excited for McDonald's doubles so we picked up a bunch of them and some fries on the way home.
In the morning I cooked up a big pot of potatoes and eggs then looked for costumes with Matt then went to Jon's to work on the Bronco. We spent a good amount of the morning putting the electrical wiring back in and also put the starter in and some stuff with the fuel pump and gage. Then we got after the air stuff. Take a look at this pic.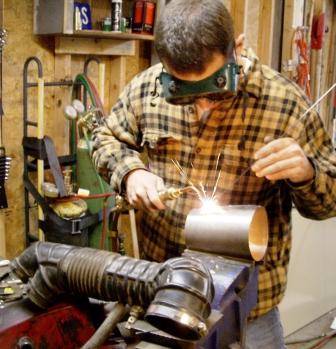 That large black plastic thing connects to the motor on the left side and connects to the air filter on the right side. There was no way to make it work on the new motor because it is rigid plastic and puts the filter in the wrong place. That metal tube thing Jon is working on will be the replacement for it. We had a heck of a time figuring out how to cut that tube thing out of a flat piece of metal and have it roll up to fit just right.
Just before dark we closed up the shop and headed home to get cleaned up. Matt, Jon, Heath and I went back down Wornal and stopped at Jake's BBQ a bar we had skipped over the night before and got some dinner. The BBQ was good but our waiter was a bit slow (in the head).
After dinner we got ready at my house then went to a party in Lenexa that started out strange and awkward but ended up to be pretty fun.
Sunday Jon and I headed out to Grandview to get Russ then to Oak Grove to get…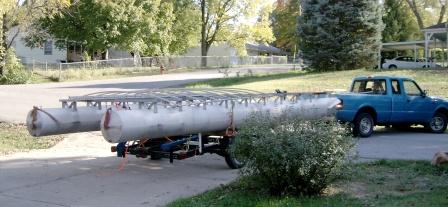 Jon's new pontoons for a pontoon boat that will be built this winter/spring. The pontoon's are huge and the trailer will need some major modifictions before they fit on correctly. So once the Bronco is running again we will work on getting something big for it to pull.
Jon and Russ left and I got to work on stuff around the house the rest of the day. I cut up some wood, moved Grandma Natty under the deck, worked on my fire pit, stained and painted stuff for the laundry room and got the deck and porch ready for winter.
Grandma fits great under the deck and soon I will dry vac it out then tarp it and leave it alone till spring when I'll need to rebuild the steering and work on the transmission some.
Lots of words today.