Last night we broke out the seaweed, the sticky rice and had some sushi.

besides seaweed and rice this blurry picture shows shrimp, noodles, egg, tomato, jalapeño, terriaki chicken, celery, tuna, crab, miso soup, soy sauce and wasabi. ohh and some beer
Last night Heath and I met the priest at Christ the King that will marry us in September then went home and started preparing the sushi. Matt came over and we sat down to eat finding out we did not have much seaweed paper stuff so H went to get more. Then we sat down to eat. There was a huge spread of food and it did not seem like we were making a dent. We ate and ate and then H threw in the towel, Matt continued for a while but then he gave up and I continued to eat until the rice in my belly swelled and I too leaned back on the couch to digest.
We digested and watched tv for a bit then cleaned up the dishes and stuff. Then we broke out some beers, Matt's Nintendo Wii and moved the coffee table out of the family room.
Heath and I had little wii experience so we tried out all the sport games and warrio and enjoyed each of them. I'm not sure when we started but we played till 10:30 and ended up with a pile of beer cans and then went to bed.
Now this brings me to today, im not sure what's in store for the morning but after work I have a 50 foot walnut tree to cut and haul. It sure did not take long to find firewood and this should get me Jon and my mom through for quite some time. I found an add on craigslist for this downed tree and am heading there (north of the river) right after work. The guys said it is on the ground and ready to be cut and hauled away, he wanted to make sure I understood this is "a big dude" repeating this line even.
So last night I got the chainsaw ready to go and some gas and oils and tools. Jon even bought a new chainsaw because his one from last year does not work well (ever since he cut ice for ice fishing). My brother is bringing his truck to my work then we will meet at Jon's garage and hook up my truck to his truck bed trailer. Then the 4 truck beds will go find the big dude. We will fire up the chainsaws and cut through every 16inches then move on and just cut rounds.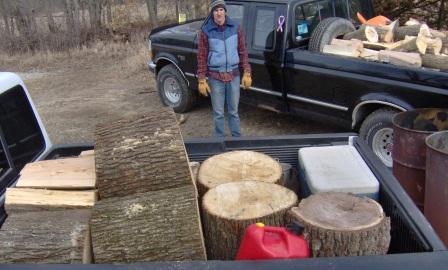 Kinda like this but possibly even more. We will cut until each truck bed is loaded then haul it home. I am guessing we will still not have enough truck space for all the wood and have to come back tomorrow or Friday but it's tough to say until we see how big around and heavy the rounds are. If the tree is just one big trunk 50 feet long, I think we will get about 38 rounds but it is likely a series of branches and the pile will be even larger.
When we get home and get the wood unloaded I expect it will be near dusk and time to fire up the big wood grill in the driveway, pull out some chairs and grill some burgers and hand out candy to any trick or treaters that come by.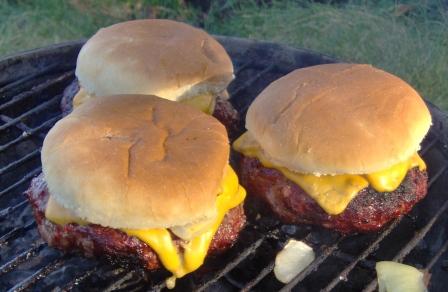 So if you want to join in the Halloween bbq or the wood gathering mission let me know. Extra truck beds or chain saws could really come in handy but burger eaters and round carriers are good too.