So we got a nice pile of firewood burning, lit the jack O' lanterns, brought out the food and candy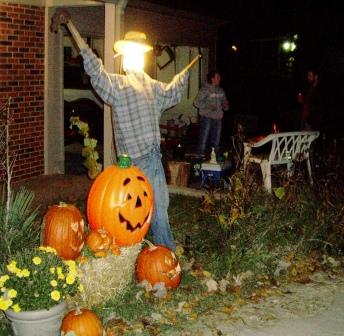 and dug in for a good night in the driveway greeting the trick or treaters.
Well the firewood we were burning was my old stuff from last year. I had all sorts of wackiness from craigslist yesterday. First I had set up to pick up firewood Wednesday right after work but the guy called a few hours before to let me know someone got the wood last night. Heath and I also found someone giving away free 75 gallon and 40 gallon fish tanks with fish in them and offered to come get them but the lady never responded or called back. Then I found another free firewood offer north of the river and called but the line rang and rang and rang with no answer. Then an add I had responded to a while back about a headboard for a queen size bed responded and sent me a picture and said it was still available. At this point I was excited to get anything free and agreed to come get it then never heard back.
Well I went home at the day with no new toys or anything and Heath and I decided to go to a bar called "Ugly Joe's" just a mile or so from our house and try it out. It was a cool place and had some good specials. $4 any (1/2 lbs) burger on Wednesday, cheep taco's on Tuesday and $0.25 PBR Draws on Tuesday and I think $5 pichers on Thursday.
We drank our beers and headed home to get everything ready for the evening. The fire started really easily and took off in no time. I also brought out the fry daddy and a cooler and a bunch of chairs. We started out with fries and kept fresh fries going for quite some time. The fire was really hot and we cooked up 8 cheese burgers and toasted buns in like 5 minutes and they were fantastic. We also kept the fry daddy going and fried up some breaded pickles and jalapeños that were tasty.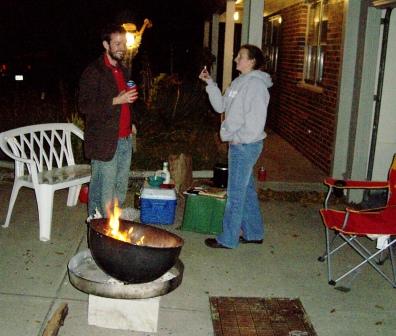 For desert we had some candy out of the bowl and some Halloween cupcakes that Becky got. From talking to our neighbors we didn't expect much from trick or treaters maybe just a few. When our first two showed up we were kinda excited and surprisingly more and more came by. We tried to make our party look unintimidateing and we got several repeat customers (possibly because we were encouraging them to take more candy).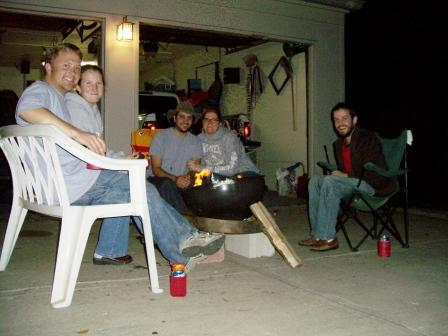 Well we drank most of the beers, ate all the burgers, fries, pickles and jalapeños, burned a good pile of wood and gave out all the candy (besides what Heath hid away) and then called it a night.