I drove down to Kelly's house in Pittsburg with Peanut and Heath Saturday morning.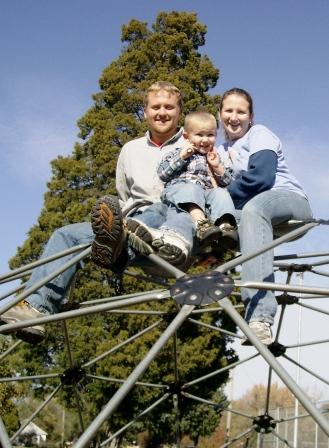 Us atop a playground thing at shlanger park.
Well we got to Kelly's close to lunch time and played on the trampoline a bit then went into town to get some lunch. We went to Chatters and I got my favorite burger, the Gorilla Burger. The gorilla is pictured in the header of my website in the top left corner. After lunch the girls did a bit of shopping and Peanut and I went to look for Tony. We went to his apartment building and did not see his car so we went to his old apartment and heard strange music coming from it. Instead of knocking we went to the mailboxes and read the names for all of them and none were Tony's name. So Tony is officially off the grid, won't answer or return phone calls and has moved.
After looking for Tony we went to the park for a bit and let Peanut climb a bunch then went back to Kelly's house so Peanut could take a nap. After the nap it was time for us to get the bonfire ready. Everything was pretty dry and the fire took of in no time.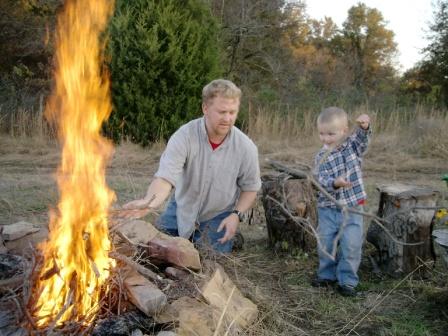 We gathered more wood and got the fire pit all ready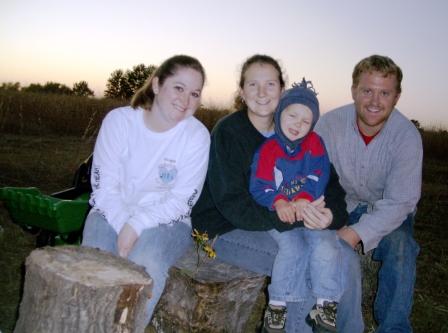 then headed into the house to get all the food stuff ready to go. Pilled all the bonfire supplies into the Vue and drove it out to the fire.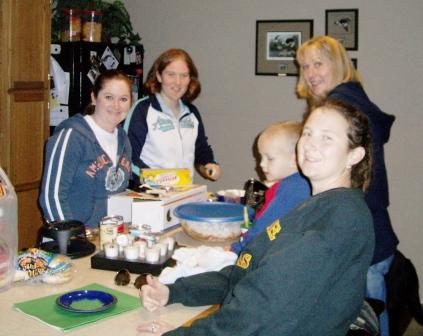 We cooked and ate and drank and burned wood and kept warm and enjoyed the night.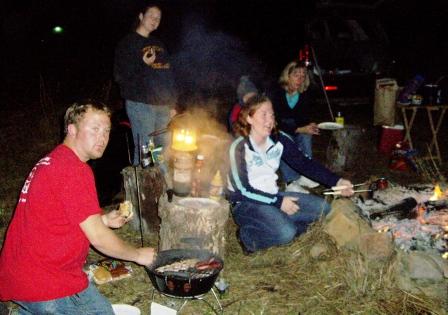 We had brats, hamburgers, rotel dip, smores and a few kinds of chips.
In the morning we woke up and cooked ham cheese and egg on biscuit sandwiches and some hash browns then went outside to play some more. Peanut played on the trampoline a bunch and we joined in some.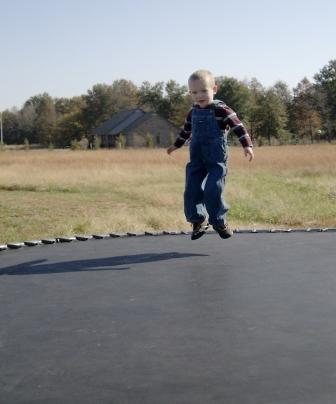 We also got a lot of use out of the tractor this weekend. Peanut took advantage of the big yard and the groomed trails through the woods.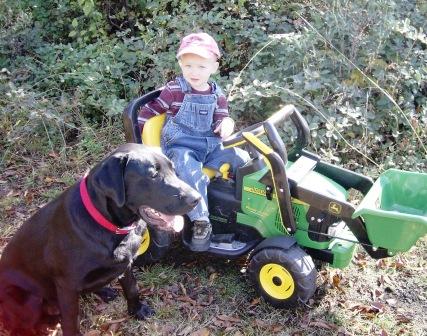 Ranger was excited to have someone his height to run around with. Other then the time he was squatting to do his business and Peanut took the opportunity to run him over in the tractor.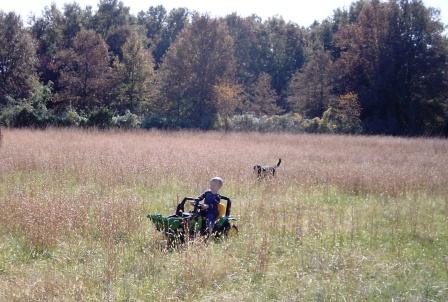 Peanut kept the tractor in the fast speed most of the time and it could drive through/over about anything unless he let off the pedal in a bad spot then it would get stuck.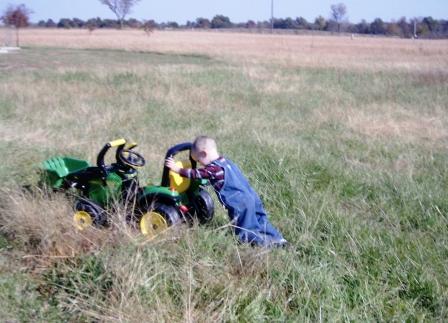 It's important to learn to drive on questionable terrain though and maybe pushing his tractor out of the high grass will keep him from burying his truck in the mud in 13yrs or so.
Then we headed to Fort Scott to watch Heath's cousin play football. It was a blowout and we left early and picked up a new home for Jummpy the fish on the way home. Everyone went to bed way early from being worn out and day light savings making it feel late.