We took quite a few pictures of Peanut and stuff this weekend.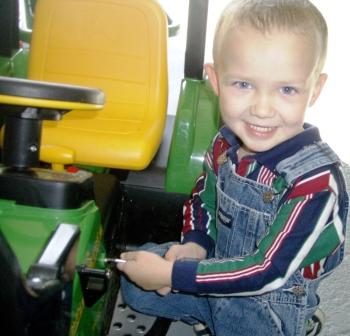 This is my favorite. He is tightening a screw on the tractor.
Well I did not break out the camera until Saturday morning so I'll backtrack some but not have any pics to go along with it. Friday I had to work but Heath and Peanut went to the zoo (I'll look for a picture of this). I met them for a late lunch at Culvers (home of the butter burger). Then I took one of the staff's laptops to them and worked a bit more then went home. Heath and Peanut were taking naps and slept till 6. I got them up and we went to Waldo pets. We looked around the store for a while then got an employee and he helped get us a new anole, a new tadpole and 2 little catfish. I'll take some pictures of everyone tonight and put them up. When we got home from the store we gave everybody a name and introduced them to their new homes. We had a Jumpy and a George and now we have a Mater (short for Tow-mater), Sam (short for Fireman Sam), Wendy, and Caroline.
Once the new pets were all set we headed to my mom's house. She was not home but I set up her newly fixed up computer and then we all jumped in the hot tub for a bit. Peanut really liked playing in the hot tub but I had read not to let kids be in for more then 5 minutes at a time so they won't dehydrate. So we drank a juice box before we got in, swam for 5 minutes, got out and drank a juice box, swam for 5 more minutes then got out put on clothes and worked on another juice box.
That was about the whole night but Peanut got us up kinda early in the morning and we were busy right away. We had to get everything going for our Pre-Thanksgiving day dinner with Heath's mom and brothers and sisters. Everybody helped get the house and food ready. Peanut and I fixed up the tractor as seen above so he could run errands for us. Our guest came over after 10am and stayed until 9pm I think we ate at like 2:30.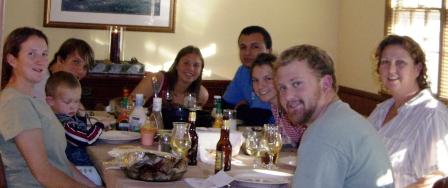 Heath's mom brought a big ham and I cooked two large chickens. The first chicken was going to be a rotisserie bird. Heath and I injected it with Baja Chipotle marinade and soaked it overnight. Then I stuck it on the rotisserie pole and filled it with potatoes, onions, carrots and celery. We also injected it a bit more in the morning. There was one problem the chicken was far to big for the rotisserie in the toaster oven. I tried to tie it up real tight and cut off wings and stuff but regardless it was too big and heavy so I had to abandon the rotisserie plan and ended up roasting it instead.
The other chicken we injected with mesquite seasoning, Worcestershire, and BBQ sauce. I drank 1/2 a beer, cut off the top, added some onion and garlic to the can then set the chicken on top of the can and the can on top of the grill. Both birds cooked for about 2 hrs on a medium/low heat and tasted great.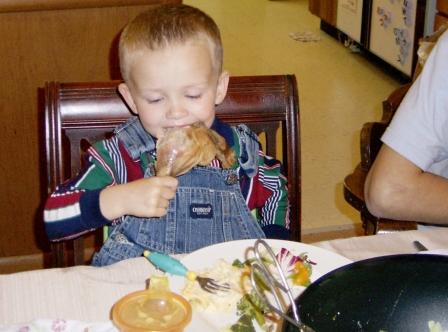 Peanuts a big fan of Ham but won't turn down a chicken leg as big as his arm. After dinner we walked to the park for a bit then ate some desert and played Stook's Wii and some pool until everyone left.
Sunday morning I cooked up breakfast, went for a run and then worked on my Ottoman in the shop till the Chiefs game. During the game Heath and Peanut left to go to Peanut's cousins birthday party at Incredibowl and I met up with them after the game.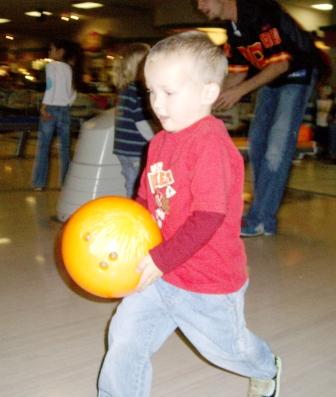 Watching kids Peanuts age bowl is funny FYI.
You can't help but try to make them do it better but they are very resistant.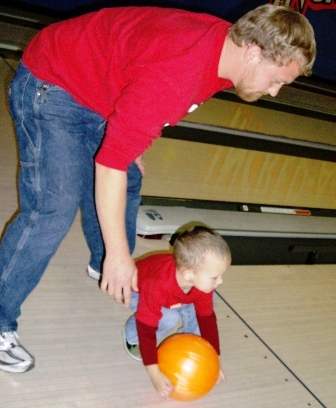 Peanut had a good time bowling and drinking Fanta and eating cake. Afterwards we went home and had a bunch of leftover and built up a big fire. Actually we had the fireplace going all weekend and it was really nice.