The first real snow is always so exciting and we all rushed outside.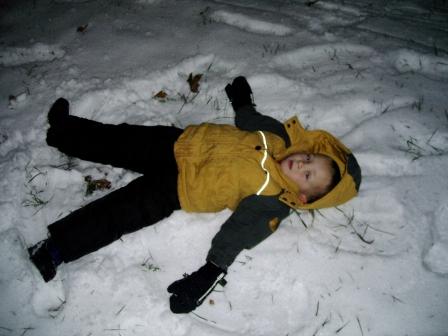 I got stuck a work a bit longer then normal and got home to find H had already started a fire and Peanut was coloring in a coloring book. Jon showed up shortly after I got home and we were not sure what to do. We had planned to run to Flo's and Corner Cocktail and stop for drinks and test out the triathlon route.
The snow was not a huge problem but we did not want to stumble into the bar soaking wet. We decided to drive one truck out to Corner and eat and have a few beers. We sat at the bar and drank Natty and got the mini tasty cheddar burger.
Then we ran back to my house. There was snow everywhere so it was not immediately clear where the sidewalk ended and began. We stuck to the west side of the road and had no problems. There were a couple of bushes along the way that could have used some trimming to make the path wider but otherwise that stretch of the run will be fine. It starts out a gentle down slope to Flo's then up a bit for a while then down again until we get to Creekside or Billy B's.
Jon and I did not really feel like stopping at Flo's for a drink and instead had an extra one at Corner and ran past Flo's,
We got home to watch Peanut and Heath eat dinner and tell us tales of sledding in the back yard. After we had left they bundled up and headed outside. Originally they were going to sled on a plastic tub lid but eventually they found my sled in the shed and tried it out.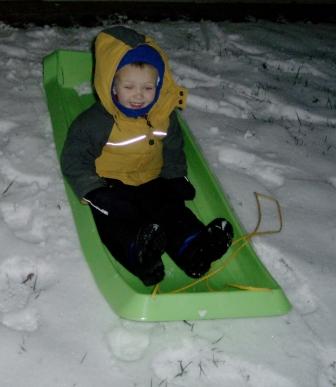 They started in the front yard by where I often park my truck and rode through the gate and down the hill, past the sewer drain, around the bush and all the way to fence at the back of the yard. That's a pretty good long run and I am glad to find out it is steep enough and easy to turn around the obstacles.
We all had ice cream cones after dinner and I drove Jon back to his truck. When I got home we screwed around a bit, then got Peanut in bed. I was sweaty from my run and took a shower. I ran in boots and lined jeans and decided that was a bad idea for the real run and stick to running pants and cut offs with sneakers.
H and I folded laundry and watched TV till bed.