I didn't really have anything important to start the post with so I thought I would update you all on everyones favorite pet, the goat.
If you didn't hear everything but our box of pans got picked up by strangers while we were at work yesterday. I'm very pleased by this and think we can get rid of the pans fairly easily. So instead of cleanup the free craigslist stuff after work Heath and I got about 20oz of turkey burger dethawing then went for a run. It was a bit colder then I expected but otherwise a good run. Afterward I swapped a couple of locks on some doors real quick then Matt and I hung out in the kitchen while Heath and Becky worked out to some video in the basement.
Matt and cooked up some dinner. We browned the turkey then tossed in a box of cheeseburger hamburger helper and some extra noodles, corn, celery, onion and carrots. We cooked it all in a big pan even though Matt was worried about an overflow it just fit. We also cooked up some dinner rolls and the whole thing was ready just as Heath was done working out. We got beers and milk and sat down to a tasty dinner. Then Heath got cleaned up and we headed to Ugly Joe's up the street for the Tuesday PBR special. We got the same waitress we always get and despite the great special easily got a good table.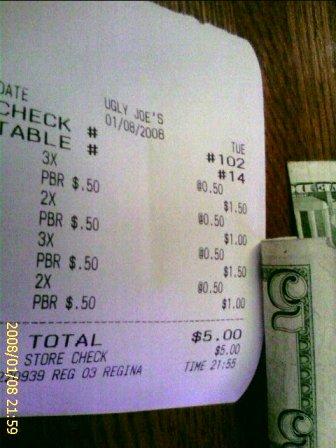 We hung out for several hours watching various games on all the screens and finished the night with this receipt. 10 of the 20oz PBR draws for $0.50. I believe that is cheaper then you can buy cans of beer at the liquor store.
That was about the end of our night, we headed home and got the trash and recycles out then got to bed.
Tonight I'll be working late on some stuff at the office then going in early to update some important software with the vendor. Thursday night is our trip to the Red Balloon. I think there will be a good turnout and want to get there early to get a good table to see/hear the talent.