Peanut came home Friday after work and we did a lot this weekend.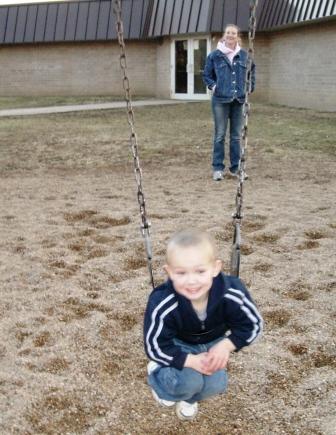 Right after work/school Peanut rode his bike to the park near our house and Heath and I ran alongside him and tried to keep him from crashing. He likes to watch the peddles instead of the road and has no fear of speed.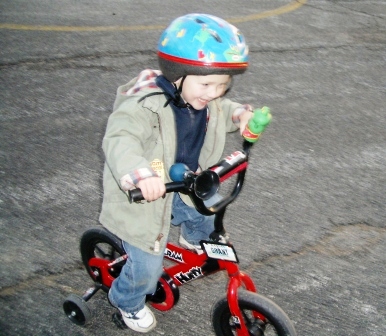 We biked and played for a while but it was kinda cold out and we had a lot to do Friday night so we headed back before it got dark.
Once home we loaded up in the car and went to the pet store for crickets for George the living anole. We also planed to get a sucker fish to clean jumpy's tank but they were out. Peanut and I were not too worried we were more excited about feeding Charlie the big catfish and his friends.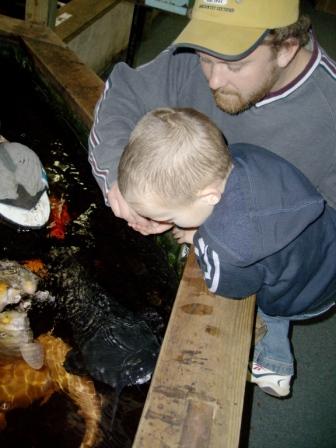 You can see Charlie's black head at the bottom.
After the pet store we had a speedy trip to the library for a couple of new CDs and a couple of books to read and listen too on our car trip Saturday morning. After the library we went to Papa Murphy's pizza and let Peanut pick out the toppings on a giant pizza. We got pepperoni, Canadian bacon, pineapple, and sausage. Once home we added onions and jalapeños to 1/2 of it and went downstairs to eat it with Matt and watch the newish Herby love bug movie with Lohan.
We got to bed early and got up early for our trip to Grandma Prewitt's farm. We had all kinds of fun at the farm. We started with opening late Christmas presents.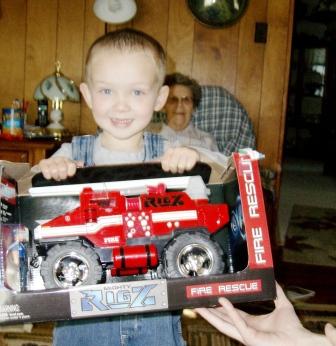 Peanut got a firetruck that Grandma picked out herself. Then we went outside for some tractor driving and trampoline jumping.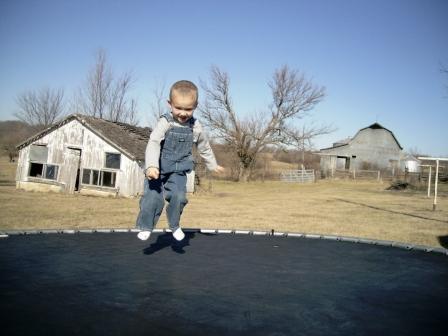 We went into town for BBQ and went to see the pigs at the pig barn and played with my cousins and the new firetruck and Peanut had a very full very busy day. Heath took a nap but Peanut was going all day until he fell asleep on the way home. Once home Heath and I played Wii for a bit and started 300 then crashed ourselves.
In the morning Heath went to a baby shower and Peanut and I got the house to ourselves. We played some PBS kids games on the computer then got out the train set and the duplos. We set up the train track then started building the town around it.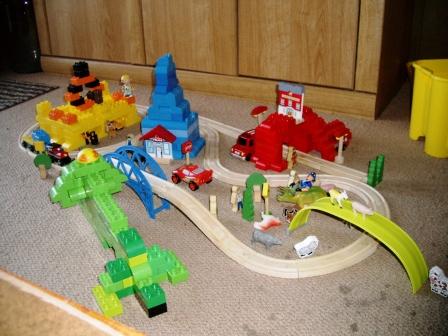 We made a yellow train station, a blue police station, a red fire station and a big green boat in the water off the side of town. Once all the blocks were used Peanut got in his boat before destroying the town.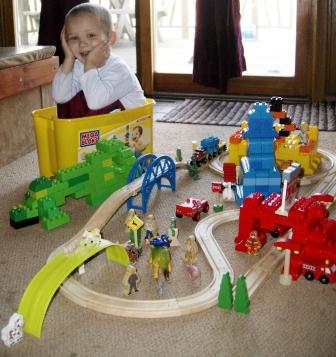 Then Heath came home and Peanut took a nap and we did some stuff around the house. After nap time we went to Heath's aunt's birthday/Grandma's goodbye party for spaghetti and cake. Once home we read books and got Peanut in bed then I made a chili and Heath upolsteryed a chair for my mom. I'm pretty excited to eat this chili tonight. It is somewhat experimental. Sure I have the beans and tomatoes and sauce and even corn in it but I did not use ground beef or ground deer burger. If you look along the top of this pic you can see…
turkey, kielbasa sausage, pork loin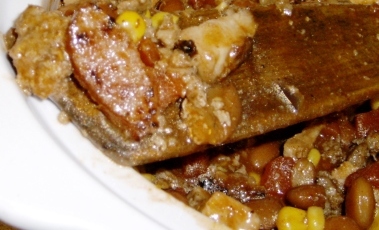 I think it is going to rock. My only worry is that I made it too plain in an effort to get Peanut to eat some but I think with some jalapeños or hot sauce I can make ours taste spicy and good.
After the chili stuff I had one item left on my todo list and it required Heath's effort.
I needed a haircut and Heath wanted to give it a shot. She had never cut hair before but I was not too worried about it. I figure worse case I shave my head and look like a bad ass for a while.
no not quite right, more like
with a beard instead of a gun.
So she started with a pile of guards, 3 sets of unoiled somewhat functioning clippers, and a pair of scissors. We started with the 7 guard and did a lot of hair pulling and a bit of cutting before I oiled up the clippers and Heath moved to the scissors. Then she tried out the left ear and right ear guard but things did not go so well and they cut surprisingly close and strange and she went back to work with scissor for a while.
Heath began to worry and sounded nervous and was already apologizing and coming up with excuses. Then it was decided to get the 5 guard out and get the top with that and see what to do with the sides after that. Then she began telling me how short it was. I told her that was fine and eventually my entire head was done with the 5 guard and she took off the guard and did some cleanup around the edges and stuff. Then I got my first look and it was indeed the shortest my hair has been cut since I was a young boy and had no say in my hair cuts. I had Heath fix a few strange spots then went to trim my beard up. I went a bit overboard with all this hair cutting and decided to get rid of the beard and just keep the goatee for a bit. The rest of my beard is blond and needed to be longer then the newly cut hair to be visible. I think Heath and I are booth fairly pleased with the short hair 'The' and she is sure she will do better next time. Anyhow here is the pic of the new cut.