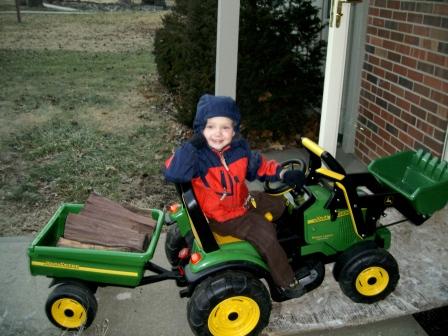 Yesterday afternoon Matt started the crock pot full of chili for me but it was not ready yet when I got home. That was ok though because I wanted to work outside and get cold and be ready for a hot bowl of chili. I went outside and started working on a few things and realized it was really cold. Then I realized it always feels cold out now that my hair is gone. My head is not used to being exposed and gets cold easy. I am going to need to get a stocking cap for it. Peanut and Heath came home and Heath was afraid of the cold but Peanut was ready for some outside fun. He got out the tractor and drove it around for a bit.
I have two piles of wood out front next to my firewood racks. Both my piles need to be split and one is very old and needs to be burned this season and one is very wet and needs to be split and sit on the rack till next season. Both piles are in the way of each others racks and somewhat mixed and I feel the need to split and organize them. So I grabbed a few old chunks and the maul and got after them. Peanut was curious about the splitting but was warned of the danger and stayed back. Once I had a chunk all split up he started running around helping me stack it up and we loaded up his tractor's trailer and decided it was cold enough for a fire in the fireplace.
I put a ramp on the front door and blocked the door open and drove right in the house.
He did not have the turning radius to make a couple of the turns but otherwise it worked great. We unloaded his trailer into the fireplace then headed out. He really wanted to do another load so we took a second trip and loaded up the fireplace more then I normally would. Of course he wanted a third load but I knew better so we got it loaded up and left the trailer by the front door so we could get wood from it when we needed it.
I split for a bit longer and he rode his bike till Heath came out to tell us baked potatoes were ready and Frito's and hot sauce and bowls and all the things we would need for the chili dinner. We put away our toys and went inside for dinner. Matt joined us and we had a nice dinner. Peanut liked scooping chili with Fritos Scoops.
I was probably too worried about the chili being flavorless and put a heavy layer of Iguana Hot sauce on mine.
It was good but afterward I realized the chili had a good flavor without it. The kielbasa I added to the chili did not seem to have much affect on it but the grilled pork loin chunks were a great treat I found in every other scoop. After Matt, Heath and I made happy plates and Peanut ate all his fries and many of his scoops of chili we cleaned up the plates and had ice cream and cake. Then Matt went downstairs and I got Peanut in the tub and we played construction guys for a while while Heath worked on the dishes.
Then Heath played w/ Peanut in the tub and I worked a bit more on the kitchen and got my lunch for today ready. I poured some chili into a Tupperware and got caught cleaning up the bowl.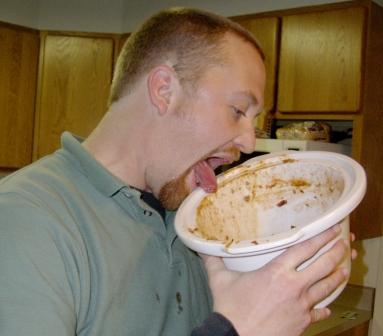 (picture is a reenactment of actual events that happened moments earlier, stains on shirt are from actual events)
It was then that I realized I really liked the chili.
When I came back to the tub Peanut was still playing w/ construction trucks but had let all the water out of the tub. We built the fire up a bit and got his pajamas on then broke out a couple marshmallows and the cooker stick.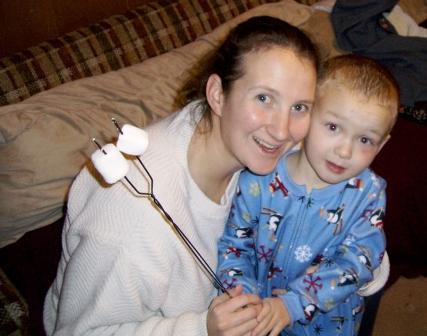 The fire was too hot for him so he watched Heath cook it for him then helped add the graham crackers and peanut butter. The rest of us were full from cake and so these two marshmallows were all we cooked.
Then we watched America's Funniest home videos with this guy
not this guy.
And Peanut played with legos some and asked Heath "why" everything she laughed very loud at every video she saw. Eventually he gave up asking "why" and instead started fake laughing every time she did. His fake laugh made me laugh and Heath laugh even more. He sounded just like an adorable baby goat.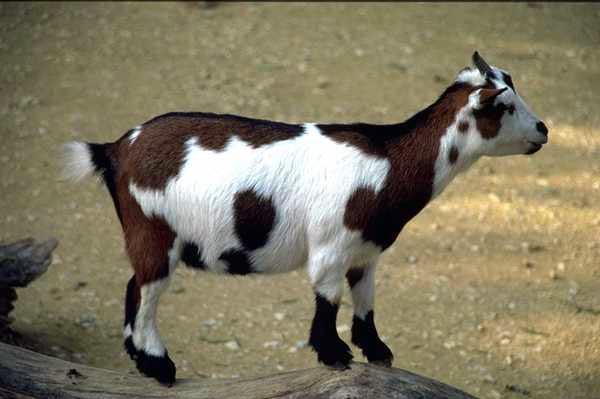 (not actual size or adorableness of real baby goat, they are larger and cuter)
Then it was book and bed time.
Once Peanut was in bed Heath and I had a glass of wine, did some laundry and put a strap on the ottoman to make it easier to flip over. Then we caught up on some tv.