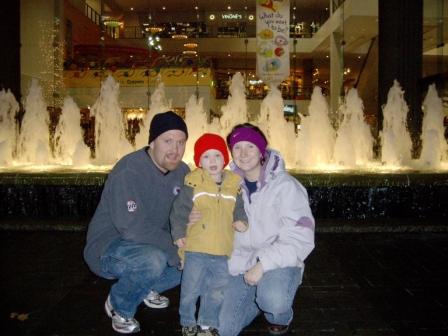 preaty fountains
Yesterday I mentioned that my head feels colder without all the hair and I could not find any stocking caps so yesterday I picked up 2 $2 hats at Walgreen's. I got the red one for me so it would be bright when I run and I would not get run over by a car. I got the black one for Heath because she claims I lost her black one. I got the hats anticipating our trip to crown center and taking Peanut ice skating for the first time. Well as you can see he liked my hat and would not give it back so I kept Heaths.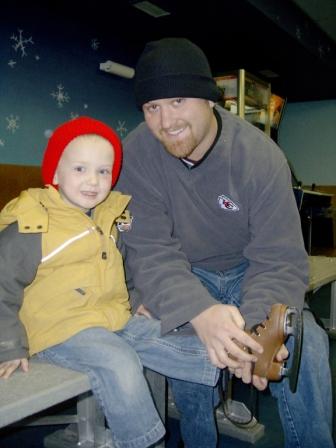 Peanut had been asking about going to Crown Center for the last few weeks and we finally took him. He sang the whole way there and once arrived tried to run everywhere. We eventually got him slowed down to a jolly skip.
We rented our skates and put them on. Then headed out to the ice rink.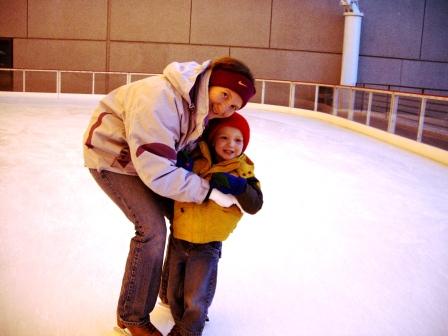 Peanut was funny on the ice. He could not make up his mind on what to do with his legs, he tried making them limp or stiff or moving them back and forth real fast. Nothing really seemed fun to him though and he did not like the way the skates made his feet feel. We convinced him to go around the whole rink once holding our hands or coasting along in front of me. After that he was done and no convincing on our part was going to get him back out there.
Heath and I took turns going around once more then we packed up the skates and left. I think it was a bit soon to take Peanut skating but we learned some important lessons.
1. Take extra big socks to give Peanut's tender young feet extra padding.
2. Do everything else first so that ice skating is the only thing left to do before going home to bed.
Once done skating we went into Crown Center and walked around a bit. Peanut ran to the train restaurant (Fritz's) but we convinced him to walk around a bit first. Since skating was so short lived it felt early for dinner. We walked to the train store on the 3rd floor and just around the mall a bit then went to the train restaurant. We sat on the opposite side of where we usually did and this was very exciting because our window had a different train in it.
We immediately ordered Peanuts milk, fruit cup and chicken nuggets then looked at the menu for ourselves. Peanut's was delivered in no time and jumped from his seat to grab the bucket that came down from the train.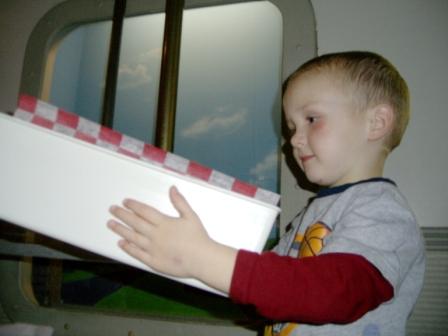 I forget what I order, it has a weird name but it labeled as Fritz's favorite and it is awesome. Don't believe me well just take a look.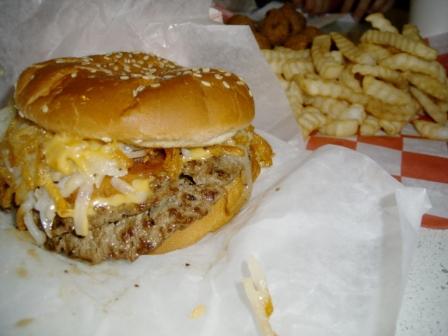 2 1/8th lbs. beef patties
melted cheese
grilled onions
pile of crispy hash browns
$0.60 for extra bacon
catsup and mustard
I got it last time with no bacon but this time I remembered to add the bacon and it was worth the 60 pennies. This burger is served hot the patties and bacon must be fresh off the grill and the hash browns right out of the fryer. I get hungry again just thinking about it.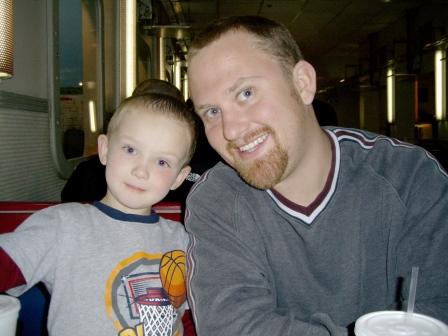 Heath made what looked like a good choice called the kitchen sink. It sounded like the burger they put everything on but was kinda plain and tasted of mayo and lettuce. She also got a pile of fried mushrooms and we all shared a large order of fries so there was plenty of tasty food to be had.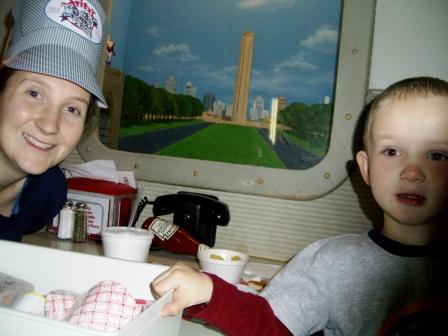 We like Fritz's milkshakes but decided not to order any so Heather and I could try out the Sheridan's ice cream and Peanut could get a lolly pop from the candy store. We paid our bill and headed to the candy shop to find it dark, empty and closed. Peanut was sad but did not have too much trouble deciding to get ice cream instead. We walked over to it and found it dark, full of employees cleaning up and closed. We looked around and it was not even 7:00pm but all the stores were closing down.
Crown Center is very busy and exciting during Christmas but in mid January it seems barely alive. There were a few tourists around and people that appeared to work there but otherwise the place was dead. Peanut was disappointed to find no Crayola village, no Santa, no giant wood toys, and very few lights. We talked about how Santa is busy building toys for all the kids for next Christmas and after a dozen or so "why"s Peanut seemed content and just excited to eat at the train restaurant and get to run around the halls of Crown Center.
Well everyone was counting on ice cream so we headed out and to McDonald's for fudge sundaes then home to get Peanut ready for bed and read a couple books.
Heath and I fought the Time Warner DVR in an effort to watch American Gladiators and 10 Items or Less while playing on the computer. We looked up all the costs and details in a possible trip to the Omaha Zoo this weekend and staying at a hotel with an indoor pool. It would be about $200 including room, gas, food, and entertainment and we figured we could do that but the weather looks like it is going to be cold and nasty and started to waiver. Then we talked about how our washer and dryer are both about to break and decided to look at them on Craigslist and not go to Omaha this weekend.