I'm having trouble finding any good pictures for craigslist or big tree branches or firewood so I guess I'll just put this picture here.
Please do me a favor and imagine the girls are Stephen and I and the fire is in our fireplaces next winter and our clothes are a metaphor for free craigslist's post. No that does not make sense just forget they have clothes on all together.
So I left work yesterday and braved the rain on my north eastern journey to Independence. The add said a large fallen tree branch. I had my doubts of it's usefulness but was still excited to check it out. When we arrived we found a branch bigger around then a 5 gallon bucket and about 30 ft long. It was fairly strait and looked like great firewood. It was getting darker by the second and the rain was really falling and getting colder so Stephen and I got after it in a flash. We trimmed everything off the main branch then cut it into 5 ft lengths. Then I trimmed up all the smaller branches and brush some.
We started out with a pile of brush in the truck bed then moved the 6 giant pieces of the main trunk. We estimate they weighed about 200lbs each and were wet and slick and a real bugger to move. Rolling them was nearly useless though so we had to find some brawn we had boughten just in case and got it out. We crushed all the brush in the bed with the logs and once they were all in we added in more brush. The pile was quickly well over the top of the cab of my truck.
Stephen began to think I was a madman with the pile but once we tossed one heavy nasty log on top then strapped it all down very tight it did not look that bad.
We were sticking out a lot on the sides and had to tuck the branches in a bunch. By this time we were dirty wet and the rain had started to freeze and everything had a nice coat of ice on it. The branches hung over the cab and my windshield wipers brushed them back and forth. We drove them out of there and kept a close eye on the sides for any signs of disaster.
In no time we were home and decided to do a quick unload since we were already a mess and may need the truck to get to work in the morning. It was so nasty out last night I did not get my camera out much and the pics I did take don't look that good. This morning I captured this one of part of the pile.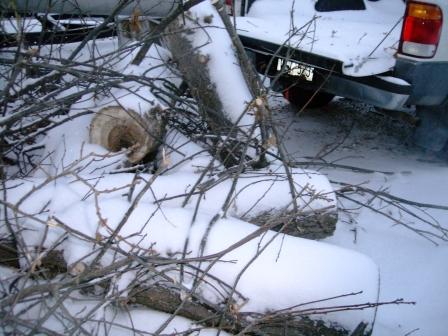 The logs look small here but they are actually a good size.
Once home I had a shower and then some delicious tacos with Heath and Peanut. Not sure what she did but the tacos really hit the spot. Then Heath went to the store and I gave Peanut a bath. We were excited to watch "Babe" or "the pig movie" so we did not play with the bath toys for too long before getting Peanut out and dry and in pajamas.
It was certainly Peanut's first time watching the movie and it seemed a bit familiar to me but I'm not sure if I had watched it before or not. We inadvertently watched almost exactly half of it before getting Peanut to bed.
Then I got out my laptop a beer and headed downstairs to visit with Matt and my new neighbor Ean. I e-mailed the craigslist wood lady and my aunt and did a bit of work then made fun of people on American idol with the guys. They were motivated to brave the storm and despite being tired I joined in and we headed up to Bill B's. We got a round of 25oz beers and sat at the bar with the 2 bartenders and 2 other patrons.
We talked weather and sports and this and that and then one of the patrons won about $300 playing keno and decided to buy the bar a drink. This got Ean excited about Keno and he won $10 on his first dollar and was hooked. We stayed long enough for the light snow to change to be a good coat on everything then went home to bed.
Unrelated I took a video of my office because it has gotten a bit out of control lately with my various projects.
Take a look: