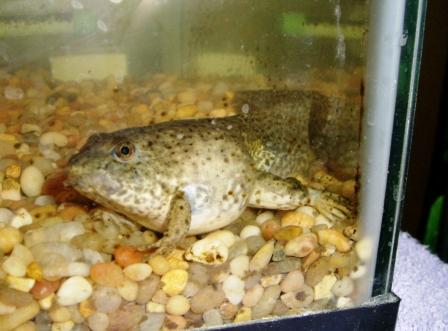 Our former tadpole Fireman Sam has been going through some changes lately. Ever since we got him his back legs have gotten bigger longer and stronger but lately he had two little bulges on his sides. Yesterday morning I saw one side had an arm then last night we spotted both arms most of the way out. Also his nose is getting more pointy and shaped like a frog.
So Fireman Sam is no longer a tadpole but is in the early stages of being a froglet.
Not Anymore
Not Yet
No Way
Yeah
So as you can see Sam's tummy will thin out his eyes bulge and he will look more and more like a frog with a tail. Then the tail will shrink. Once this happens we are supposed to stop feeding him and let him absorb the tail for nutrients. At some point his gills go away and we will see him surface for air regularly. He is changing so fast it is exciting to check on him all the time now.
Just in case you are here to hear about me not the froglet I'll change the subject.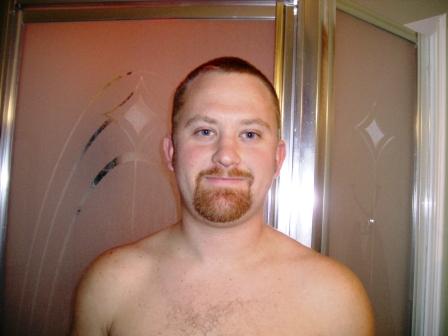 I had the day off for Martin Luther King Jr. and slept in a bit. Peanut came in at 9am and woke me up and wanted me to turn on Dora the Explorer and get him some "pink milk" (milk with strawberry syrup in it). After the show and waking up on the couch we took showers and got dressed then headed out to Ronald's Playplace for some sausage biscuits. Peanut just ate his sausage then ran around the playground until I made him leave. He found a boy his age with no socks on and they decided to be kittens for a while and crawled around meowing then became tigers then the floor turned into crocodiles and they had to run everywhere.
On the way home we went to the library but found it was closed for the holliday. Then we went to the park and I after some thinking about it Grand decided he did not want to play outside on a snowy playground but would rather go home and play with duplos.
I did my post from the weekend then made us some lunch. After lunch I gave Peanut 2 options Watch one 30min Dora and play during it then lay down in bed and close his eyes or pick out a movie and right now lay down in bed and watch it with his eyes open. He eventually picked the movie and once he looked really restfull Matt came up to babysit for a bit while I got my run in.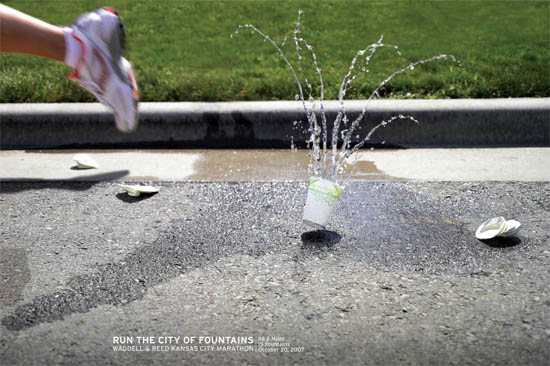 After the movie we got dressed and my tools together and a salad and a few Peanut toys and headed to my mom's house. My mom has a leaky kitchen sink faucet and needed it replaced. She was moving from this style with the single handle you lift for water and move side to side to adjust temperature

(it did not look this cool)
to this style with two handles that seperatly control hot and cold.
The replacement job seemed simple but I ran into several problems. First there was no water shutoff below the sink and so I followed the pipes to the basement. Still no shutoff so I followed then all the way across and found the only valve to turn off was the main supply line in. So I had to shut off water to the whole house. I was tough to get to the faucet from under the sink but I could just reach the stuff I needed. I got the old one mostly out and opened up the new faucet to find the connections would not reach. I put the leaky faucet back in, turned the water back on and I ran to Ace and got the standard faucet connection hoses while mom and Heath cooked dinner. When I got home I discovered our connections under the sink were not the standard and would not connect. Also the new faucet had no sprayer and the old one would not work on the new setup.
We took a break and ate a great dinner then I quickly ran back to the hardware store to pick up the other style of hoses. My brother ran to Home Depot to return the faucet for an identical one with a sprayer. Once home I discovered these new hoses would not fit either and we called my brother. After some lengthy conversations about what size and gender connections I needed he resorted to a couple of adapters that did the trick.
Once I had all the parts I needed the sink was replaced in no time and the water was back on and there was no leaks. I had forgotten the big plastic nuts that hold the faucet down tight to the sink so had to turn off water and disconnect everything then put them on and reconnect but these went quickly and shortly after everything was functioning perfectly and no leaks.
It was after 8:00 and we rushed Peanut home for bed. We discovered Fireman Sam (see above) then got Peanut in bed and changed out some light bulbs and stuff around the house before bed.