Craigslist says:
This dog house is
free to anyone. YOU HAVE TO PICK IT UP THOUGH! It's about a 6 man lift, so
you'll either need the man power or a crane. No dogs come with it. Contact me
by Jan 29th if you are seriously interested, or it gets turned into scrap wood.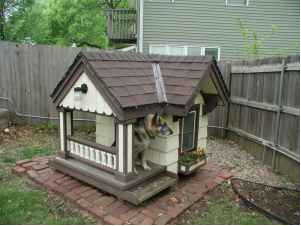 It has power hook up, indoor/outdoor lighting, 2 working
windows, and sheet rock walls with insulation.
Before we talk about the dog house how about a Fireman Sam update.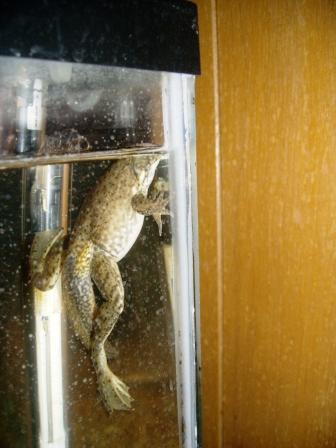 His legs are now bigger then his tail and it is really shriveling up. He has found ways to wedge himself at the top of the tank to get air (see above). Tonight we are going to take out some of his water and put a nice tall rock in his tank so he can swim or climb up to get air. Anyone want a pet frog possibly available this weekend?
So yesterday I e-mailed the doghouse guy saying I could get a team of lifters and pick up his house before the 29th. He wrote back saying he got a ton of responses but I was the only one that offered a way to get it out and so he would reserve it for me and take down the add.
The craigslist guy was not sure if it would fit in a truck but figured it would he informed me that it was extremely solid and would ride fine on an edge if it did not sit squarely in the truck. He also told me it was on 4×4 posts that held it into the ground.
Amazingly I convinced Jon, Stephen, Matt and Ben to help me out last night. Kevin and Geoff were willing to be backups if the operation got moved to Tuesday. We all arrived at 5 and found the crafty man with house and his creation. The house looked bigger then my truck and was shaped like a 'T' so there was no way it would sit inside the bed. We cut it loose by chainsawing all 4 posts and felt how heavy it really was and realized 5 guys may not be enough or at least it was not going to be an easy move.


Well we came up with a plan and got busy. We lifted one corner of the house and I backed up the truck then dropped that corner on the truck. It's hard to describe what happened after that but we all took positions on the remaining 3 sides of the house and planned to push lift and slide. The corner that was in the bed would slide along the bed liner, the other side would have to be lifted high and slide along the side of the bed and the back end would need to be lifted and pushed until it was on the bed. I got on the back end and was looking at a slightly dirty version of this.
and the next 5 minutes seemed like 30 minutes but we all lifted and pushed and slid. It did not go as easy planned as it hung up on everything it could find, the tailgate, the wheel wells, the porch etc. With the help of some boards and cinder blocks we finally got the weight off our muscles and on the truck bed and from then on it was easy.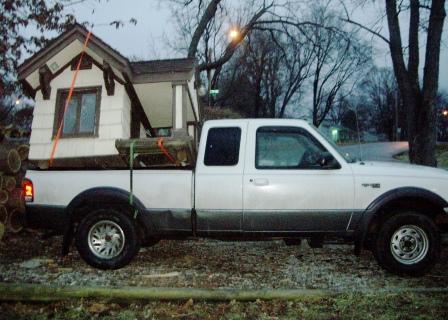 We slid it all the way against the cab and were just barely able to close the tailgate. The truck looked very top heavy and we put three good straps on it to stick the bed and the house together. It was sitting low but the house fit kinda and only hung over about a foot on each side.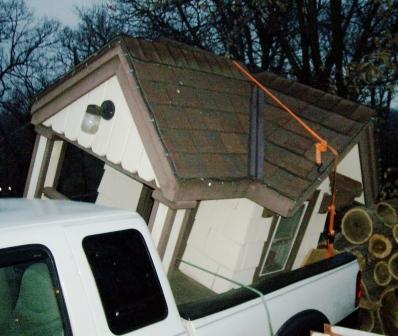 The guy said he built it with his son when his son was 13 to teach him about how houses are built. The house was a mini version of his own house, had the same roof complete with shingles and metal runners. It has Christmas lights on the outside plus the porch light and a light on the inside with a switch. His dog learned how to hit the switch to turn them off and on. The 2 windows are nice and have screens and work just like a house. The porch has a rail with a dog bone pattern. You can see and attic through vents just below the roof and there is insulation up there. I believe the floor is built like a house with joists and beams.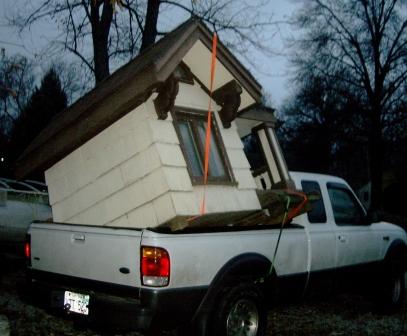 I took the side streets home and stayed slow esp. on turns and we made it to my driveway. Heath convinced me not to drive it into the back yard with the ground being so wet so its still in my truck in the back yard. I hope to find a good spot for it and move it soon but I am still not sure where to put it.
"Why a dog house the?"
Heath and I are planning to get a goat puppy when the weather warms up a bit more and it will live outside. Until then I am sure Peanut will have a blast playing in this mini house assuming it does not crush me when we try to take it out of the house.
After the big move everyone went home and I cooked up some meatballs and ravioli with Heath. Then we ate it and some leftover pie from our family dinner thing on Sunday. Peanut took a bath and got ready for bed. Once he was in bed I watched the premier of the new Terminator TV show on Fox. I know it has been out for a while but I am way behind.
I thought the episode was really good and I like the characters and think the show could be decent.
I was a bit excited after the show but my back was starting to hurt so I joined Matt and my neighbor Ian for a beer downstairs then headed up to bed to lay on a heating pad for a bit.


This morning it hurts a bit but not bad as I was expecting. I plan to be back to normal in time to hurt it lowering the house to the ground.