What a great camping trip.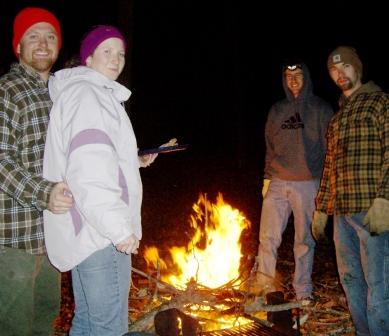 Well I have lots to tell so we better get going first I could not get Sam to pose for a good picture this morning but his tail is just a little bump on his bum now and I have seen him sitting on the rock almost entirely out of the water. Maybe I'll be able to snap a picture of that tonight for you.
Some Background Info:
A friend of mine, seen on the site occasionally as "Ding" has a piece of land off of Truman Lake he does not want anymore. I am guessing it is somewhere between .5 and 1 acre of wooded land. Heath and I went to go camp out on it and see if it was something we would get some use out of. It's about .5 mile from the lake down a 4 wheeler trail and a bit over 2 miles to the nearest boat ramp.
So Friday after work we rushed home and Heath, Jon and I all loaded up and headed toward the lake. I think it was about an hour and half until we got there and it was easy to find. Tony coming from Pittsburg pulled up right behind us. The land is part of a community with a pool and private lake and a gate with a guard that checks in owners and visitors. We ran into some trouble at the gate as we were unaware of the procedure for getting in. It was getting dark fast and besides not having the correct permission to get in we were informed that to get to the land we would need to use Goat Hill and it was impassable.
We found out about a public camp site 3 miles back the way we came and went there and got an $8 slot in a deserted park. We got a big pile of firewood and had a great blaze going in no time. We cooked burgers and fries and had a few drinks and stayed up late playing with the fire.
In the morning we cooked up some eggs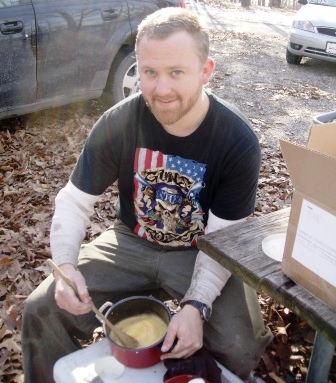 and some bacon and sausage and cheese with some biscuits on the side. Then we went for a bit of a hike around the lake and a frozen creek feeding water into the creek. Then we secured our campsite a bit and went back to the gaurd gate. Luckily Ding had gotten our message and called the gate to get us proper access through. The guard did not mention Goat Hill but we had a map and set out planning to drive as far as we felt safe then get out and hike the rest.
Well goat hill was obvious once we got to it. Pictures never really show quite how steep they are but here it is.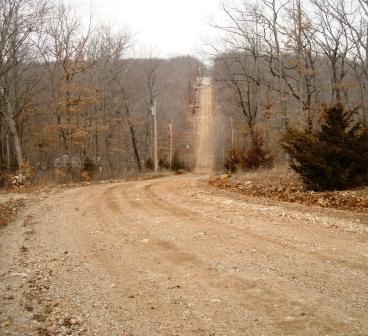 When we first came to it there was a thin layer of snow on much of it. We slowly headed down and then up the other side and never slipped a tire or anything. There were no ruts or mud or slick spots or anything it was a nice fairly smooth gravel that gave us no problem. Well once over the hill we had to find the spot. We estimate there to be 3500 different plots of land in the community and many were not labeled real well. We did find a road that was on the map close to ours and walk out feet until we had the approximate boarders of our spot. Then we marked them with sticks and rocks and dirt so we knew for the rest of the weekend.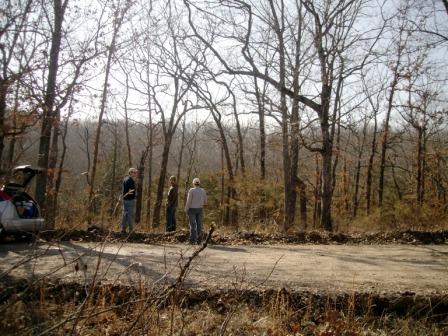 Here it is right behind Tony's car and up the road a little ways off the picture. The spot is long and narrow. It starts here at the road and then goes down a fairly gentle slope to a currently dry creek bed then up another slope to the other side of the boarder of the land.
We walked it and I took GPS points as close as I could tell to the boarders. Then we walked down the road from us to the end and found a trail. We followed the trail to the lake and took a break.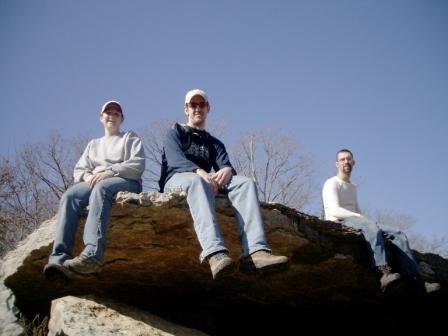 I had some business to take care of in the woods while the rest of the group sat on some big rocks way up high and talked about bringing canoes, 4wheelers, mountain bikes and Grandma out sometime. Well the spot was so easy to get to and goat hill turned out to be fine so we headed back to the public spot and got our stuff and loaded up.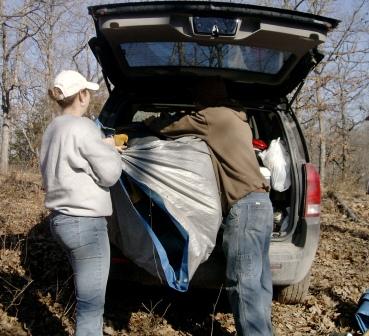 Heath convinced Jon just to pull the poles out of the tent and roll it up with tarps sleeping bags and gear still inside. This worked surprisingly well. And in no time we had moved our camp to the new spot. We got a fire going with some new version of flint and steel after a lot of strikeing and blowing and thinking.
We decided to drive around and see what the community had to offer and check out the mini lake inside it and the pool and some of the neighborhood. There was a huge range in the structures out there. Some fairly nice houses but more fun where the structures made from whatever the owners could find.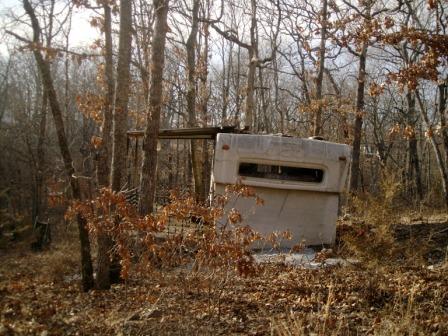 This was the average house. Some old camper that could never roll on wheels again. With a deck built onto the side of it. Many of them had elaborate decks that covered the camper or campers on their land. Many were houses made from old house boats or pontoons.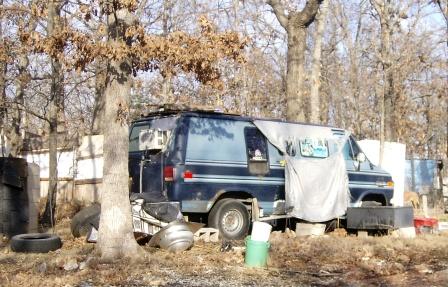 This van was a real treat and you may not be able to tell from the picture but someone lives in this thing at least on some summer weekends. It has power run to it, it on blocks and if you look in the back window you can see a window AC unit mounted back there. I think we drove down nearly every road looking at the incredible stuff and thinking of what could be done. We checked out everything we wanted to see and got more propane and beer for our campsite.
Tony had come up with a major dinner plan for pot roast and we had some work to do.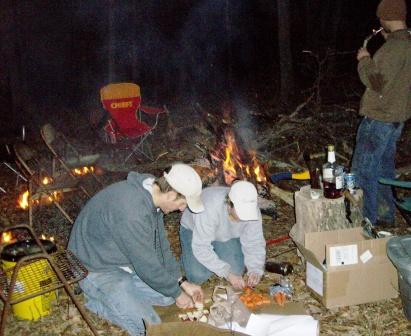 Heath and Tony cut up red potatoes and carrots and onion. I cut the steak into 4 pieces and got the dinner rolls going and Jon tended the fire and then worked on a pineapple upside down cake for desert.
At one point we had 3 dutch ovens going and this makes me excited/proud.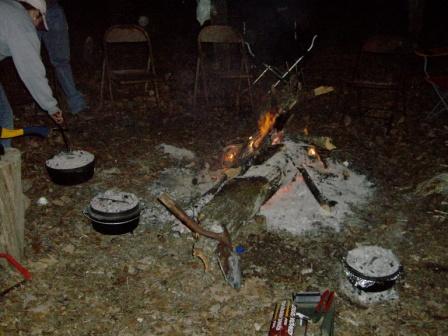 Then we opened up two of them and scooped out this: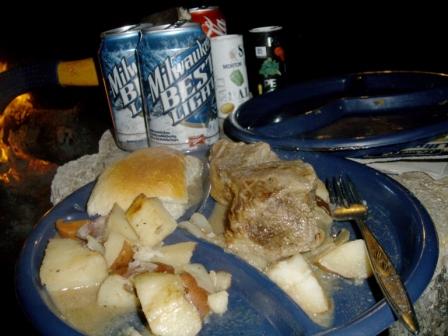 Tony had made some experimental marinade from red vinegar to cook it in and it was fantastic. Everything was great and gobbled up some serious piles of meat potatoes bread carrots and veggies.
Once we were about to burst Jon opened up the desert oven and scooped out big slices of this cake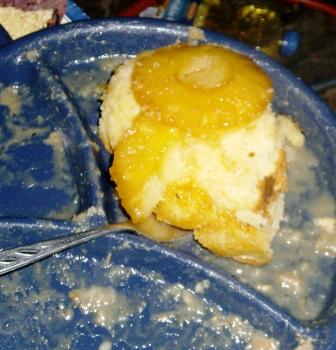 Jon had been working on the perfect pineapple upside down cake on a camp out for a while and I think he got it. Tony commented on how this was probably the best he had ever eaten on a camp out.
After dinner we were too full to drink much or do much but we had a lot of firewood and paper and oil to get rid of so we built the fire up a bit.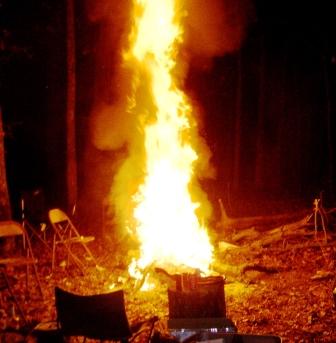 We fought off sleep as long as we could but after 9 we were done for and went to sleep. Everyone stayed warm both nights and did not have much trouble sleeping. We got up at 7:30 and cooked up some hash browns, eggs, bacon, onion, sausage and cheese and ate it up. Then we packed up camp and did some work to make out plot boarders easier to find. Then Tony drove his Ford Focus out of Goat Hill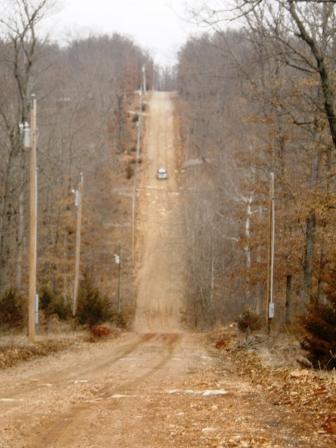 and we followed him till we turned north on the highway. We were about 15min from home when the hail/rain/snow/ice/sleat ish stuff started pouring from the sky and we were thankful it had not come sooner and possibly trapped us on Goat Hill.
Sunday we did some shoping and cleaning and then some cooking eating and watching a great football game.