It was nice outside Friday and Saturday.

Jon Heath and I went for a little run in the woods.
Friday after work it was really warm and sunny out so we took Peanut to the park. We went to a park at 85th and Roe and played for a bit then Peanut rode around the loop there on his bike a few times and Heath and I speed walked and ran behind him to not let him ride away too far. It started to cool off and get dark so we headed home but stopped by the Waldo Pet store on the way to feed Charlie


and get some more crickets and try out some meal worms for the frog, fish and anole.

Then we went home and had a big dinner of baked and fried fish and leftover pasta and salad and pineapple. Peanut and I went to bed fairly early and Heath watched some TV for a while. At 6:20am we got up and put on running clothes and ate some apples and granola. Jon and my mom came over and we headed out to Wyandotte Lake while my mom took care of Peanut.
We found the lake and the race no problem and stretched and stood around for a while until just after 8am when the race started. Heath believed over 300 people signed up for the 5K like us but there was probably more like 100 people that actually ran. This race was nothing like any other race I have done before. It was small and you could tell had a low budget on everything. We were given some directions about the trail and showed what signs to follow then took off. As a group we ran up a short road then onto a large trail that went up a small hill to a flat area then stopped. We had started from the back of the pack and were stuck behind everyone gingerly climbing down a short but very steep hill. This bottle neck helped to spread everyone out a bit but from then on the trail was very narrow, mostly covered in snow and had slopes on either side of it.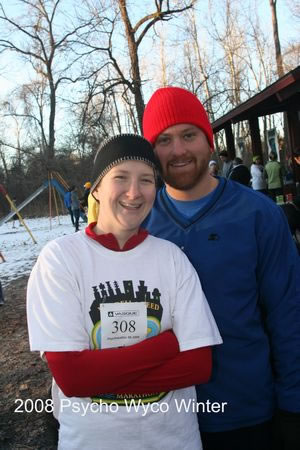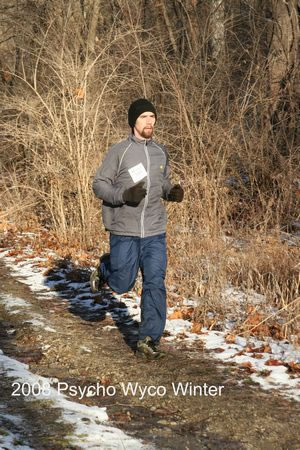 This made it very hard to pass people and there were a lot of people walking and people would start walking at any random time even if they were near the head of the pack. We had to jump over 2 creeks twice and ran up and down several rocky icy hills. At the middle of the run we went around a loop and came back running the same path strait into the slower runners. It was a tough 3 miles but really fun and I learned a lot about short trail runs like that and I think I know how to do better next time.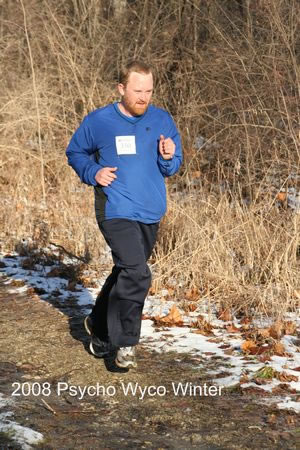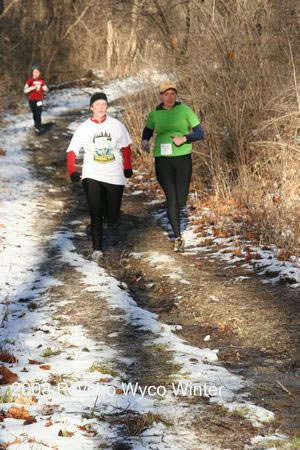 I really wish the run had been later in the day or it had been raining or something because the trail was mostly frozen mud when we came through and other then the creeks no one got sloppy or anything. I did not see anyone fall or get covered in slush or mud or anything either. I did slip once going up a really steep hill but I just used my hands to help crawl up the hill instead of going around like everyone else.
After the race we got a drink of water and looked for food and goodies but I think they were saved for the bad asses that came to run to 10mile 20mile and 30mile sections of the race. We headed home to find Peanut and mom watching Spiderman and got to work making omelets for everyone. I had a tough time getting started on them but they turned out really good and really hit the spot. Jon and mom left and I took a shower and played with Peanut a bit then we went to the Wal-Mart tire shop.
The desk was slow but eventually I did get my new tires picked out and put in my order for the new tires. I only got the front ones done as the back ones had good tread left even though one has a very slow leak.
While the tires were getting done we did some grocery shopping and decided to get some supplies to make a lasagna. We had planned to come back later for the tires but shopping took forever and they were done when we got out. I got the $85 Uniroyal Liberator tires that were all season. They were described as good for a truck that has a heavy load in it sometimes and after all the dog houses and firewood loads I have been hauling lately they seemed like the best choice.
After Wal-Mart we cooked up a frozen pizza, ham sandwiches, pineapple and salad for lunch then everyone laid down for a nap. I was out for 2 solid hours then woke up and went to Stephen's garage to assist him and stooks put but a new garage door opener. It went really good and they had done most of the work before I got there.
Once it was done I went home to wake everyone up and get dinner cooking. We made a mini lasagna in a 9×9 pan and there was nothing strange about it. We also melted a 1/4 block of velveta on some wheat noodles and had some mac and cheese. We had some good bread from Wal-Mart and some pees and salad on the side. Matt joined us and it was a great dinner.
Then Jon, Derrick and Bobbie showed up and we all went down stairs. We played dominoes with Peanut for a while and puzzles and pool and all sorts of stuff. Tony and KK and Chiaki showed up and shortly after Peanut had to go to bed and was not happy about leaving but fell asleep. Karaoke was too loud for Peanut on the verge of being asleep so we played charades for a while. It was tough getting the game started and fighting the naysayers but once we got it going everyone really had fun with it.
We played for a long time before getting out the karaoke setup and sining for a bit. Then it got even later and Stooks cooked up some energy boosting mini frozen pizzas to revive the group.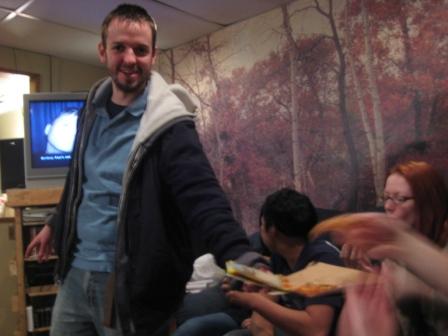 Everyone was done singing so we did some more charades before calling it a night and going to bed. I slept for a little over 4 hrs before I woke up and decided to check on Peanut. He was awake and wanted to watch Dumbo so brought him in our room and put on the movie and tried to sleep for another hour before getting up to check on our guests and get some cereal for Peanut.
Everyone had left early and were gone. Heath went to church and I took a shower and got clothes on Peanut and I then all of us went to Mimi's Cafe to meet Heath's mom for breakfast/lunch. There was a long wait so we went to Red Robin for no wait and some tasty burgers.
I stuffed my face on the Santa Fe burger and fries and some of Peanut's pizza. On the way home we stopped by a McDonald's and just got 2 movies from the Redbox machine out back.
We got a night at the Museum and Benders big score.
It was our first time using the box and it went great. The museum one was not bad and Peanut was not too scared of the dinosaur and stuff. After it we colored and painted and did some craft stuff then Peanut and I played some computer games about numbers, shapes and letters. Then we decided to watch the other movie. It was funny in the beginning then we all fell asleep and missed a bunch then it was funny at the end but did not make much sense.
Then we ate a strange dinner of leftovers and a bit of a pork roast that had not quite cooked enough and had to go back in the pot for tonight. After dinner Peanut took a bed watched a bit of tv then read 2 books about a Baker and a Rooster then went to bed. I was not far behind him.