Whats the most adorable thing I can put up for Valentines Day?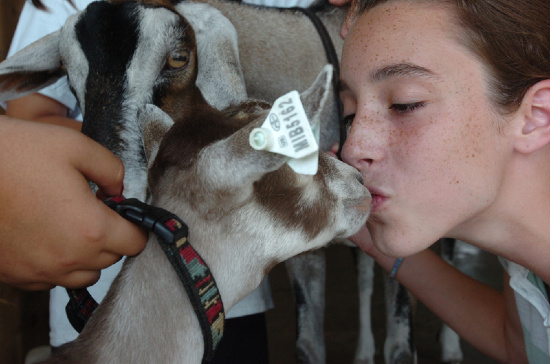 People and goats kissing, of course
Sure it is kind of creepy that I put these pictures up but it was really creepy how many people out there are:
1. kissing goats
2. taking pictures of it
3. posting these pictures to the internet
just look
competative farmer kiss
older gal kiss
business beard kiss
young kiss
even cool guys like goat kisses
kid abuse (both kid goat and human child)
tongue kiss, ok that is too much new topic
 ———————————————————————————————————————————-
Last night is was nice out, well nice out for mid February in KC. After work I did some splitting in my wood pile and made little progress. I started to get some heart burn from my lunch so I stopped and finally put the spare tire out of my truck bed and stowed it away under the truck where it belongs. Then I finally hauled all the plywood in my driveway back down to the shop. I had brought it up when I drove the dog house into the back and it was cold when we were done so I never took it back until last night. Then Heath and Peanut came home and all 3 were thinking "nature hike".
So we loaded up in the Vue and drove a couple blocks to the trail at like 99th and Holmes and started walking. We don't count the black asphalt as a nature hike so once we got to our swimming hole we left the path and took the trail down to the water. We spent some time skipping rocks and throwing rocks high to make splashes and throwing rocks to break ice and even some sweet skipping rocks over the small waterfall. WARNING LOW QUALITY PICS TO FOLLOW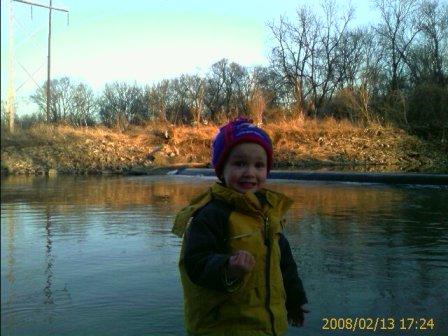 We also did some exploring around the water before heading back up to the path. We followed the edge of the tree line away from the car for a while untill we found another trail down to the water.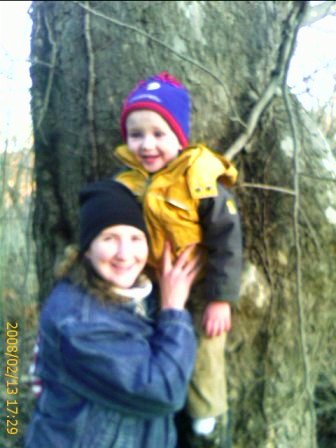 Peanut wanted to keep throwing rocks and we did a few but the sun was starting to set so we did some hiking along the edge of the water on the rocks and sand and a bit of frozen mud that was down there. I told Peanut the little I knew about noodling when we found a root ball under a tree that was probably a good hole for catfish when the water rises.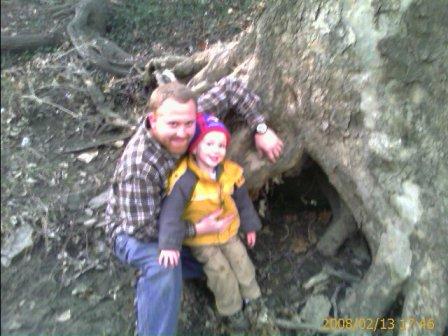 We followed the water quite a way then found a way back to the path and Peanut and Heath chased me back towards the car. On the way they caught me and I had to carry Peanut the rest of the way.
Then we went to Price Chopper for a bag of apples for Peanut to take to the Valentines Day Party at school today.
Once home we tore into the chili, chili cheese dogs and chili cheese fries.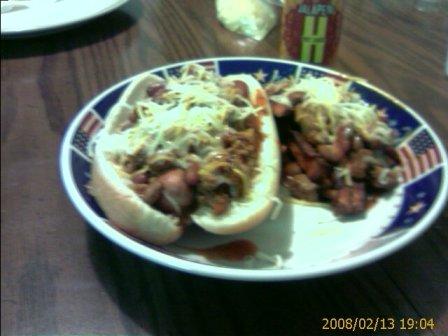 (fries under the right pile)
END OF TERRIBLE CELL PHONE PICTURES
Peanut liked it best on a tortilla chip. The rest of the night we watched some Futurama, got Valentines for the other kids ready, ate some ice cream, played on the computer and got ready for bed. It seems like more was going on but I can think of what it was.
Remeber to always where protection and especially on Valentines Day.
*this last girl is the only one w/ her eyes open. The rest of the people are too into the kisses and must close their eyes. Does that seem wierd? Goats will eat ANYTHING so love them but keep an eye on them.