Friday I got home and got all the stuff loaded in the truck I could. I also prepared a few boards and screws and stuff to make a makeshift dog transporter should I need to bring a dog or two back. Then Heath got home from work packed real quick and we were off. We arrived in Ft. Scott as it was getting dark and were not starving or anything so we drove around the north end of town where we believed the bars and hotels were. We drove past two hotels and several bars before deciding on where to stay. We went to the Fort Scott Inn right off the highway and got a room.
We found out the hotel had a restaurant and bar open till 2am and a hot tub and we had see 2 bars that were just a few blocks down the street. We got to our room and it was nice inside and we were the only ones staying on that side of the hotel so far. We also discovered our room was right next to the hot tub. We decided to open a bottle of wine before finding somewhere to eat dinner.

But we had no corkscrew of any kind and I believed we were too inventive to go to the front desk.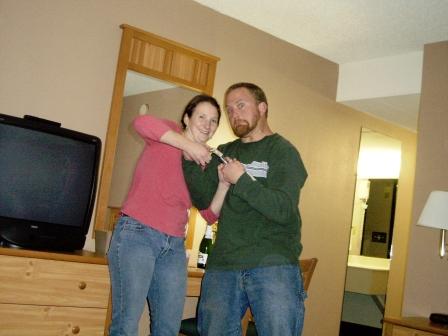 Heath got it to move up a bit by sticking a key in it and sliding it up. I found some rusty barely working vise grips in the truck and pulled it up a bit with them. Then we got a better grip on the cork with the pliers and twisted it a bit and worked it out nice and easy.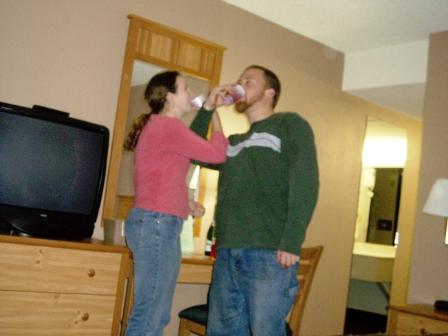 The bottle was open and we were off. We only had one glass each before heading down the main street through town and looking for places to eat. We decided to stop by Wal-Mart and get some swim suits for the hot tub then went to Rusty's Bar and Grill a few blocks from the hotel. We dropped the swimsuits and truck off at the hotel, filled a water bottle full of beer and walked to the bar. We were surprised how nice it was when we got inside expecting only to find dive bars. We had a great waitress and sat upstairs. Domestic draws were $2.50 for 20oz and we worked on a few of these. I got a bacon cheeseburger and Heath got some sort of fried fish sandwich. The food was good the atmosphere was good and we stayed for quite a while before paying the tab and walking back to the hotel. Once back we finnished the wine got on our suits and headed to the hot tub next door.
The wait room/hot tub room had a sign saying no alcohol so we put some beer in a cup and occasionally sipped on it. The hot tub revived us and after quite some time we decided to go check out the bar in our hotel. We could see the lights and stuff from the window in the hot tub room. The hotel bar had an interesting atmosphere some kind of karaoke dance party mess. It was really getting late by this point and we had a few drinks and as soon as Heath got to sing we headed back down to the room and called it a night.
We slept in as long as we could but had to check out by 10 to get $4 off our breakfast. Heath was not feeling very good and did not eat anything. After breakfast we headed down to Pittsburg. It started raining on the way.
and rained the rest of the trip.
We were at Kelly's house in no time and Heath laid down for a nap. The dogs were at the neighbors so we messed around for a while until they came back to eat. Then I headed down to Tony's house and Kelly and Chris went to Joplin. Tony Jon and I went all over town the rest of the day going to mall deli, some pits, a boat show, Wal-mart, Walgreens and ended up back at Tony's house. At 3 Heath woke up from her nap and called me. I picked her up then we all watched 3:10 to Yuma.
It was good. After we went to Chatters and met up with Kelly and Chris.
Jon and Tony both got the Mone Cristo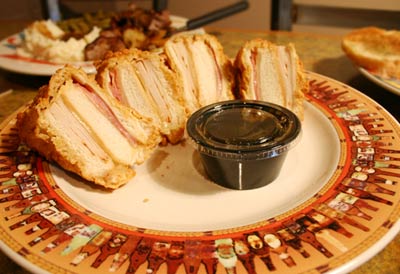 Monte Cristo Sandwich – Ham, Turkey and Swiss cheese sandwich battered and
deep fried. Served with honey.
and I got the Gorillaburger.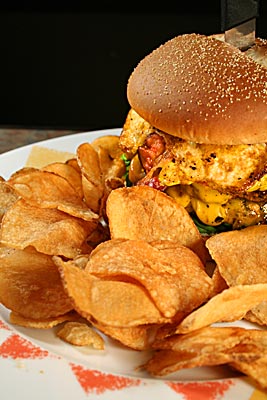 Gorilla Burger – Two beef patties topped with grilled onions, green
peppers, sliced sautéed mushrooms, jalapeno, bacon, fried egg. Velveeta and
Swiss cheese, mayo, tomato, pickle and lettuce.
The rest of the night we were hitting up bars playing pool and screwing around. We went to Mormans Nothside, Mormans Southside, 505, and Tornado Lounge before walking back to Tony's house. The morning was fairly uneventful we got a McDonald's Breakfast and headed home.
Once home I took a shower and headed to Jon's. A few days ago a chunk of ceiling fell down in the hallway at his apt. His landlord got Jon to replace the whole celling. Jon got me to help him.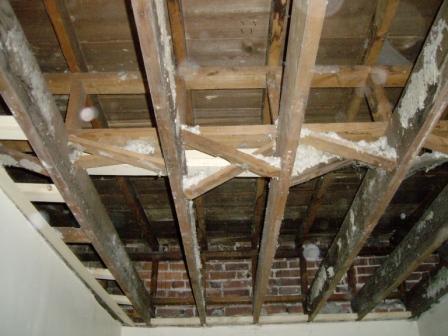 Jon stripped out all the ceiling and insulation and built a nice sturdy platform over the stairs for us to work on. Our first and hardest job was carrying all 4 sheets of heavy duty sheet rock up the windy stairs to the forth floor. The pieces barely fit in the stairwell and we had to carefully maneuver them up each curve. It was a heck of an arm workout supporting the sheets in many awful positions. Once we had all the tools and supplies up we had to add a lot of 2x4s along the edges for places to screw to. We found one beam to have sagged really bad above and spent a lot of time working the sag out of it with clamps and all sorts of boards and stuff. If my post was not so long already I would explain how we needed 2 playboy magazines to make everything straiten out and how they are a permanent part of the ceiling.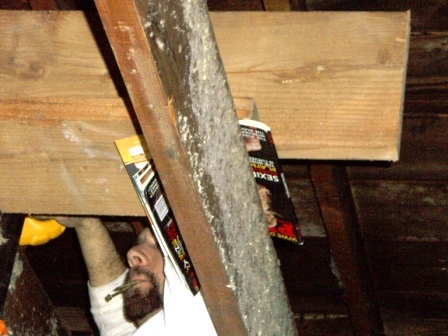 We eventually got all the beams level and flat and places to screw all the drywall securely too and then got all the insulation up and stapled in. It was after 6 by this time so we called it a day and decided to actually put up the drywall another time. I went home for baked potatoes and leftover chili with Heath. We relaxed and watched some TV and did some easy exercise video before bed.