Well I spent yesterday afternoon out at the transmitter replacing a part that went bad a few weeks ago. We had been on a backup setup since. The chief engineer and I were out there for a few hours making the repairs and I came home strait from there.
When I got home I found Jon there outside looking over the pontoon boat with a notepad, measuring tape and pencil. This weekend we had talked about having a barrel fire and cooking burgers and hot dogs on a grate over the top. He had come early to get an idea about the materials he would need for the pontoon trailer and deck of the new boat. I checked on him and hung out for a bit while he did some figuring. It was really windy out and getting colder by the minute. We both started to question the fun of a barrel fire on such a night and Heath and Peanut were not even home yet to complain about the cold.
We decided to make a fire in the fireplace and grill the burgers and dogs on the grill on the deck and stay nice and warm inside. We came in and got a good fire going in no time. We talked about building a shelter for little or no costs and some ideas his dad had given him. We mostly discussed a round building made by filling old tires with dirt and offsetting them from each other higher and higher as walls. Here is something similar used as a retaining wall.
Then Heath and Peanut came home and started cutting potatoes for fried finding burgers and buns and warming up the grill and fry daddy. Matt joined us and we cooked up a nice pile of fries and some broccoli and had cheese burgers with grilled onions, mushrooms, pickles, catsup and mustard. Peanut's hot dog was past it's prime so I grilled him up some chicken nuggets and warmed some cocktail wieners from the weekend up for him. Once we were all full and the table was partially cleared we got out Peanut's Nerf Dart guns and played with them.

After a bit of playing around we started a game of shooting them into the light above the table. The suction cup darts would stick to the glass really well.

Then once we had a few darts stuck on the glass we got out the Velcro tagger darts
and started trying to knock down the other darts. It was kinda hard but lots of fun and of course it turned into a gun fight in which we shot each other. Once the Nerf gun excitement wore down Peanut got in the tub and played with an empty mustard container and his construction men. Jon Heath and I watched "How I met your Mother". Then Peanut got out and Jon went home. We red some books about bears and tractors then Peanut went to bed. Heath had a soccer game but fell asleep before it started and I watched a bit of TV then went to bed too.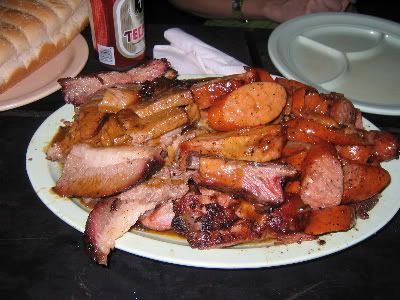 1 week till a potential meat club (give or take a few days)? How about some discussion on that event page about if we should do it or not and if so what to eat and what day works best?