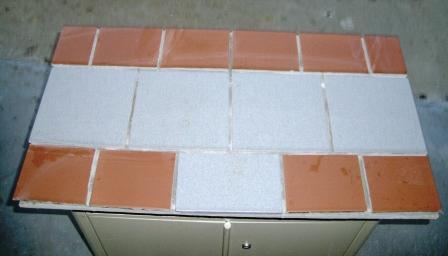 I think I will grout tonight.
It was nice out when work got out and I was wound up to get outside. I got Peanut and Berry and eventually Heath loaded up in the Vue and off we went. I had spied a big group of softball and soccer fields just east of our house that always seemed to be empty. We drove over there to see what they were like and to see what all was over there and planning to get out and play if we found an open area. There was one group of softball/baseball players for the 4 fields there and no one at the soccer fields.
We parked and got out. Most of the places we take Berry are full of people and dogs and this place was deserted so I stuck the leash in my pocket and let him roam. We all walked and ran and threw a ball and had races and did some exploring. Berry was great at coming when I called him. He would start out near us but start smelling something and wonder off to pee on it or worse but as soon as I called, clapped and whistled he would come (running the first few times then getting tired and quickly walking back).
The most fun we all had there was races to the various soccer goals. Peanut would get a head start and Berry would start way behind us and we would all race to the soccer goal. Each time it would look like Peanut was going to win but Berry would zip ahead right before the goal.
We started to get bored and hungry and decided to go to a park with a playground for Peanut to play but we had not gotten all the explorer worked out of us and drove around some. It is really wooded east of our house and we were hoping for a new city park or trail or playground but did not find anything too impressive. After the explorations we were so hungry we decided to skip the playground and start cooking dinner.
We made a strange but delicious stir fry and put it on top of some box asian noodle product we got from Aldi. The stir fry had shrimp, peppers, onions, cabbage, carrots, celery, garlic, Manderine orange and it sounds strange but some shredded sweet potato. Also Heath put a packet of red pepper in it so it was very orange a bit sweet and a bit spicy.
After dinner we headed to Price Chopper for 8 things and got all but one and only 3 extra items. Peanut was getting tired and started acting up so we went home and got on Pajamas and read 3 books. 2 of the books he picked out were for babies and the other one was about moms and their kids so I was not that entertained at book time.
Once Peanut was in bed I went downstairs and put down some clear coat on the stain on my trim for the grill table. This went really quick and after I went to work on the table itself. I cleaned up all the grooves between the tiles getting out all the chunks and trying to scrape everything to a smooth even level. I got out the sponge and cleaned all the dry morter on the tops of the tile so they were clean and looking good.
Once everything was clean I could really see the small mistakes we had made. Some tiles hang over the edge a bit, some are not level, and some spaces are not even. I think once grouted and trimmed the table will look fine and do a fantastic job of holding my spatula and fry daddy.
The sponge got the morter kinda wet so I decided to wait to start on grout till it was all dry. I took apart Berry's old transportation box and cleaned up some other stuff from the garage/driveway before heading inside.
Heath and had new weights from Craigslist and we had never used them so decided to break them in. We started with 15 minutes of arm work,
then 15 minutes of upper legs,
then 15 minutes of glutes (butt)
and then we did a 15 minutes that we thought was just abs but turned out to be mostly abs but some other stuff too.
After that I was hungry, dinner had all been fairly low cal and my stomach had not been tricked so easily. I got out some tortilla chips and chowed down on some refried beans and salsa while Heath and I watched a bit of TV.
I started wondering about eating hot dogs. How many hot dogs could you comfortably eat in a day? Wake up and have 2 for breakfast probably, then I think 4 or 5 for lunch another one mid day then maybe 6 or 7 for dinner and depending on the night maybe 3 more before bed. I think that would be my plan to eat the most I could but still stay comfortable all day and not feel stuffed. So maybe 17 hot dogs in a day would be right for me. Sure I could do 20 but how comfortable would I be? What about you guys?
Surprisingly the hot dog thoughts came before I went back downstairs to smell paint put down another coat of clear stain over my wood trim. Once it was coated I made my lunch for today, made a sandwich for last night and then went to bed.