Well at lunch yesterday I went out on two craigslist posts. The 2 60lbs bags of sand were gone when I got there but the big pile of mulch was ready for the taking.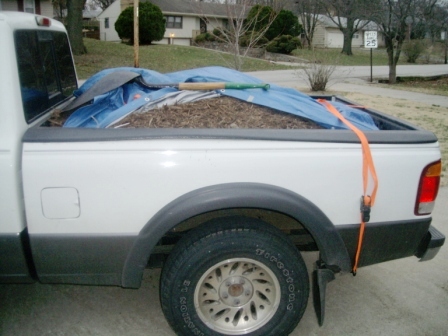 So I loaded up the ranger with a nice big pile of free much and headed back to work. After work I was going to try and drop off this load and get another one but some guys with a big trailer were loading up the last of it.
I was starved when I got home since I skipped out on most of lunch so Heath and I got after some spaghetti right away and loaded it up with lots of meat and veggies. We scarfed it down while watching Dirt. Jon showed up right as I was finishing up and we headed outside to begin the project.
That's right yesterday is the official Day 1 of building the pontoon trailer and the boat that will live on it. Jon had gotten this little monster on Craigslist at the end of last week and we were eager to put it to work.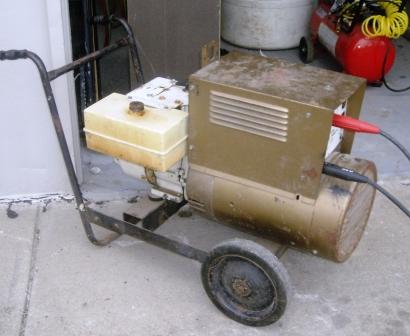 This old golden toy is a generator/welder and well worth the $160 Jon paid for it. You fill it with gasoline, flip the on switch and easily pull the cable and it starts up the engine. Then you walk to the other side and you have outlets like your house has and some big circle plug things. The outlets are great for running anything electrical and the circles run the welding stuff like this.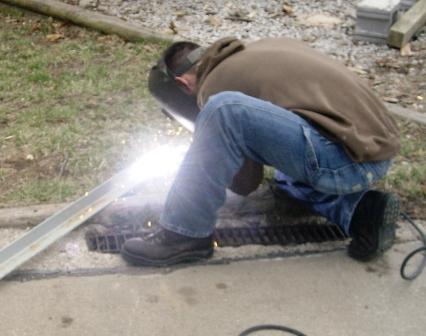 Well I would guess Jon's trailer to be about 20 feet give or take 3 feet. The pontoons are 24 feet and we were able to get them to my house on the trailer but it was not safe at all and if we added anything to the boat it would not fit and be to heavy. Also the pontoons sat way to far up front. So after stripping off everything on the trailer we could (roller, lights, brakes etc) we added a 10ft piece of channel to each side off the back.

This took a lot of time and was tough to get strait but we got it done and then moved onto a piece to go across the back.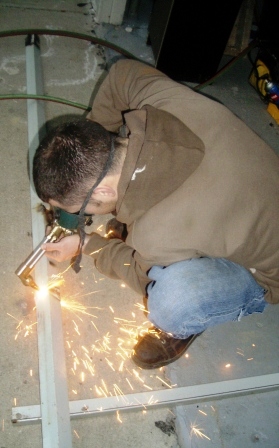 Jon used his gas welder for quick cuts through the steel.
So we got the new sides and back in and even a diagonal piece to help hold it square before it got to dark and the welder seemed too loud to be out welding. Here is a picture I took this morning.

It is tough to tell but the front of the trailer is on the left and about touching my wood pile. The back of the trailer is resting on the cinder block beside my truck. You can see Grandma Natty on her 14 ft trailer in the background.
After Jon went home Heath and I unloaded the mulch from my truck then took Berry for a walk. He was sad to watch us weld from the fence but when I let him out he freaked from the noisy welder. The walk seemed to really be what he needed and we want him happy when he goes to the Vet tonight.
On the walk we took plastic cups of beer to drink and discussed honeymoon ideas for a while. After the walk we continued the discussion and used the internet to assist us. Before bed we tackled a huge pile of laundry we had been washing for the last few days and got it all folded and put away.