Here I am right now posting this morninigs blog post.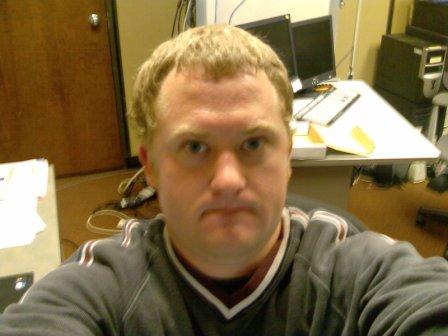 Stephen just drove me to work in our carpool. Before that I was playing fetch with Berry. Before that I was getting ready for work, shower, clothes, make lunch, pack breakfast. Before that I was drinking water and cooking breakfast. I got a small pot of water boiling, put 3 eggs in a zip lock sack added some salsa, ham, onion and some spices. Once cooked I wrapped the whole thing up in a tortilla and the tortilla in foil and put it in the toaster oven.
Before I was cooking breakfast I was running with Berry. Berry and I ran down to the creek south of my house and ran along the creek for a way then stopped by a tree stretched my calves then ran back.
Before I was running I was tossing and turning in bed trying to decide if I should get up of if I will be able to fall back asleep.
Before I was tossing and turning Heath was tossing and turning until she got up and took a shower and went to work all this early morning activity woke me up.
Last night before bed I ate a cinnamon rice cake with peanut butter on it and drank a bunch of water.
I needed the water and food because we had gone to Ugly Joe's for a couple PBR draws.
Before the draws I had a beer in the basement with Stooks and Jon. Before that Jon and I cleaned up all the welding, cutting and grinding materials from our boat work.
Before we cleaned up we welded on 8 new posts. that will raise the trailer up about 10 inches.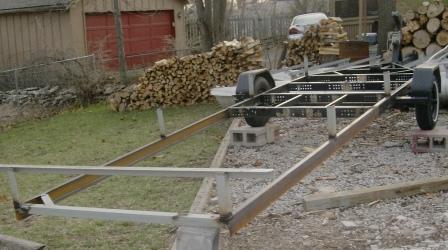 These posts will have strong beams across them like you can see in the back of the trailer. They will have week beams between them as well then at the top of each post will be something to hold up the roller things the pontoons will slide along. Here is the closeup.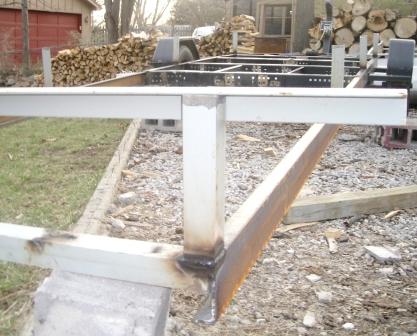 This is the back corner of the trailer and the future site of some braces and a roller.
I spent most of my time cutting 10inch pieces of angle for the posts and then grinding the paint off the edges that would be welded to make for stronger welds. Jon did the welding with the new welder and once I was done I watched Jon and he told me how to weld.
Jon and I only really got a 1/2 nights work done because before we were working on the trailer I was eating dinner with Heath and before that I was coming home from the vet. While I was there Jon was at Harbor Freight buying a couple new toys.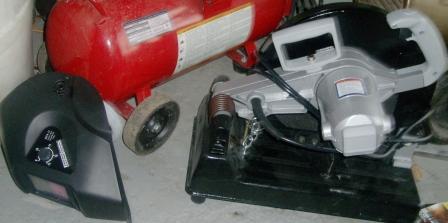 welding mask on left and metal cutting saw on right.
These tools made our jobs easier. The mask was auto darkening and make it easy for Jon to see what he was doing and gave us a total of 2 masks so I could now watch him without my eyeballs melting. The saw blasted through the metal so easily and was much faster then cutting with the gas torch we had been useing before.
So before I drove home from the vet I was there with Heath and Berry. We were at Red bridge Animal Clinic. Berry got all his shots, he got medicine for heart worms, intestinal worms, fleas, ticks and a general exam. The Dr. thought he was really healthy. He was at just the right weight and could go 5 lbs more or less. His joints all felt really healthy and we did not have to worry about hip displacia. He told us we could run Berry as much as we want and he will be fine. This was exciting because before we would only run him a mile or less every few days because we were worried about messing up his hips. The Dr told us he was born with it or he wasn't and we just need to worry if he starts limping or something.
Surprisingly he told us that Always Save Generic Dog food had more filler then the expensive stuff and it would be better for Berry to eat a name brand food. We were shocked to say the least. 🙂
Before going to the vet we played out front with Berry for a bit and Matt, Stephen and Becky came out too. Before that I got some dinner in the toaster oven going and set the timer for an hour and before that I was at work doing boring work stuff.