My nail may be about ready to fall off.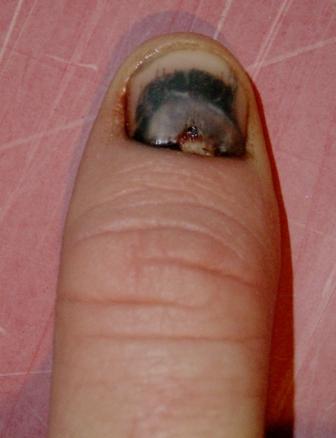 I know kinda gross for the front page picture with no warning or anything but I gota keep you on your toes. If it was too gross let me know via comments and SKIP the next part until you see more RED text.
So to refresh your memories I got 2 truckloads of bricks for free on craigslist several weeks back and they were from a fireplace that was taken down so they all had some morter/concrete stuck to them. As I unloaded them from the truck i would knock the morter off with a hammer and my thumb got in the way on one good swing. My thumb was ok that day but very swollen and sore and loaded with pressure the next day. The day after that it was just a little sore and a little numb and shortly after that it was feeling like normal but the nail was mostly black.
So ever since I get a lot of people asking what happened and acting like it looks painful still even though it works and feels normal. Well for the last week or two it has started to change part of the nail that was cracked has fallen out and the back part of the nail has become detached so only the sides of the nail are holding it on. I am really ready for it to fall off. At first I was worried about my thumb being a wuss without the nail on it but now I am ready for it to not be black and catch peoples attention. So once the cracked part fell out I started putting peroxide on it. Underneath the nail is old dried up blood that gets flushed out with the peroxide and I assume helps to loosen it from my finger so it will fall off. I think I am really close now so wanted to get a picture before it falls off and looks goofy. Of course I will get a picture of the finger and the nail when it falls off. If anyone was wanting the nail it will be on craigslist.
The rest of my post for today.
So after work I was feeling worn out. Not sure why. I boiled some wheat noodles and then mixed in the left over taco meat, taco chicken, Mexican rice, tomatoes, salsa, rotel dip, olives and some onions. I also baked 3 dinner rolls and warmed up leftover corn on the cob and asparagus. It was easy, got rid of many of our leftovers and didn't taste 1/2 bad. Peanut took forever to eat but eventually choked enough down to allow us to go on a walk.
We got Berry and headed toward the park. Peanut ran his pretend food stand for a while and played on the slide and we threw rocks then walked around to the other side of the park. The other side of the park is old and metal. There is big swings on big metal pipe frames, there is a weird shaped jungle gym thing there is a old metal marry go round that is about to come off it's foundation and the best part and old metal slide. Like this but taller, steeper and more enclosed at top.
Peanut loves to put cars or rocks down the slide or give high fives or go under my legs. I love to see a slide that is metal. It must get 100s of degrees in the summer and probably can give you tetanus and 1/2 the time anyone hits the bottom they fall down because it does not slow you down at all near the end. Well I tried to get Berry to take part in my enjoyment of the slide but he was a wuss at first and once I started to get him to climb the stairs Heath got me worried he would fall off at the top. The rails are not as high at our park and he could easily try to jump off the edge instead of slide down.
After that we headed home. We ran some of the way with Peanut on my back and Berry beside Heath. Once close to our house I set Peanut down and we raced. Heath and Berry were really slow but Peanut and I were at a dead tie till right at the end when I had a tragic trip and he won.
Then we got him in the tub and played a game of go fish before bed.
Then I moved on to the garage.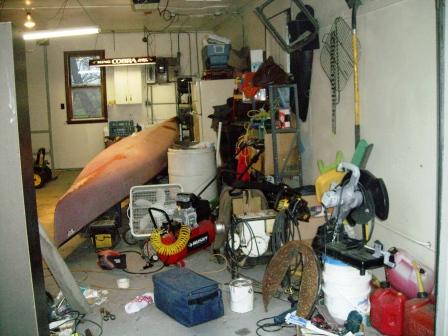 My side is a bit out of control but I had room to move the canoe in there.
Last week during the tornado/hail/rainstorms. I discovered that when filled with water my canoe would easily drain out of this worn spot on the bottom.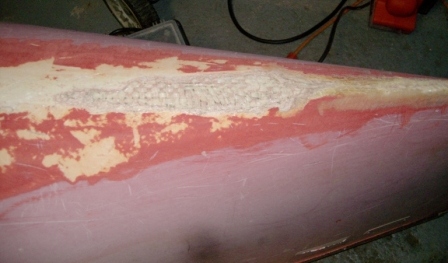 Now this is a nice feature in the rain but not on the river so I got out the fiberglass again and requited Stooks to help me out. First I sanded it all down real well then cleaned it up. We set out all the materials needed.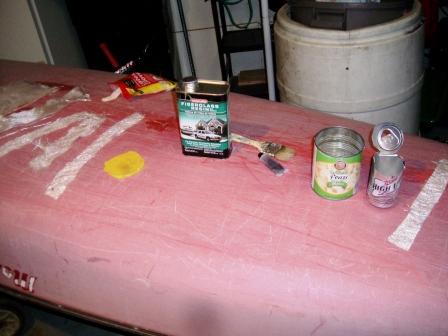 – gloves
– paintbrush
– peanut lid used to spread resin
– resin
– hardener
– strips of glass
– small squares of glass
– large weaved sections of glass
– 120z can w/ lid torn off to estimate 80z of resin
– 40oz can to mix resin and hardener
And we were ready to go. I mixed the resin and hardener and coated the bad spots in the canoe. Then I put on small squares on the worst spots and coated them in the mix. Then added strips and coated them and more stips and finally added the nice weaved fiberglass sheets and got the rest of my resin on them.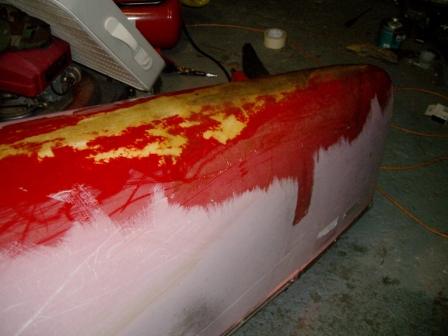 I concentrated my efforts on the main leak but went after any other possible trouble spots while I had the resin ready to go.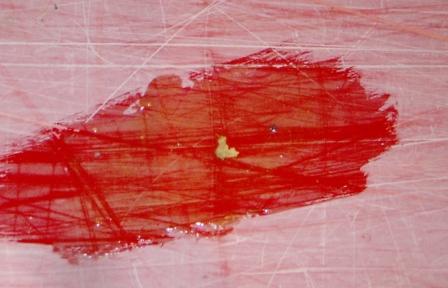 The mix started to gel up and harden as I was finishing and was nearly dry after Stooks and I had a beer in the driveway. It all looked really good this morning but I need one more night of fiberglass to fix some bad spots on the inside and add a board in the middle for support and to assist in carrying the canoe.
After fiberglassing I did a short ab workout video with Heath showered and got in bed.