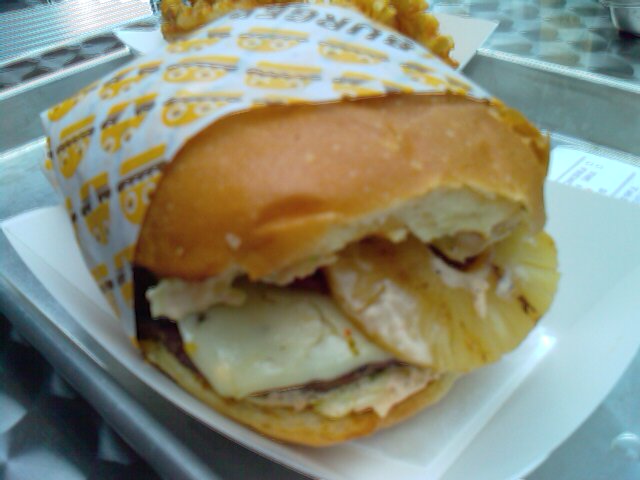 The Hawaiian: grilled pineapple / bacon / pepperjack / sriracha coleslaw $6.99
No Matt did not make this burger I got it at Chef Burger yesterday over lunch with Stephen. It was the best Hawaiian burger I had ever eaten but the competition for a Hawaiian burger was not that tough in my experience. The slaw and cheese were spicy and the pineapple was sweet and it all worked out for a nice balance on a burger. It tasted good and I would probably recommend it. However there are some down sides to it. $6.99 includes nothing. You can get an unimpressive pile of tasty waffle fries for $1.99 and some kind of special garlic fries for $2.99. Drink will cost you a few bucks too and if you order a water they give you a plastic shot glass to drink out of. Also it is in the power and light district so unlikely I will be in the area looking for a burger very often but they do have beer on tap and spiked milkshakes so maybe.
Well after work I went home and saw my grass was long. I broke out the only running push mower and blasted the front yard in like 15-20 minutes. It looked way better once done and Heath and Peanut showed up just as I was finishing. They brought out some of the yard games Heath had gotten for mothers day and we played some horseshoes.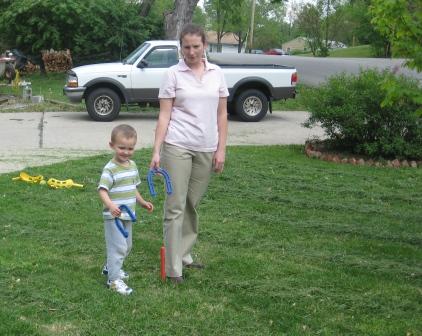 I was cooking dinner during the game and running back and forth to the yard and kitchen. Heath and Peanut started playing some other game with rackets and birdies and I worked on my steering pulley for Grandma Natty when not cooking.
Then dinner was ready and we had little smokies and chicken legs in BBQ sauce and a broccoli carrot
cauliflower medley and pineapple and cottage cheese. I ate quickly then tossed on some deodorant and a nice shirt and headed to JCCCollege.
Parking was kinda tough as all the lots were really full. I was surprised there were so many graduates. I found a spot and walked in I found my brother and he told me what was going on that there must be some other event going on because there were only 101 GED graduates that day. Then I went upstairs and found my mom. The gym was fairly empty and we easily found seats off the main isle 1/2 way up.
The ceremony was much better then I had expected. Typically at a high school graduation a few students talk about the great times they had and their futures and its all real boring then you have a guest speaker talk about how great high school and college are its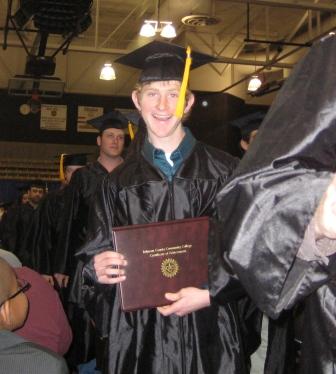 real boring too then you have to listen to each kids name as they cross the stage.
This GED graduation was exactly the same but much more interesting. The "class" does not really know each other or maybe one or two other people. Some are too young for high school graduation and some are way older. The first graduate speaker had dropped out of school in 9th grade had a terrible story about prison and babies and not finding a good job and exactly the story they tell you to keep you in story then after like 20 years she got her GED. The second speaker had partied through high school and failed out then came back like 6 years later. They were both kinda good stories and much better then what I expected. Even the guest speaker had dropped out w/ a kid at 16 30 years ago and got her GED and college degree and masters and stuff.
The 101 names were read the same and everyone took their turn walking across the stage and then they walked out. (see above picture) This was my best look at the graduates and kinda cool. Most seemed really happy some extremely happy and proud and a few nonchalant ones that were possibly still a bit too cool for school and just eager to get back to World of Warcraft and stop wasting time in the real world. My personal favorite was the older Mexican man with tears in his eyes and a giant smile.
We took a few pictures of Matt then headed to Ace Hardware. Mom is throwing him a little party on Saturday and was having toilet problems so we got a new flapper.
We had planned to get ice cream after the ceremony but no one was really interested in it and we went home instead. I made some toilet adjustments and looked over my brothers Seatle pictures then headed home.
Peanut was awake in bed so I talked to him a minute and told him to fall asleep. I helped Heath straiten up then took a shower and started some laundry. Stooks and Stephen were wound up with Stephen's fancy camera and boulevard wheat so we hung out on the deck till it was my bed time.