Our day playing around in downtown Seattle.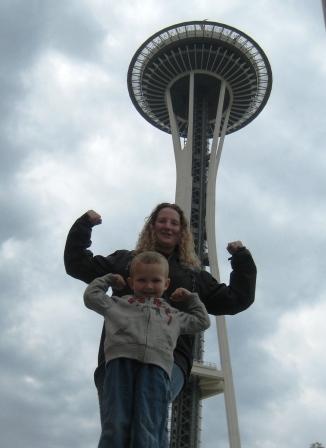 Heath and I started each day on our trip with a run but Monday we drove to a state park near Pop's house and ran the 2 mile loop there.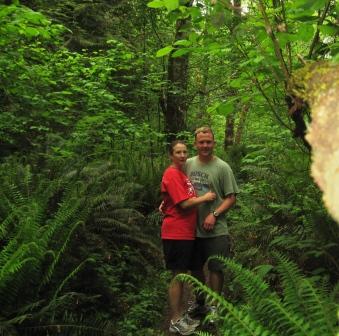 The woods in Seattle are much different then here. It is the evergreen state and there are tons of thick pine trees but the moss and ferns are equally impressive. The floor of the woods is thick with millions of ferns. 
After the run we ate some breakfast and headed to downtown Seattle. We started out at the space needle and messed around there. There was people selling stuff on the sidewalk and booths and street performers and stuff. 
Then we hopped on the light rail to go a mile or so to go closer to the shore and the Pikes Place Market area.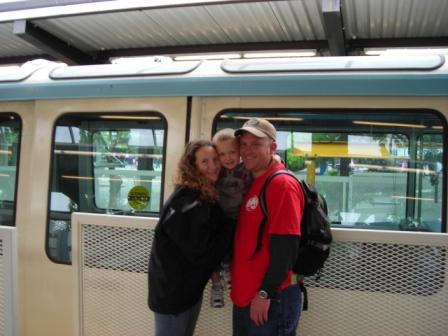 This was Peanut's first ride on a train and it was way to short but he loved looking out the windows as the city zoomed by.
We left the train and entered the busy market area.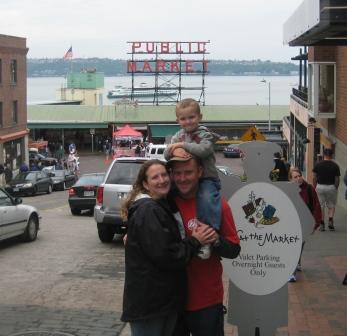 There were people everywhere. Also there were t-shirts, flowers, fruit, vegetables, nick nacks, ohh and lots of fish.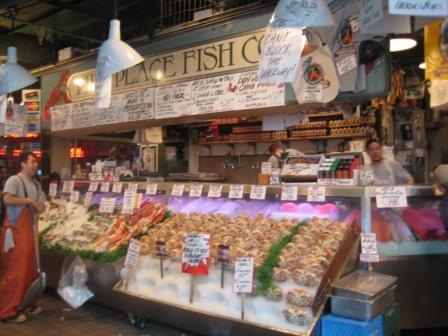 This is the famous spot where the guys toss the fish around and everyone watches. It was fairly crowded around it but they did not throw that many fish. We watched them throw 3 or 4 and looked at all the giant chunks of fish meat they had.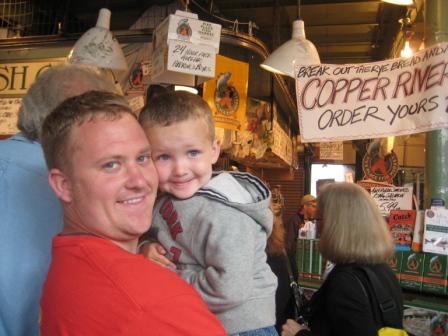 Peanut actually really enjoyed riding around the market area on my shoulders and watching the people and stuff. Once we had wondered up and down the market and seen all we needed to see we headed back to the train and took it to the car. 
We drove to another Brewpub and went in for appetizers and beers. On the kids menu they had a build your own pizza option and Peanut tried it out. It was way cool they brought out raw dough and cups of cheese, sauce and pepperoni.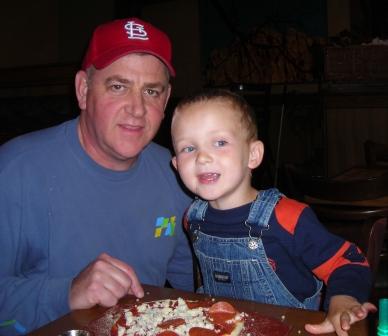 Peanut has some experience building pizzas but Pop's helped him out so he did not eat all the peperoni before it went on the pizza. 
It turned out great and we tried out some pizza of our own and Heath had a brown chocolate ale and I had a creamy stout. 
Then we drove home and played around for a bit. Pops and I fixed some burgers for dinner and smoked them. They were really good. After dinner Peanut played in the tub for a while then had a bowl of ice cream before bed. 
Heath and I waited until we thought he was falling asleep then ran to Wal-Mart and to The Viking lounge. 
The Walmart was not much different then ours but the bar was a treat. We played pull tabs and tried some local brews and even a shot of Jager. Heath sang Kiss me Deadly on the karaoke system they had going and we listened to the bartenders legal problems.