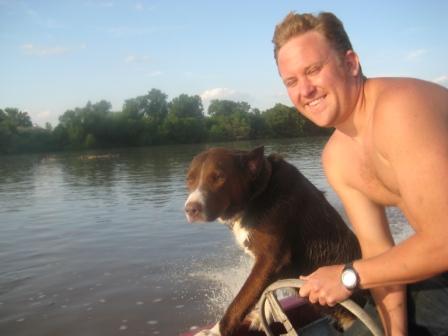 So on the way home I got PLENTY of gas for the boat then hitched it to the truck, packed up a cooler and as soon as Heath was home we were off. 
I was hungry so once grandma was in the water we headed upstream in search of a spot to grill. The current was moving pretty fast and was 3-4 feet high by my estimates. So all the gravel bars were under water and much of the shore was tops of small trees instead of dirt and rocks. It was tough to find a good spot but eventually I found a small area and stabbed Grandma into the mud off the side.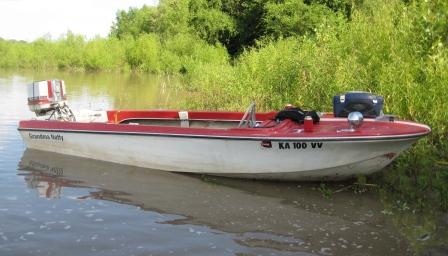 We cracked some High Lifes and fired up the grill. We were surrounded by thick foliage and just had a small area to set up in.  Luckily I found a pile of wood easily and it burned really well.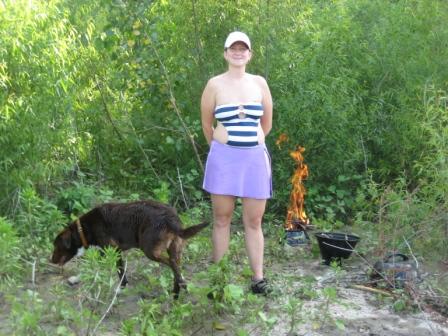 The wood grill worked great and in no time we were chowing down on buffalo wings, hot dogs and corn on the cob.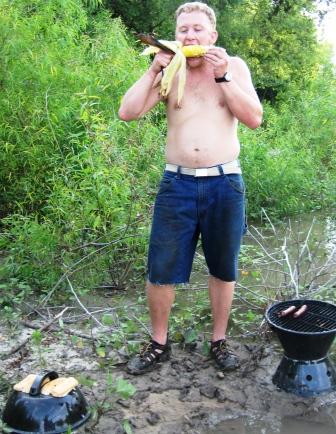 Berry did some swimming as soon as we got to our dinner spot and explored the nearby brush but mostly just sat around watching us.  He is starting to get the idea of timed pictures and when he sees me hit start and run over to Heath he runs over too to get in the shot.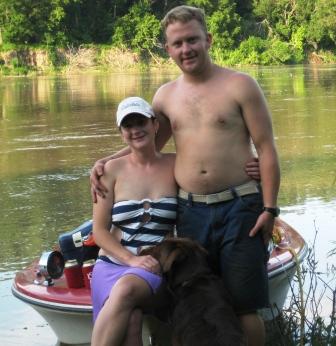 The current was too fast for swimming at our dinner site so once we had eaten everything we packed up and cruised downstream and around the backside of the island. The water over here barely flows and is great for camping and weekend trips. The only problem is the bottom is rocky at first and hard to get through when the water level is low.  It was perfect last night though.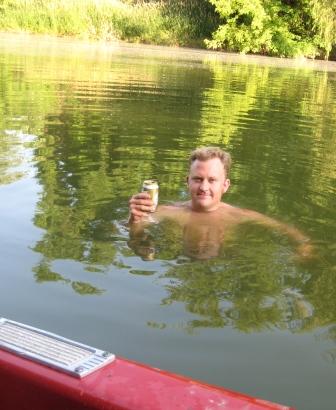 Berry loves to jump in and swim when the boat is on the shore but when it is tied up in the middle he is a wus because he knows we have to lift him into the boat. While I swam he and heath just chilled on the boat.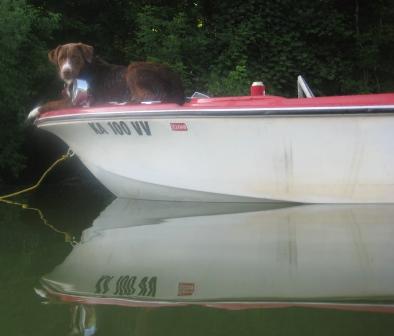 Berry likes to stand up high on the boat when we go fast and get his face in the breeze. He seems to like the boat but be a little uneasy about the whole thing. He likes to try to drink the water as we are moving and is funny to watch. 
We left the lake with plenty of time to get the trailer home by dark. We put it away and packed up the stuff then took showers. I showed Heath how to do some computer stuff then went to work. I worked for an hour or two then came home and went to bed.