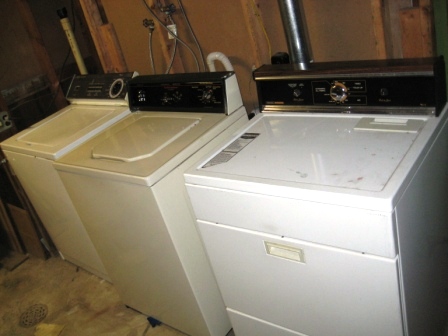 Well Tony from Pittsburg is in town for a bit and going to stay with us. He beat me home last night and when I got there we hung out in the kitchen and reheated some leftovers from Heath's Japanese steakhouse adventures at her batchelorette party.  I cooked a bit extra rice and cut up some fresh vegetables to add to the mix. Heath got home and we ate dinner then worked on stuff around the house. Tony helped with some chores.
Our primary job was the washer and dryer. Matt and I got the new ones from his folks last Sunday but did not take them all the way to the laundry area. We took more time trying to decide what to do with the new stuff then we did putting it in. The old washer runs but every now and then it stops mid cycle
and you have to turn it off then turn it on to finish the cycle. The old dryer works great as we just got it a few months ago on craigslist. The new dryer looks like it works good too. The new washer is in great shape and real clean and all but looks like it holds about 1/2 as much laundry as our old one.
So it was a tough decision on whether to move to the new washer or not. We will have to run twice as many loads through it to get rid of our laundry pile but we can be confident the load will finish  once it is started.  We decided since we have all the hook ups available for two washers to leave them both hooked up and see what we like better. I'd really like to go back to drying on a clothes line so in a pinch we may be able to rock out laundry twice as fast.
Once the laundry situation was figured out we headed upstairs and did a little reorganizing in the familly room and discussed what walls to knock down someday and where to put what when we have millions to spend.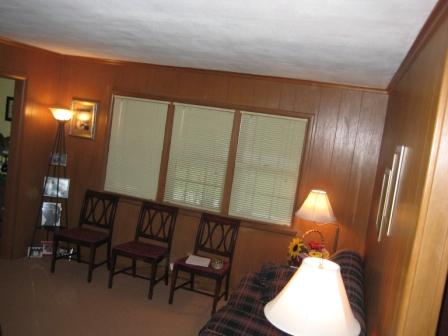 I think I convinced Heath to try painting this wall and see how we like it white instead of wood. We did our push ups for the day. Then Tony, Stooks and I hung out in the basement for a while and worked on the karaoke computer and played some pool till close to 8:30.
Then I headed to work.
The wire room at my office where all the computers are has been having some terrible power problems that have had me working some crazy hours. It all started when a battery backup died. Last night the Chief Engineer and I decided to remedy these problems. We replaced that battery and organized and just did things much better then they were set up before I or the Chief Engineer started working at KCUR. We got all the computers and broadcast equipment set up on a more stable power situation.
It was kind of fun work but hot and I was antsy to get out of there because Jon Tony and Heath were at Mikes having a beer waiting for me.
So once I was all done and feeling much better about the wire room I headed up to Mikes and celebrated. Jon left before I got there and we were all getting tired so we rushed through the beers then headed home for bed.