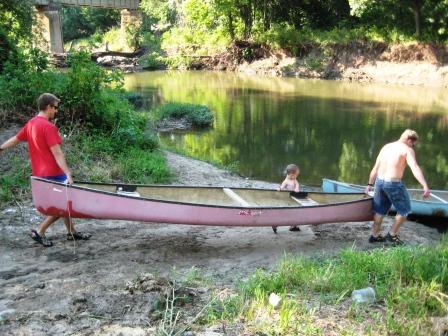 Heath, Berry, Tony, Peanut and I took the canoes down to the little blue river for a little blue adventure and dinner early last night.
We did not paddle far before deciding to pull over and fire up the grill.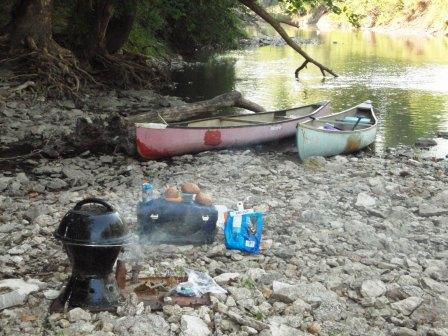 We got a fire going and did a bit of swimming and exploring. Our burgers and Peanut's hot dog cooked really quick on the little grill and we pulled everything off and ate in no time.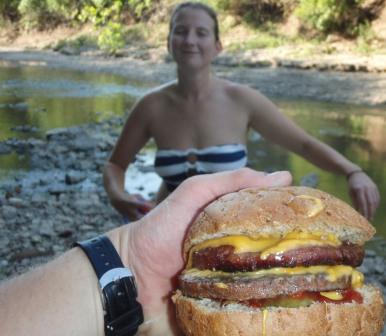 The burgers were fairly standard other then some fancy buns I had found. Peanut ate his whole hot dog, a pile of chips and a few bites of a hamburger bun.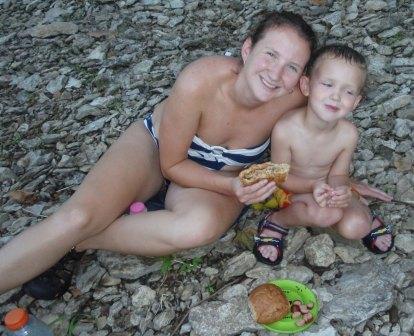 It took almost right at an hour to leave our house put the canoes in paddle up to the bank for dinner, cook and eat.  So we had lots of time left to paddle up stream. The only problem was, the water was not deep enough to paddle everywhere.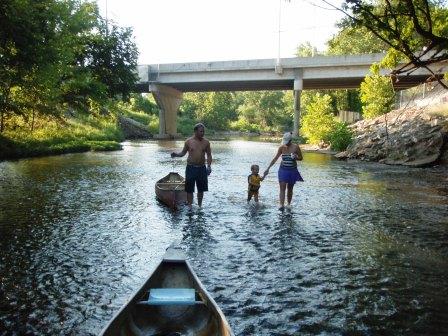 However the river is pretty flat in the shallow areas and it is a nice easy walk for the most part.
We walked and paddled up stream quite a way and stopped at a large deep pool and went for a swim. It was too deep for me to touch in the middle here. Everyone got in and swam, even Peanut and Berry. Both of them love to swim and would swim up to me standing at shoulder height and take a break while I held them up.
Then we turned around and headed back down stream. On the trip we found tons of muscle shells, some still alive. We also found this soft shelled turtle.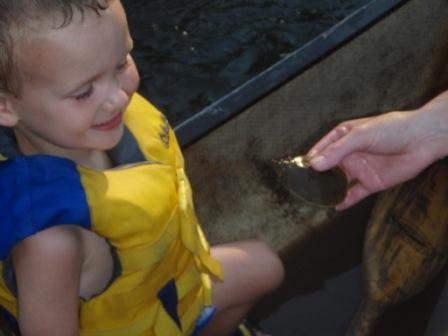 It was a very young one but up close looked like this.
We pet him a bit then let him go.
The best part of the trip was Berry's find. We didn't take a leash and he was too excited to sit in the canoe so ran and swam along with us. He explored the shore all over and took special interest in this root ball under a tree that was washed out.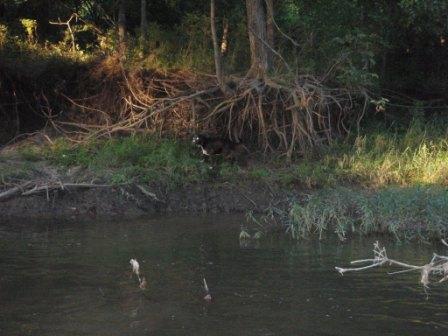 Berry climbed himself way under it. We didn't pay too much attention until he came rolling out with his mouth arround the neck of a beaver.
I know this sounds crazy, especially considering how little water was in this river but Tony and Heath saw it too and we all saw the trademark tail. Berry and the beaver rolled and wrestled themselves into the water then the beaver disappeared.
Berry came out of the battle completely unscratched but very excited. He sprinted up and down the shore for a while and tried to find the beaver in the water for a while but as we paddled away he followed us.
We got down to the ramp around 8:00 and loaded the canoes back on the ranger and took them home.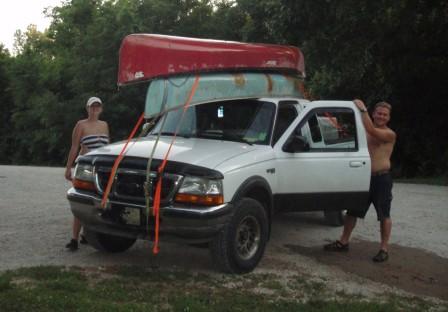 The trip had worn us out but we got everyone cleaned up then put Peanut to bed. I finished adding songs from Stephen to the wedding play list and watched a bit of Hostage with Heath.
Oh yeah if you are interested in the painting the wall project. It looks a little better then this at the moment.