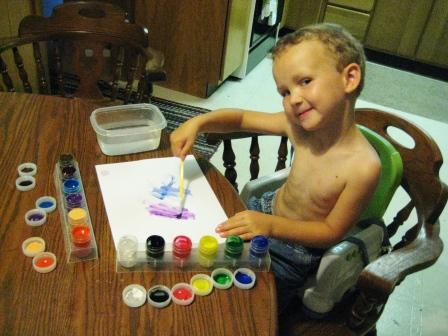 First there was this: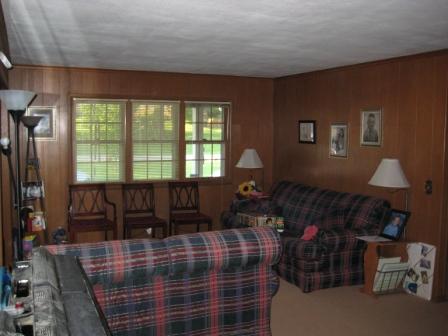 It looks fine but the wood paneling is everywhere in the house and we want to take down the wall on the right.
So we started to paint these two walls: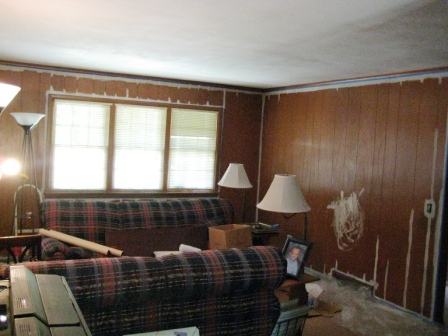 I got the trim done, and Peanut painted the swirly thing in the middle of the wall. Then I got a few coats of primer down everywhere.
Then yesterday Tony had the day off, came over and took charge: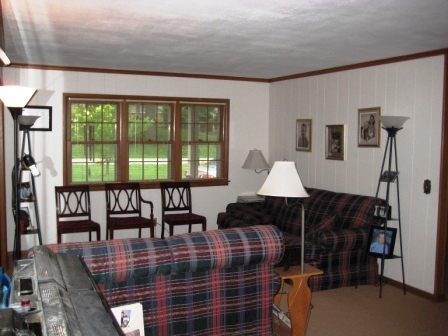 Looks like a whole different room, it is bright and big and turned out great.
I ended up trying to move the furniture arround to make more space and took another picture this morning: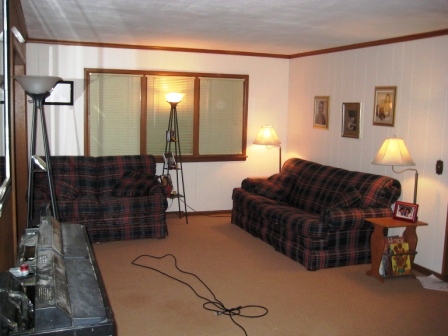 So I really like the paint job and am really glad Tony and I did it. The furniture layout could be better and once there is a giant flatscreen tv in there it will help that. The next plan in this room is to tear down the wall we painted and do some tileing on the other side of it. Then rip up the carpet and check out the hardwoods below it. Ohh and a ceiling fan or some other cool lighting setup.
OK I blew all my pictures in the first 2 minutes of posting but this was the best way to see the whole processes.
I guess I'll steal some pictures from the web for you.
I got home from work and help Tony put the room back together and admire the fresh paint.
Then I made some nachos

and mexican rice

and refried beans

we ate

then worked on stuff around the house

Peanut painted some pictures to send to my Grandma for her birthday. Heath helped put some pictures in a frame to send her and I got a pot of water simmering and added a bunch of scarlet RIT dye, a wife beater and about 40 feet of mule tape.
I'm sure this sounds very peculiar to everyone and I apologize but I am not going to explain. It is part of a master plan of mine that is a secret. Well the red mule tape is a secret, the wife beater I just tossed in because I was wearing it and curious about how well it would dye red.
Also you may need to ask me about the red tape sometime after the wedding because it is for the wedding and I may not get a chance to post about it and may forget.
So anyway we also changed out all the accessories in the main bathroom. We took out the rubber ducky stuff and put in dinosaur stuff that Heath got a deal on at Kohls. Peanut took a bath then we read a zoo magazine about beavers and spiders and a few other animals.
Then I baked a cake. The cake will either be the test groomsman cake or the real one depending on how things go. I didn't ice it or anything yet just froze it until I have time to make another cake and do some fancy decorating. I may wait till the Thursday or Friday before the wedding when I don't have to
work.
Speaking of cake:
We have no cake for the wedding. All Heath's cake leads have fallen through. So if you know of a cake maker let us know, it's getting late in the game to have no plan.
Heath don't read the blue text!
If we never find a cake I may get the opportunity to make it myself. This would be really cool and I am thinking about a really big really tall cake that looks like a double cheeseburger. 2 circle bun looking cakes, 2 circle patty looking cakes and 1 cheese looking cake cut in half and put on top of each patty. Then ice some catsup and mustard looking iceing. It would be adorable, right? Anyhow ideas like that are "tacky" so if you know a cake maker that is not me let Heath know or we will be forced to be tacky.
OK welcome back Heath. I think that is about all we did worth talking about last night, I did some dishes and Heath talked to church wedding coordinator for ever then we watched The Riches on Hulu and fell asleep. I barely made it through all the show before falling asleep.