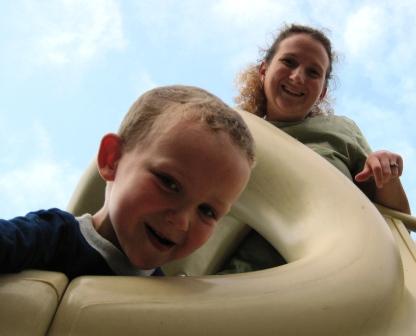 Well after work I got some hot dogs grilling and made some pasta stuff and warmed up some green beans. It kinda took a long time to make for some reason and then it took Peanut a really long time to eat.
Eventually we came to an agreement about how much he needed to eat and he ate that much. I cleaned up the dishes and we headed out. I needed to mail a package so we drove by a location that Google said was a post office but I didn't believe and assumed would be closed by this time anyway.
There was no post office so we continued north to HyVee. They have a post office inside that is open late. Heath tried to talk to the cake maker there but she was in early and had gone for the day.
Then we  continued our errands by stopping by Staples for some ivory colored cover stock paper. Cover stock is in between thickness of regular paper and card stock. The cover stock will be used for our wedding programs and our thank you cards.
After Staples we headed to Dairy Queen for…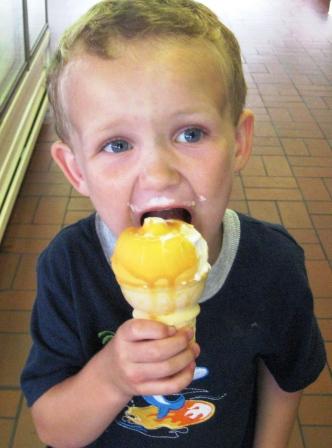 Dipped cones.
Peanut and I got butterscotch and Heath got chocolate. Peanut's was a small kids sized one and Heath and I each got gigantic medium sized ones. Well all that sugar was not good before bedtime so we headed to the park at 83rd and Oak and let Peanut loose. He did not eat even 1/2 his ice cream because there were 2 or 3 other friendly kids his age and he was ready to play.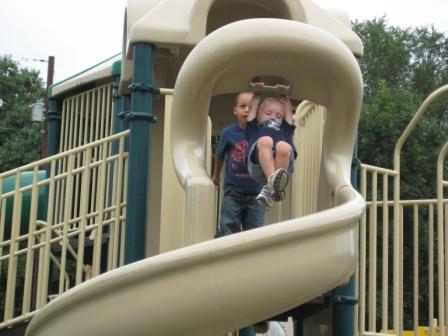 He periodically came back to get a bite of ice cream or to get in trouble for throwing sand but otherwise he was running.
Eventually the fun kids all went home so me and Heath played for a bit. I was the bad guy aka "tickle monster" and I chased Heath and Peanut around the playground. At 7:30 we headed home and Heath left to meet a friend while I got Peanut in the shower. He played and eventually got soaped and cleaned up. Then he put on his pajamas and we read a book about manners and one about a big blue balloon. Then we laid in bed and watched an old King of the Hill and then Peanut went to bed.
I got out my mule tape (strap). If you read yesterdays post you know I am working on a top secret project where I died some strap red.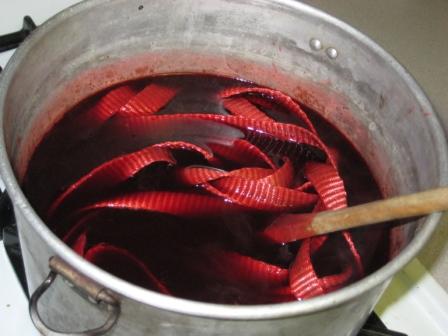 Well I also tossed in the wife beater I was wearing just for fun.
It came out looking like this: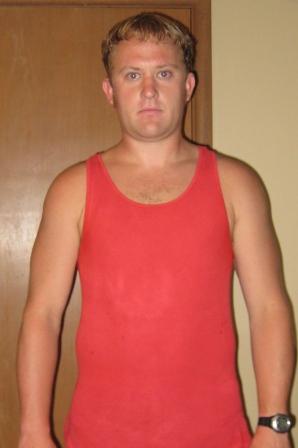 pretty cool, right?
However the mule tape is a nylon type stuff and does not absorb the dye as well. I went ahead and untangled it and cut out nine 4foot sections of it.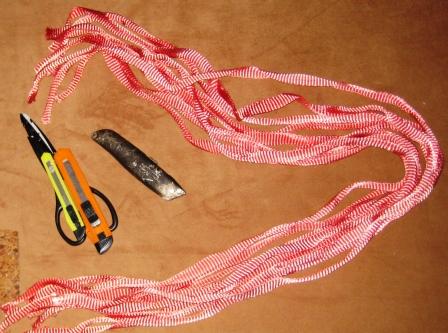 As I was cutting it and working on phase II of the project I decided it was not red enough and too pink. So I worked on Phase II but left the strap as is so I could dye it some more.
Tony came home and caught me working on the secret project and so I showed him the prototype. Then I put everything away and stuck all the strap back in dye and added some more in hopes it will get darker. I let it sit in the dye all night and then left it in when I left for work this morning. The box said 30-60 minutes and I will be nearly 20 hours so it should come out darker.
Tony and I watched TV till Heath came home then Heath and I watched tv until I fell asleep, which was about 10 minutes I think.