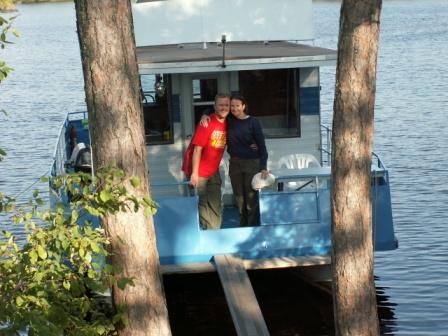 Well 20 days ago I was working on my post here in my office and I have not been back until today. I had busy getting ready for wedding days, then an amazing and very memorable wedding day. Then the honeymoon began and as usual we did not take it easy, for a week we played in Minnesota on the boat then came home and had a week of unpacking cleaning, fixing, adventures, planning etc. We went to several lakes, the zoo, a shower, the t-bones, hung out w/ friends, had people over, went out to eat etc. Way to much stuff to catch you up on it all.
So I'll work on the honeymoon posts (I PROMISE) and I will link to the photographers site once he gets our wedding shots done but the rest will be lost. I'll go back to normal and talk about yesterday now.
Yesterday we slept in after a late night trying to get rid of the wine and BBQ leftovers from the wedding. Heath and I ate some microwaved stuffed peppers meal thing for breakfast then cleaned up a bit and watched some tv and drank lots of water. Then I headed out front to the flower box deal in front of the house.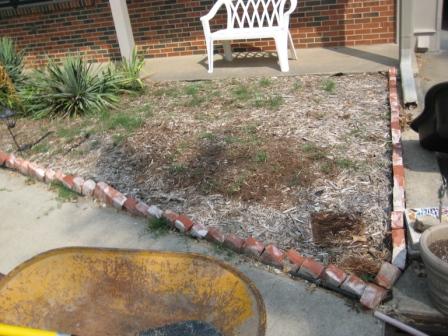 The box it 10x better then it was when we moved in but the ongoing battle to keep grass from growing is annoying. Many months ago we were all about putting in a pond but Heath never gave me permission to dig it out.
Yesterday she agreed to put it in because we have some huge goldfish in the tank w/ Jumpy and Phill and wanted to move a few outside. So I dug, I unloaded one full wheelbarrow of dirt, then filled 1/2 another. The sun and me sweating gave me a headache and wore me down real fast as my system was still full of wine. I had decided to haul 3 loads of dirt before taking a break and going to the store. This was going to be hard on my head but I was committed until my shovel broke and halted my progress. Well Lowes was the store we needed to go to so I took my break early.
Heath and I went to Lowes and picked up more wedding presents that had been bought online and shipped to the store. There was no shovel in the pile but there was a nice new bench to replace the white plastic one in the above picture. We added a shovel to the pile and drove everything home. Then we headed to Aldi for groceries. They were closed so we came back home. Heath put on 300 on the tv and worked on thank you letters and I relaxed inside and put together the pretty new bench. I took my time with it then hauled it outside and tried out the new shovel.
I had the hole dug in no time and tossed in the liner deal.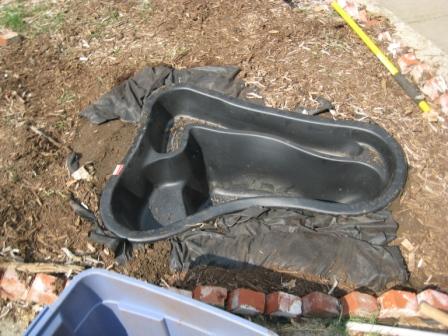 I did some tweaking w/ the hole then filled in as much dirt around it as I could. Once the ground looked good I headed out back to one of my rock piles and started hauling rock.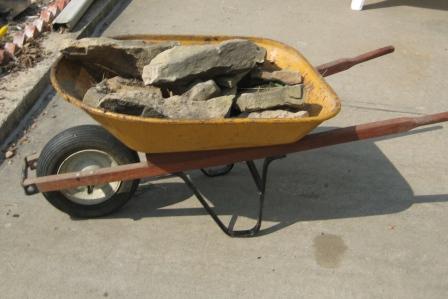 I built a rock wall around the outside, moved the bench up, spread the mulch back around the pond, vacuumed out the dirt and mulch from inside, moved some new lights around it, then filled it with water.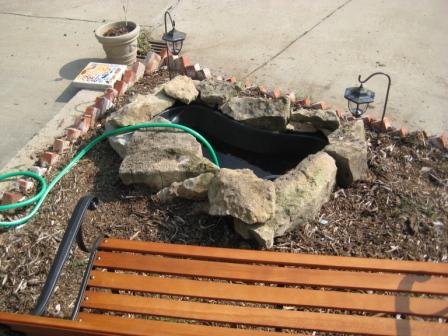 Once it was full of water I found the filter and fountain pump that came with it and hooked it up.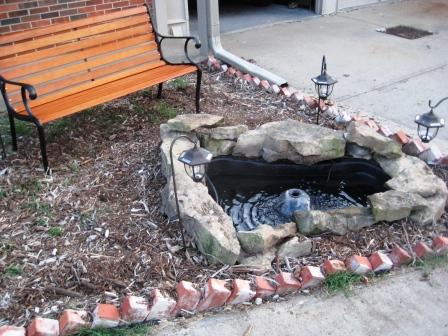 The pond project was done for the day. I was starved so Heath ordered a pizza and some hot wings and we watched Transformers in HD on the couch and stuffed our faces. After dinner we took Berry for a little walk then sat on the bench and enjoyed the pond.
A little after 8 we got in bed and watched TV until we fell asleep.